In recent years, Kuala Lumpur's skyline has become one of the most sought after views for some of the finest restaurants in town. With a breathtaking backdrop featuring two of the world's tallest towers and the beautiful KLCC park, who wouldn't want this superb view? Naturally, increasingly more private events including wedding receptions are being held at these venues, especially if the party doesn't fill a ballroom like most Malaysian weddings.
Cantaloupe at Troika Sky Dining was the perfect venue for Ricky and Stephanie's wedding reception. Let's take a look at some photos of the party, through the lens of photographer Alex Tan.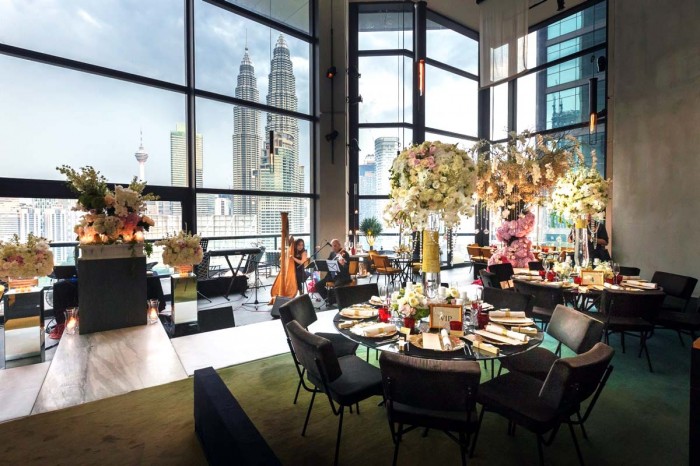 Stunning view of the KL city skyline for Ricky and Stephanie's special evening.
A typical Chinese wedding in Malaysia usually comprises hundreds of guests, a 9- or 10-course Chinese banquet, and large halls or ballrooms, which wasn't really Ricky and Stephanie's style. Our KL-based couple wanted a smaller and non-traditional reception that was also reflected in the venue, menu and decor, and hired wedding planner Lane Ho of MY Wedding Planner to help them with the details.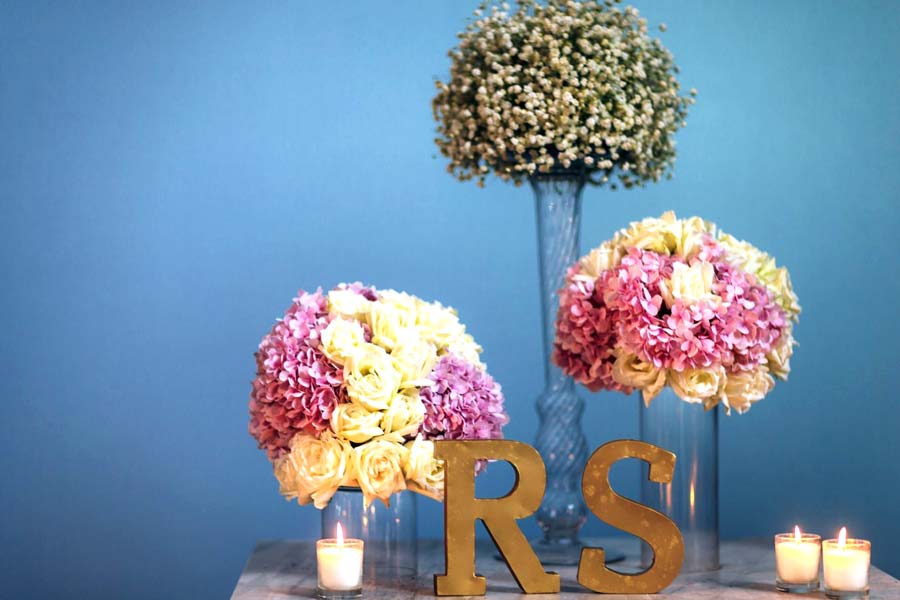 Cantaloupe is one of four fine dining establishments of Troika Sky Dining at The Troika, and was just what our couple loved for their reception. Its minimalist interior, interesting lightning and simple lines, styled in steel, glass, and concrete, provided a wonderful canvas for their wedding decor.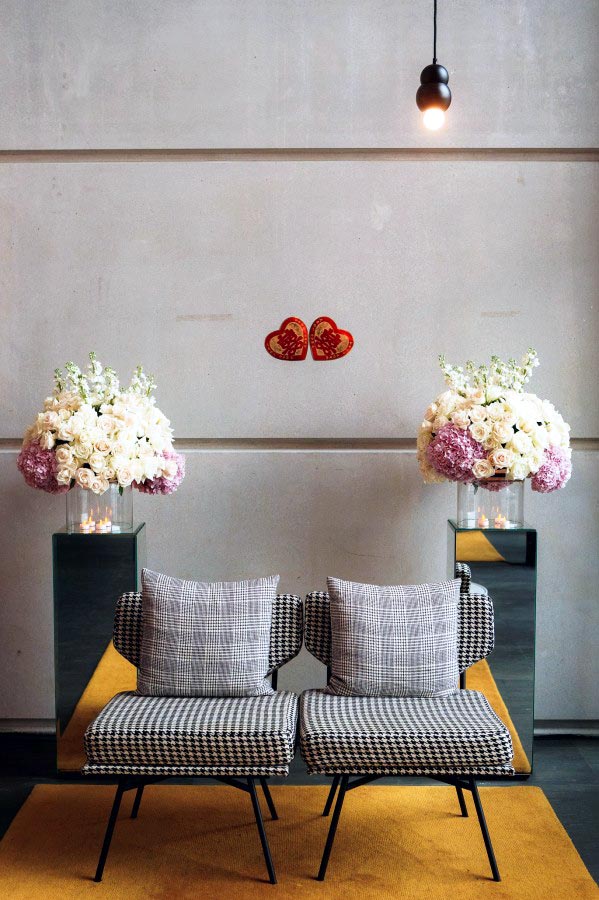 A contemporary setting, but perfect for the traditional Chinese tea ceremony.
The minimalist and mostly monochromatic interior stylings of Cantaloupe allowed us the freedom with colours and textures, using a palette of gold, white and pink, which were Ricky and Stephanie's colours of choice. Lane was clear to ensure that all floral arrangements and installations would not restrict or obstruct the fabulous view of the Petronas Twin Towers and KLCC from where guests would sit.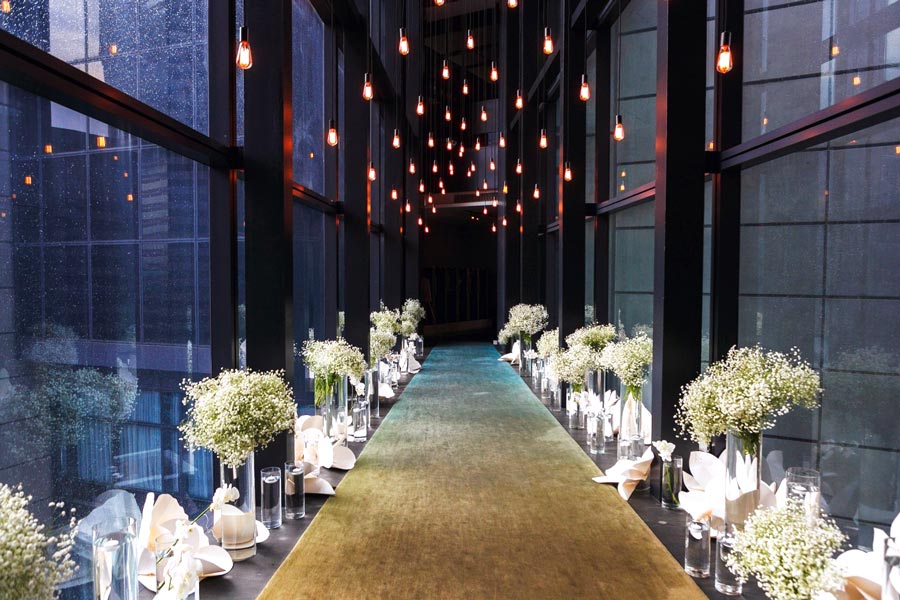 The skybridge walkway leading into the reception venue, Cantaloupe.
One of Lane's favourite parts of the wedding decor was the walkway above. "It makes me excited about entering the wedding venue and I can't wait to see what's inside," she says.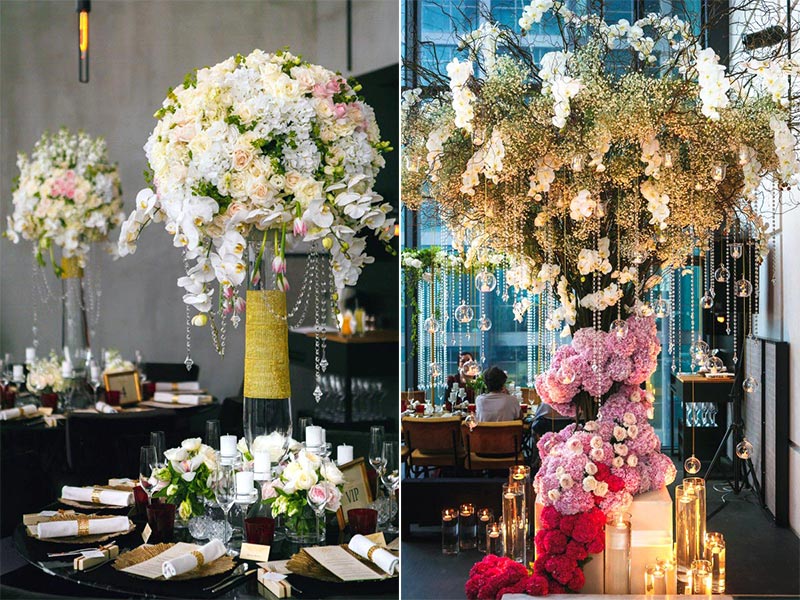 Left: Tall and lush centrepieces for most of the tables. Right: A signature tree created for our bride.
Tall centerpieces were created for guest tables, with accents of gold. We kept the shape of the centerpieces simple but used much texture for a luxuriant flourish to complement the plain interior of the venue. Our bride also wanted a signature item that would make the space feel really special and to provide an interesting background for photos all night — so we created a tree for the occasion.
Let's take a look at a few more pictures from that evening.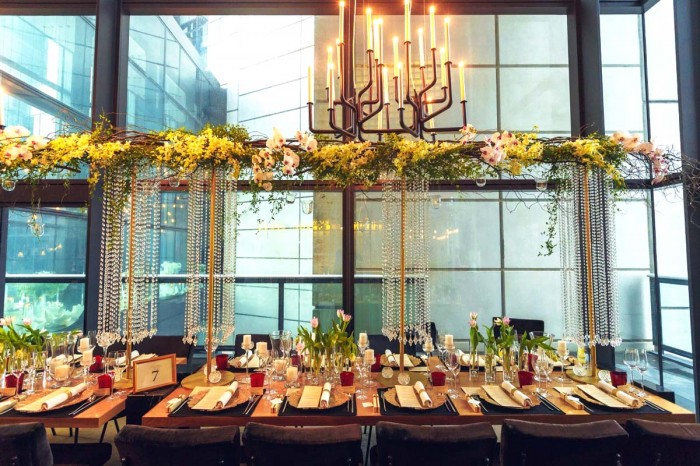 The single, long table at the venue is decorated differently, with an eye-catching overhead arrangement.

Gold is easily added to the decor theme.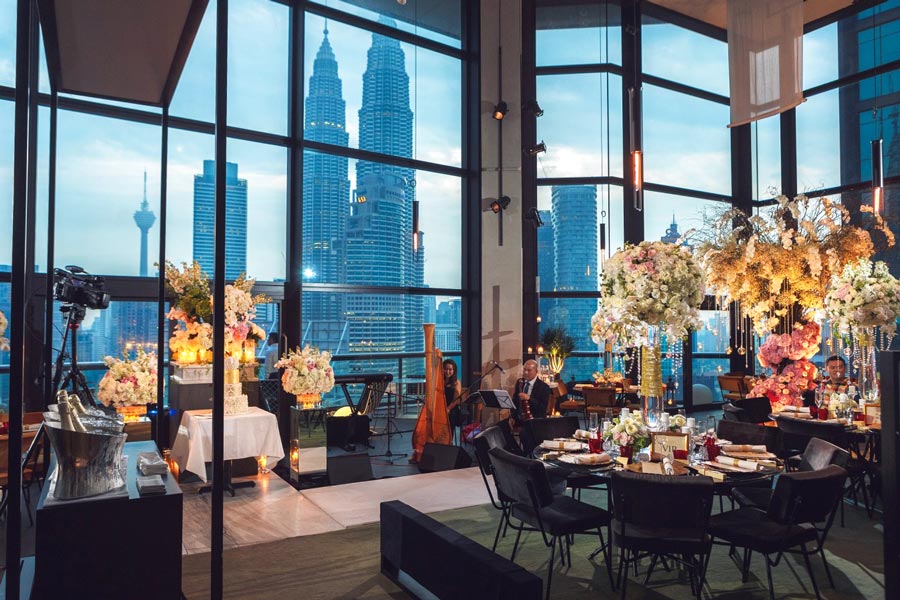 As the sun sets on the city, the amazing skyline is transformed in a different light.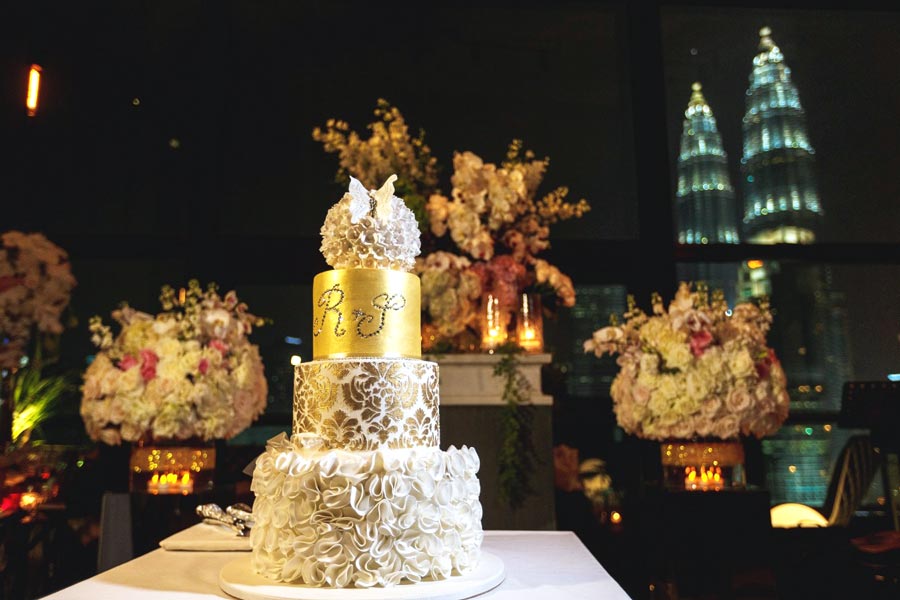 The gorgeous wedding cake, with the stunning Petronas Twin Towers in the background.
Many thanks to Ricky and Stephanie for sharing your most treasured day with us and our readers. Our deep gratitude also goes to Lane of MY Wedding Planner for her insights and for taking the time and effort to contribute to this wedding feature.