Hello dear readers! We are so excited to share the wedding of Jwin and Peilu with you today! Every now and then, we get a simple brief to decorate one of the most important days of a couple's lives. Our bride Peilu, together with her future husband Jwin, and their wedding planner Lane Ho of MY Wedding Planner, dropped by our office about one month before their big day and at the end of our meeting, we got the brief: "Purple, with a fairytale flair."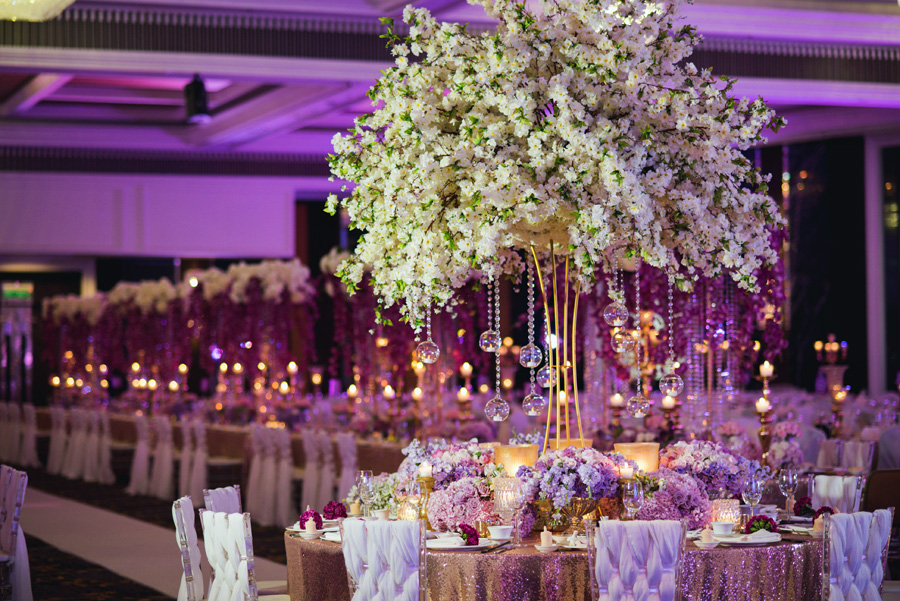 The bridal table's centrepiece is a crowning glory.
The flowers, colours, lighting and textures that evening were breathtaking – thank you to Jon Low Photography who captured their lush beauty so brilliantly.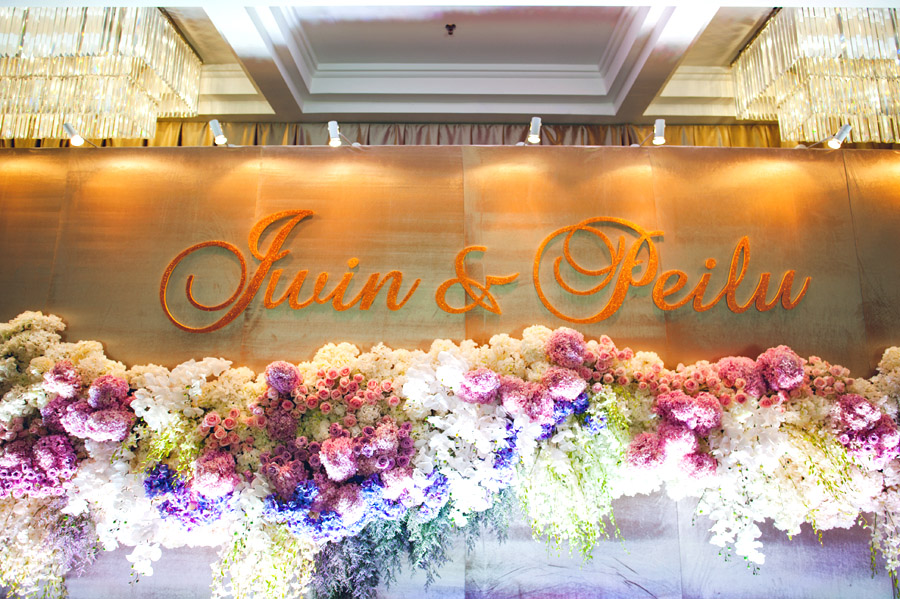 The flowers at the ballroom entrance was also a beautiful backdrop for photos – one of our couple's favourite arrangements of the evening.
Jwin and Peilu got to know of us through Peilu's brother, whose wedding we decorated some time ago, but it was our friend Lane, from MY Wedding Planner, who brought our couple to meet with us.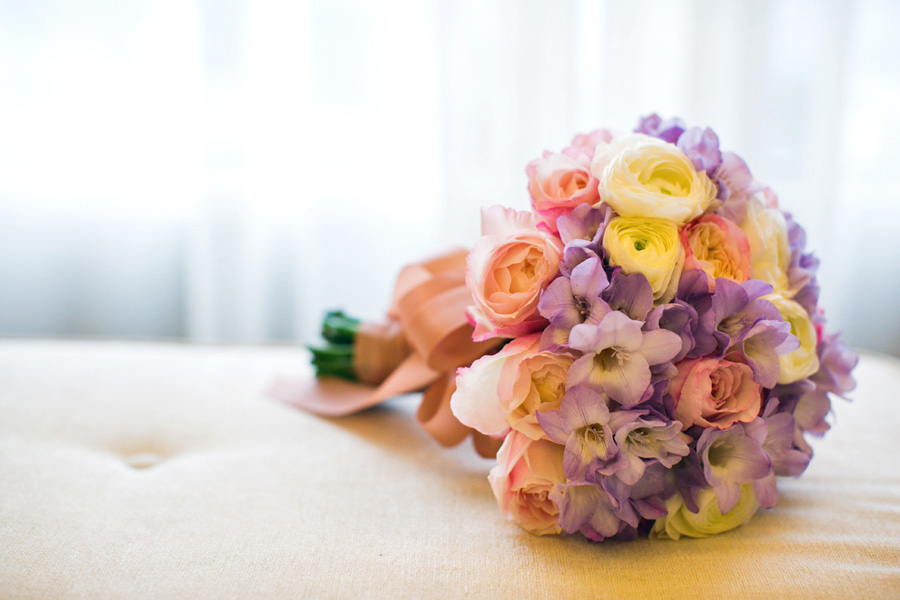 Peilu's sweet bouquet.
Although the main colour for the wedding is purple, we worked on a palette of pastels as requested by the bride. However we used a striking shade of purple in one of the arrangements…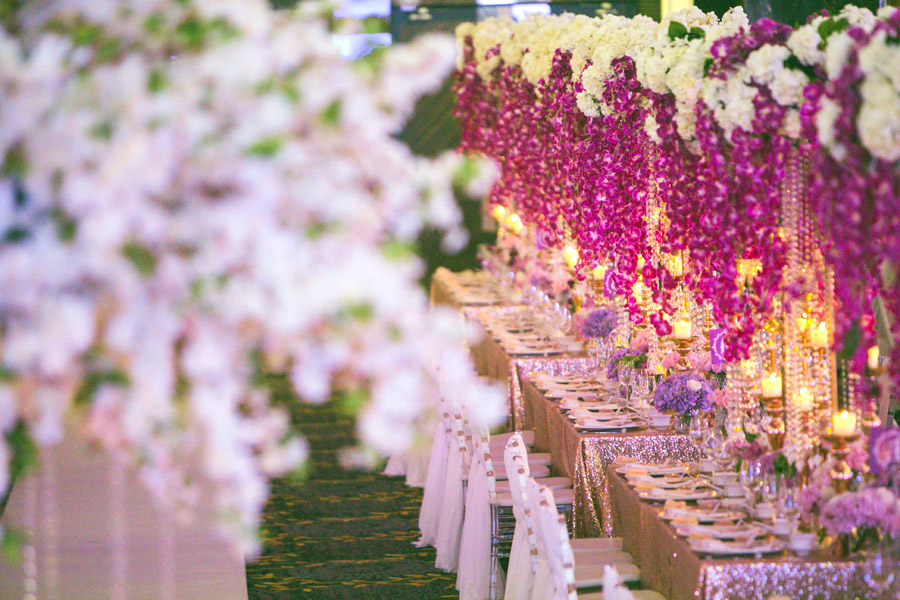 The viking tables on either side of the aisle are a regal sight to behold.
"We loved our viking tables; they're very glamourous," says Peilu. "I wanted pastel shades of purple, white and pink, but the effect of deep purple is outstanding!"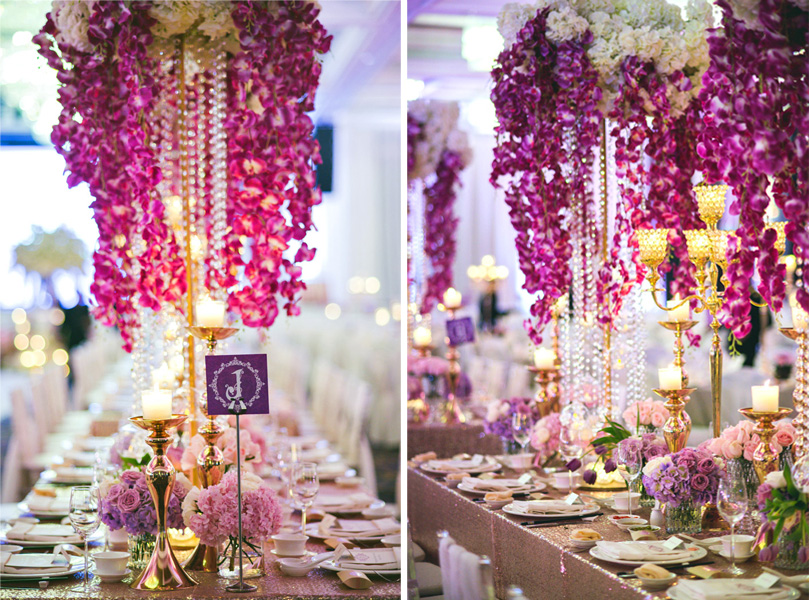 A closer look at the guest tables' arrangements.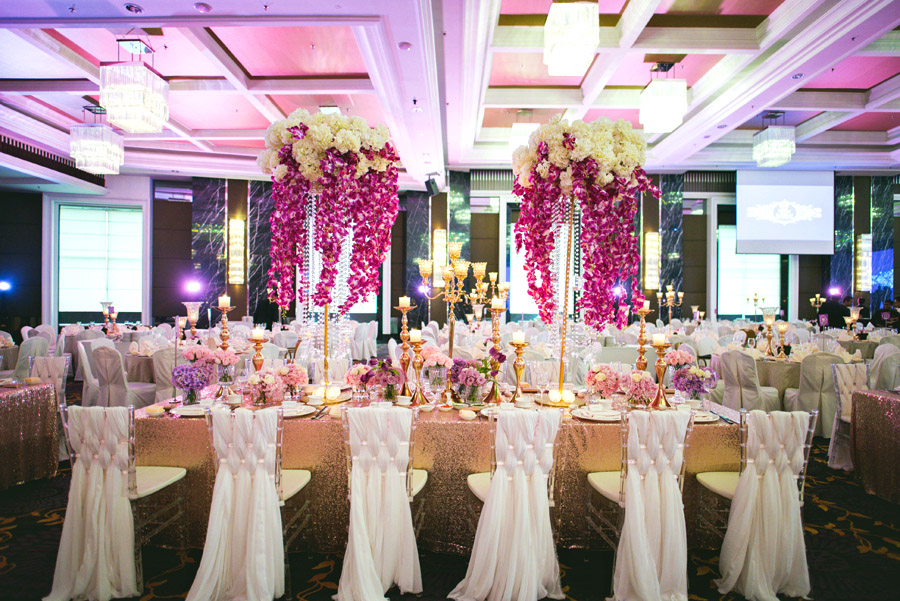 Decorating with varying heights and textures.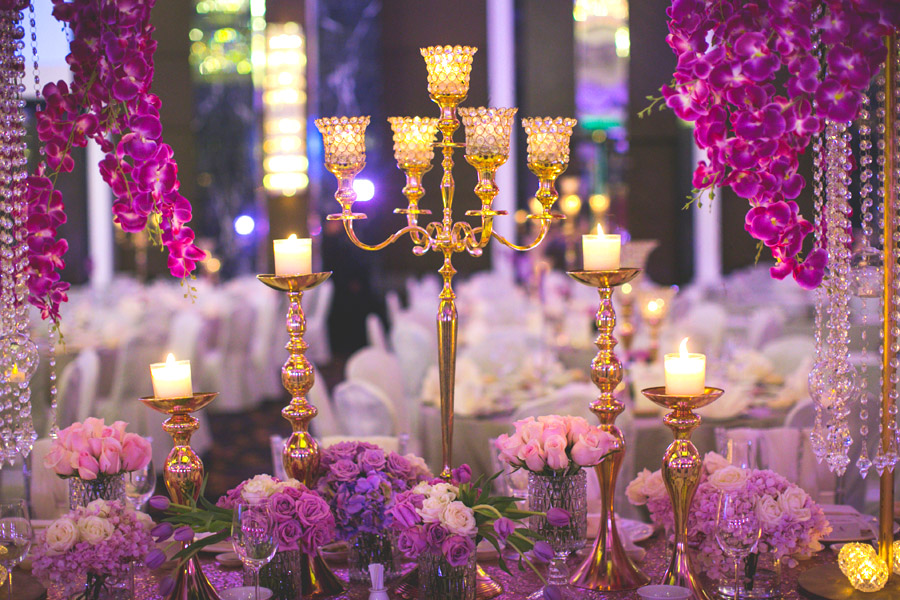 Shades of purple, pink, white and gold.
Our bride had some ideas for her table at the reception, and we were happy to help her create this look that added so much warmth, elegance and beauty to the ambience.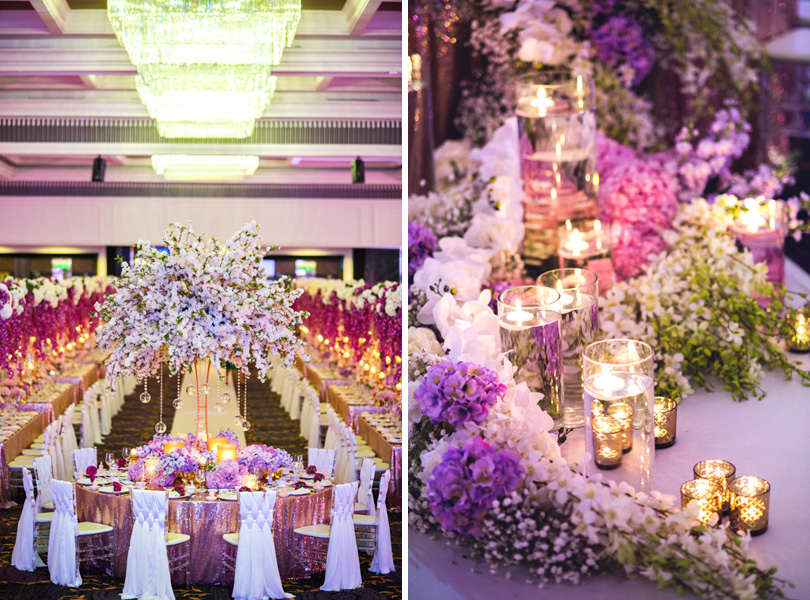 Two sides of the gorgeous bridal table…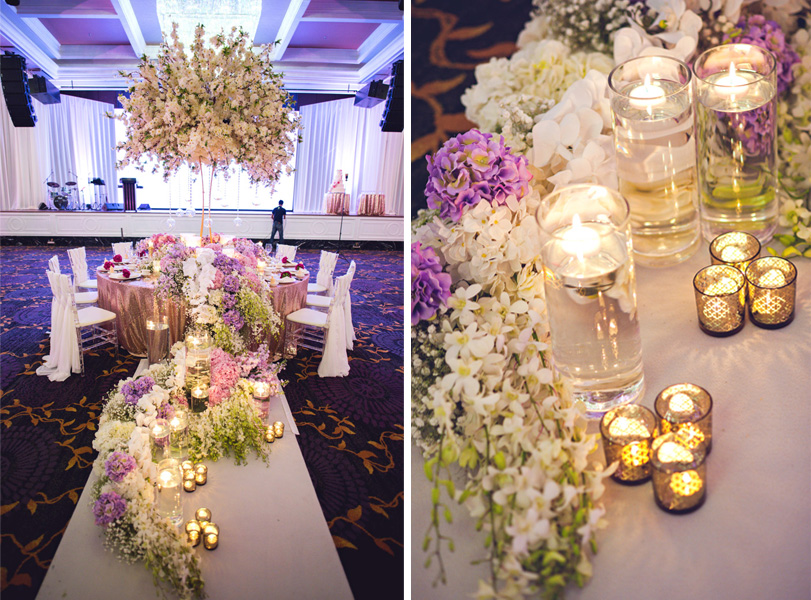 …with luxuriant blooms cascading down the table to the floor!
"I wanted my table to feature a tall floral arrangement, like a cherry blossom tree, and the lower arrangement to trail from the table to the floor… and Wishing Tree did a great job. I loved it!" Glad you loved it, Peilu 🙂

Jwin and his beautiful bride.
Thank you so much, Jwin and Peilu, for letting us decorate your wedding reception and for sharing your big day with our dear readers! We wish you both the best in your wonderful new journey together.
"We had a great experience with Wishing Tree, who we will definitely recommend to our friends for their weddings. We were quite concerned about the time that we had left to plan the decor, as we approached Wishing Tree one month before our wedding! We thank the team for doing an amazing job on such short notice.
Big thanks to our wedding planner, Lane, and also Lily, for their professionalism and a job well done and with all their efforts put into our big day. When planning your wedding decor, it's important to stick to your budget, and we truly appreciate Lily's great ideas to help us stay within our budget when ours didn't.
The planning process was very easy with Wishing Tree, with fast and clear communication between us. They were straightforward, stayed within our budget, listened to our dream wedding ideas and planned accordingly to what we wanted. Our wedding was one of the most beautiful weddings we'd ever attended! Big thanks guys! Xoxo" – Jwin and Peilu