Hello dear readers, we have a new wedding for you! Our couple, Jin and Hilda, recently tied the knot in Kuala Lumpur and we had the pleasure to have been a part of their beautiful ceremony and reception. Many thanks for sharing your big day with us and on the Wishing Tree Blog!
Thank you, Bonnie Yap, for the wonderful wedding photographs. The actual day of the wedding was planned by Mun Tzin of Milestones.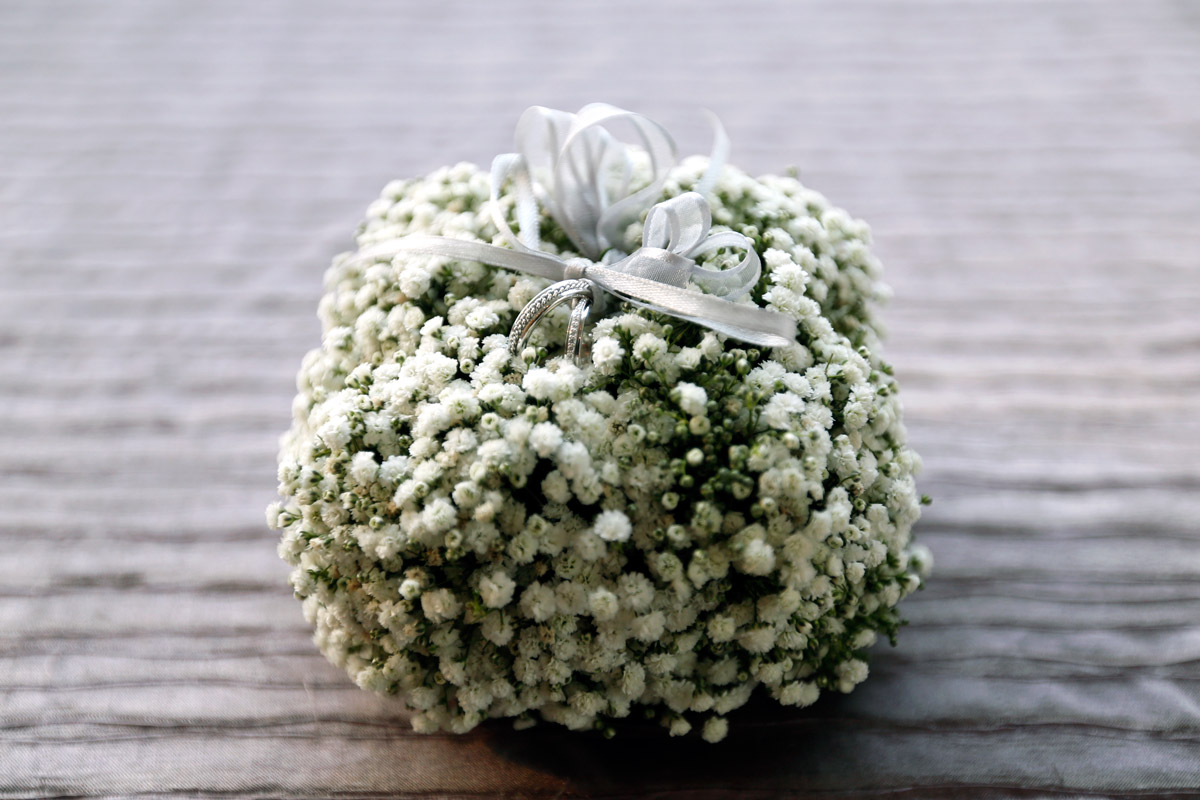 A ring pillow decorated entirely with Baby's Breath.
There is something special about a couple that come from different cultures or different countries. Jin is Malaysian-born, while beautiful Hilda is from Hong Kong. They currently live in Malaysia. Hilda heard of us through friends who had seen our work, and who have hired Wishing Tree in the past, and so we are honoured that she came to us for her big day.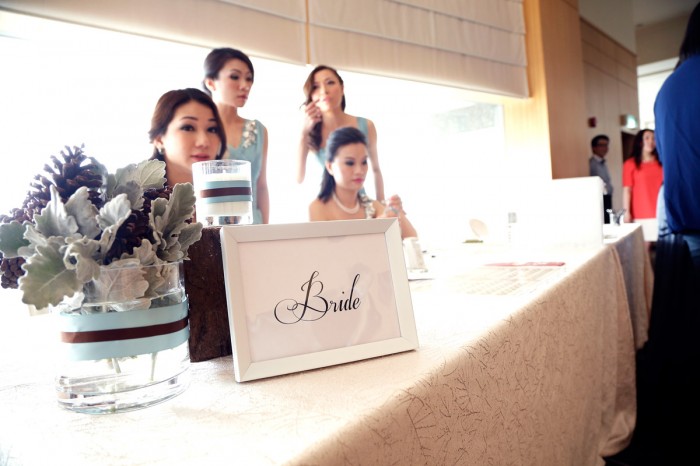 Reception table decorated in white, blue and brown. with pine cones, Dusty MIller silver leaves and coloured ribbons. We love this touch of masculinity with the colours and unique textures.
Hilda initially wanted a theme with "winter blue" flowers, but it wasn't possible to obtain flowers with the particular shade of blue. So we went with an all-white palette with accents of blue that came from ribbons sourced by Hilda.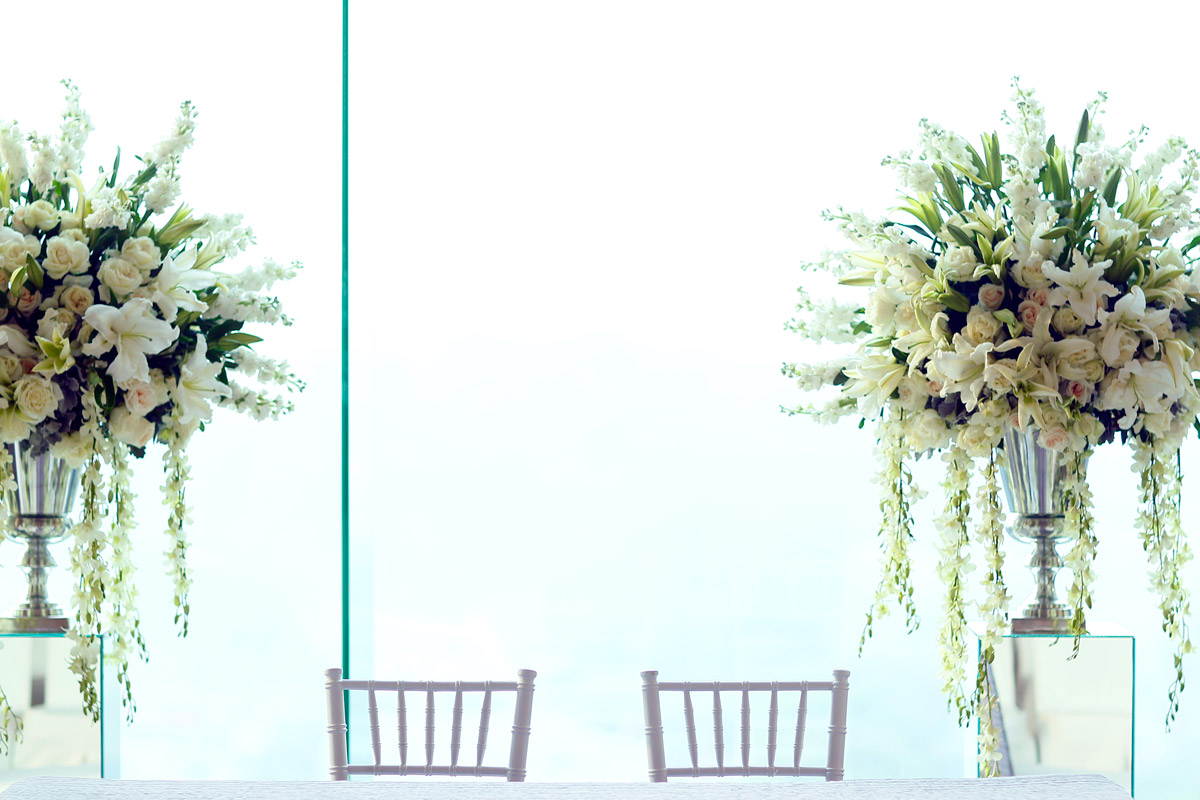 Lush floral arrangements in vintage silver stemmed vases, set on mirrored pedestals.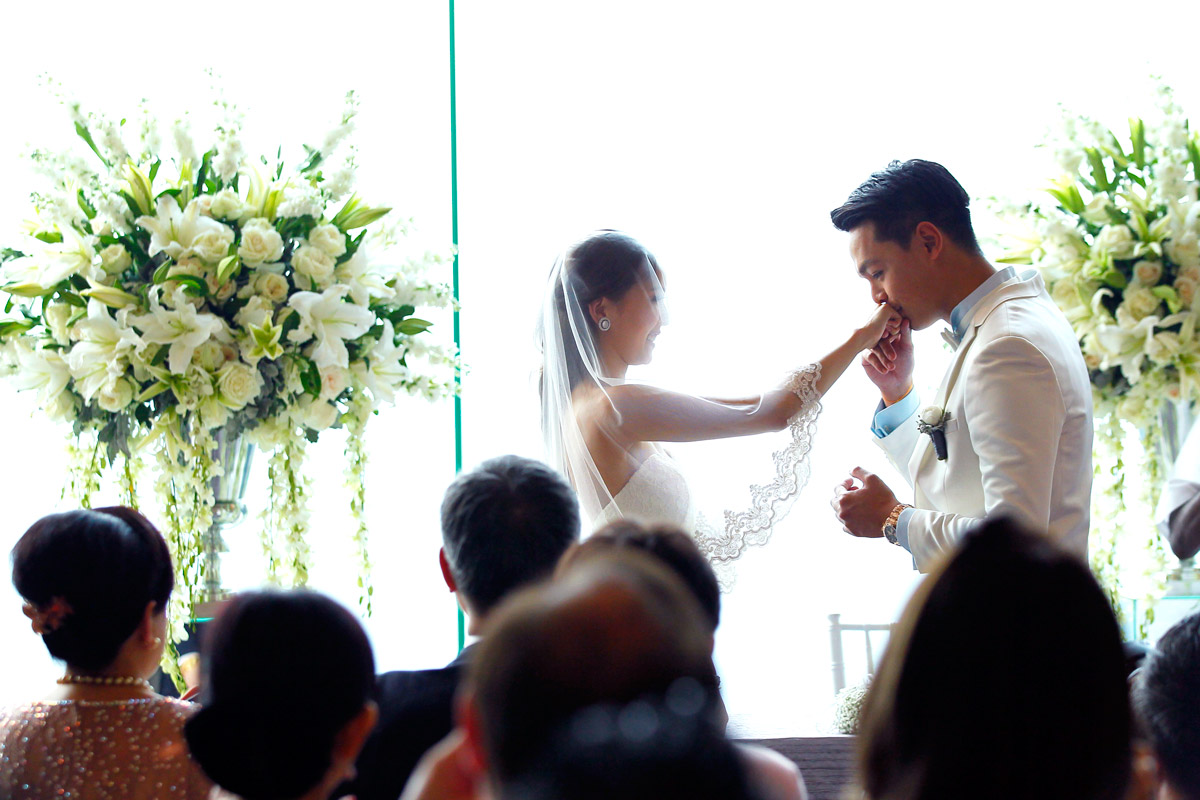 Jin welcomes Hilda with a kiss as she meets him at the "altar".
The wedding ceremony was set up at the Hilton Kuala Lumpur, attended by beloved family and friends. Hilda had the concept in mind and shared her vision with us. We chose lilies, dendrobium, matthiola and roses for the magnificent flower arrangements flanking the wedded couple as they said said their vows.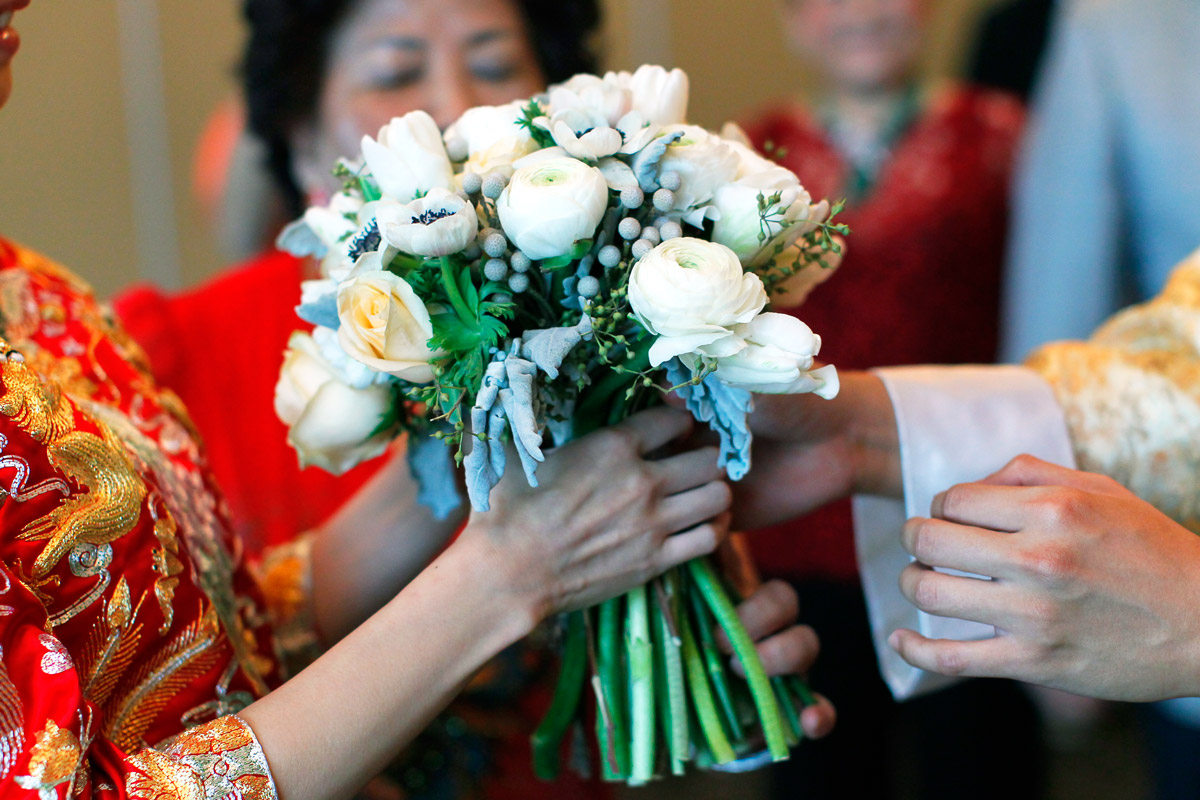 Hilda's bridal bouquet with tulips, ranunculus, anemones, roses, silver leaf and green nosa.
The wedding party moved into the grand ballroom at Hilton Kuala Lumpur for the dinner reception in the evening….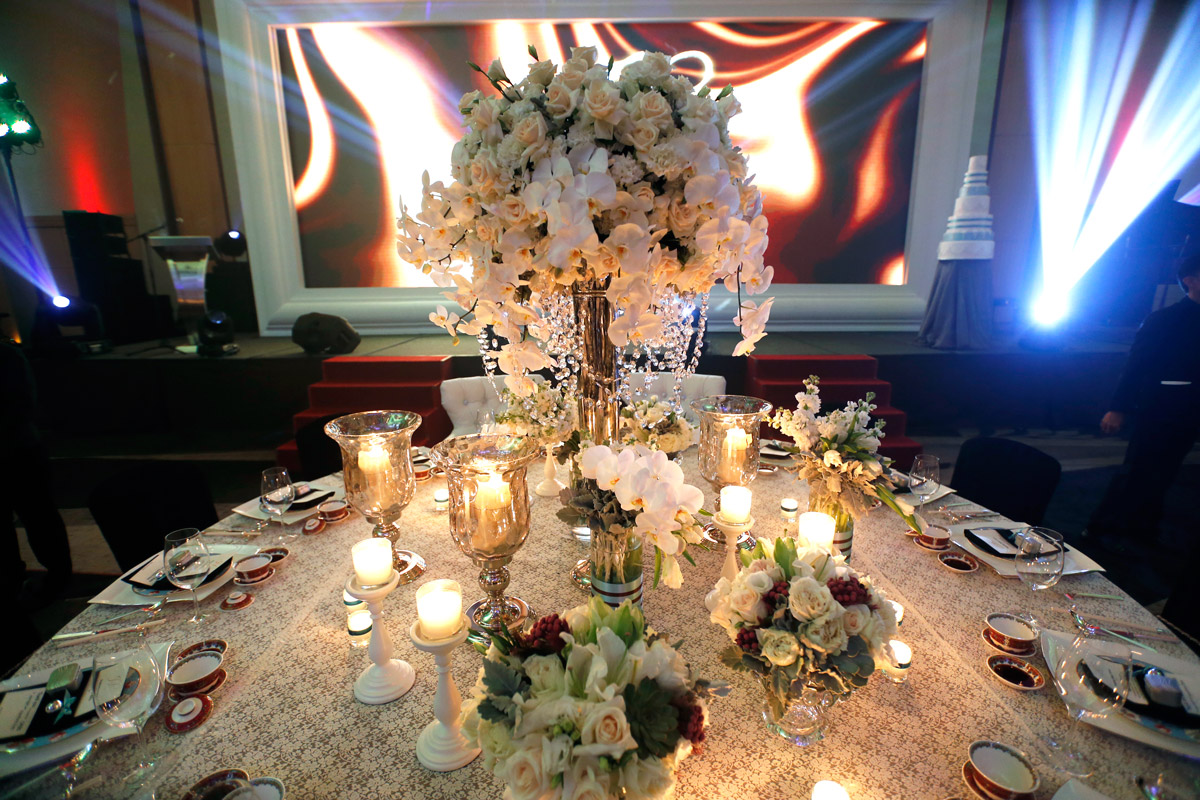 An elegant centerpiece fills the space with gorgeous blooms and candlelight.
One of Hilda's favourite arrangements was the centerpiece for the main table. In a tall, silver vase filled to the brim with phalaenopsis orchids, roses, and white hippeastrum, while smaller vases featured green nosa, matthiola, and more roses. The beautiful lace table cover was the bride's own, bringing a lovely touch of vintage to the whole set up.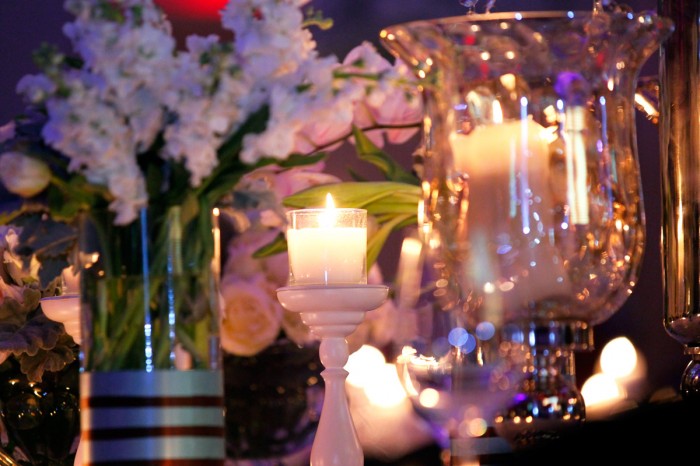 Lovely candlelight providing warmth and romance amidst the pretty matthiola and roses, reflecting off the vintage-looking hurricane vases.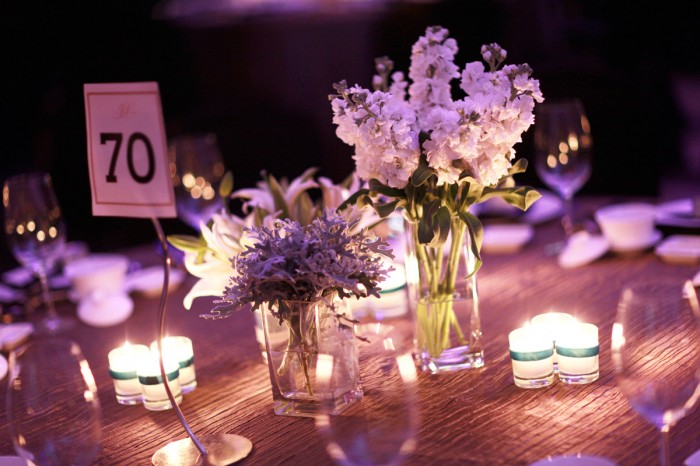 For some guest tables, vases of white matthiola, white hippeastrum and silver leaves, arranged among clusters of candles.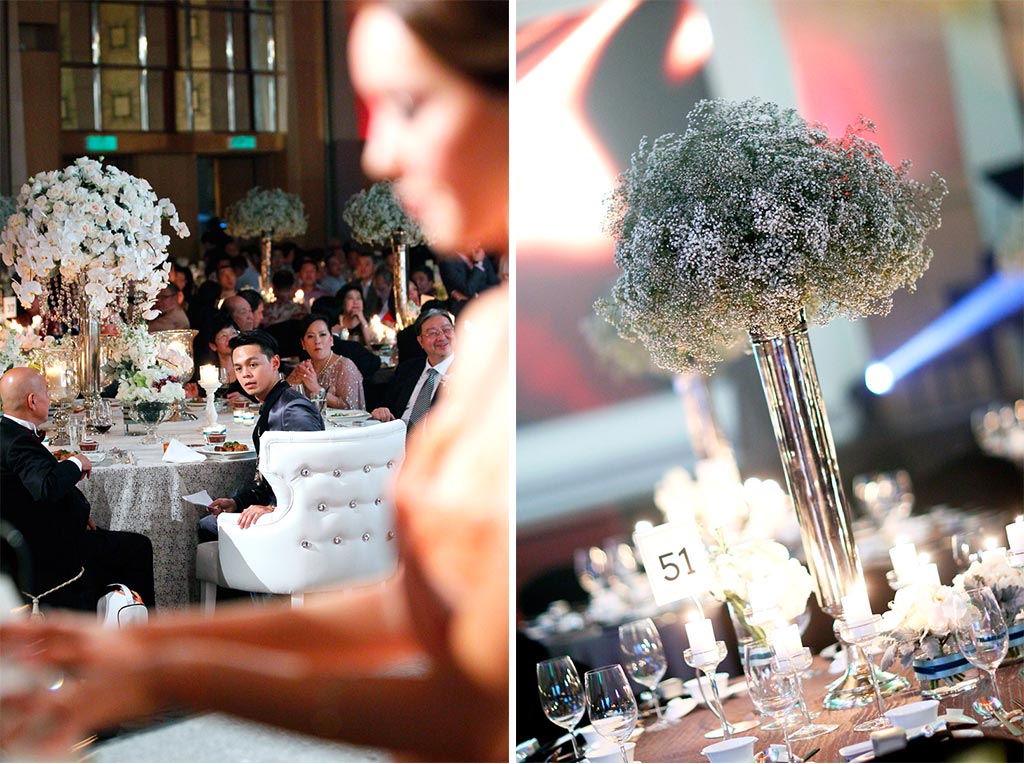 Tall vases of baby's breath were also used as centerpieces for guest tables.
Another view of the main table with the ballroom in the background.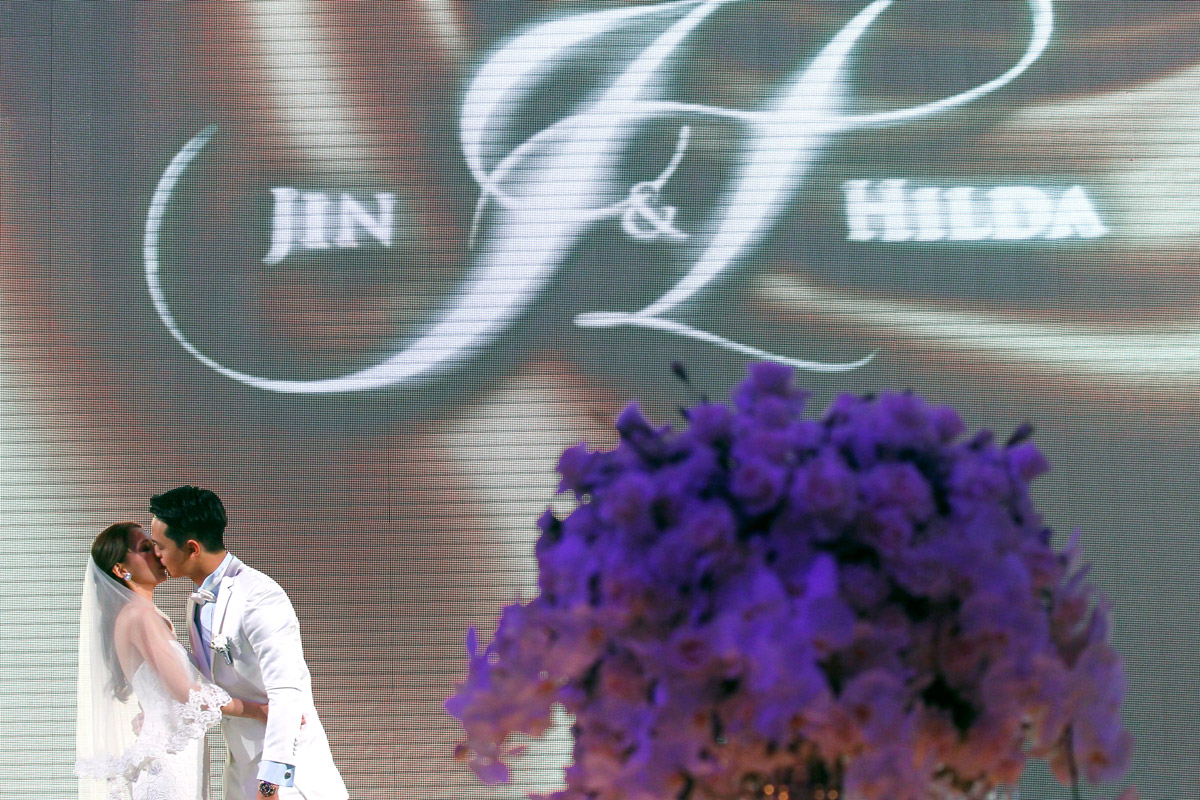 Jin and Hilda seal the deal with a sweet kiss on the stage.
"Wishing Tree was highly recommended by friends due to their professionalism, trustworthiness and creativity. They were very helpful and reliable, just the kind of people you want to ensure a memorable experience and a truly special wedding. We were very comfortable handing over the planning and the set-up, as we knew Wishing Tree would be able to deliver exactly what we wanted for our big day." – Jin and Hilda
Jin and Hilda, it was a pleasure to work with you and to create your dream wedding just the way you wanted it. We at Wishing Tree with you all the best and a lifetime of love, laughter and happiness!