Our warmest congratulations to dear Douglas and Lydia on their beautiful union that took place at the Holy Light Lutheran Church in Kuala Lumpur. We are honoured to have been a part of their church ceremony and their wedding reception at the Hilton Kuala Lumpur, and we thank you for sharing the events of your big day with our readers on the blog!
Many thanks to Jian Han of Moco Bridal for the lovely pictures.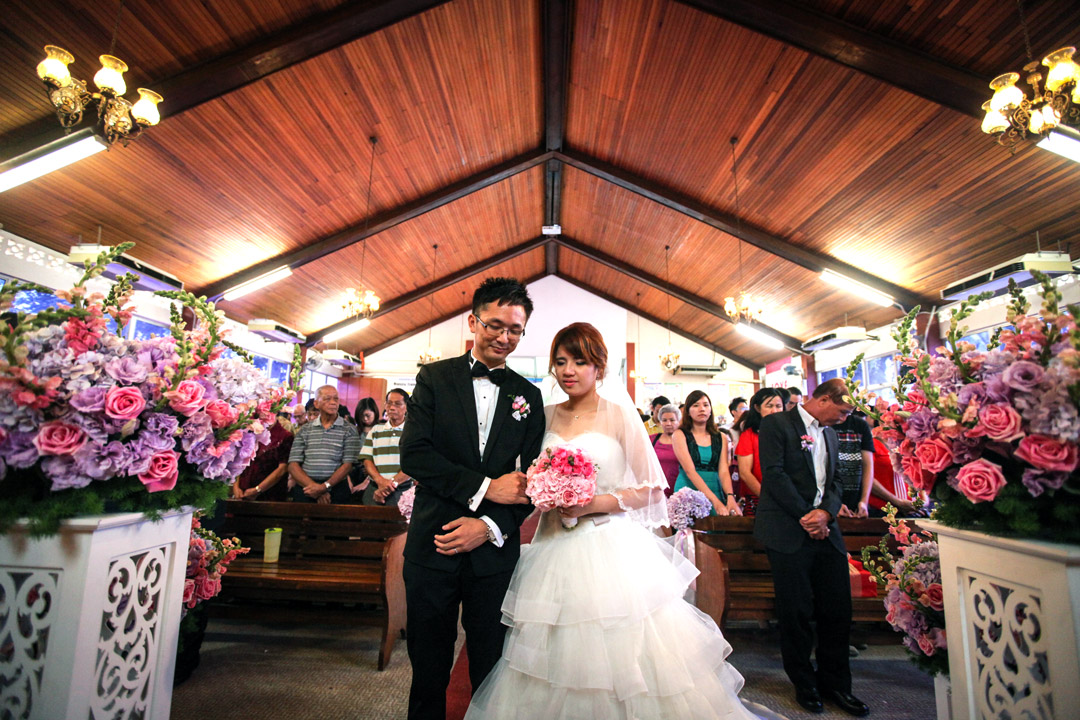 Douglas and Lydia prepare to dedicate their lives to each other in an opening prayer.
While many couples preparing for their big day hire a wedding planner to help with the organizing and ideas, Douglas and Lydia chose to plan their own wedding. "There's a first time for everything," says Douglas – we gotta love their "can do" spirit!
Douglas and Lydia worship at Holy Light Lutheran Church so it was fitting that they said their marriage vows there. It is a lovely church, featuring lots of natural wood that gave their intimate ceremony an air of tradition and warmth. Coincidentally, it was a church member who passed our contact to Douglas and Lydia after attending a wedding that we decorated at Luther Centre in Petaling Jaya.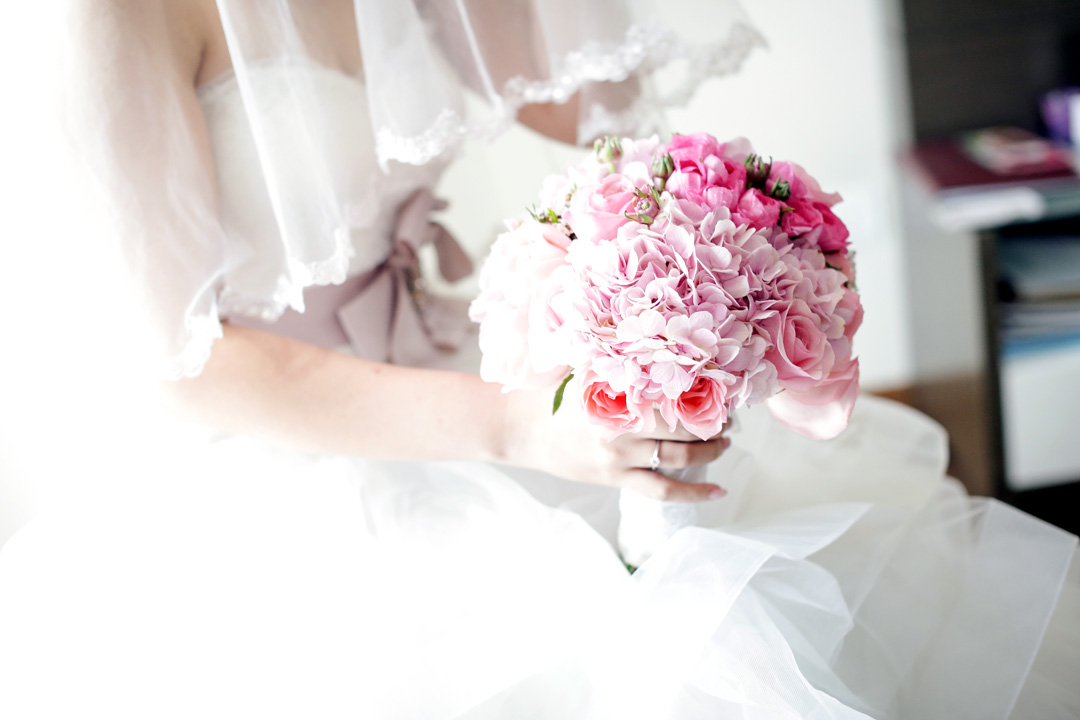 A simple bridal bouquet comprising Lydia's favourite flowers – hydrangeas and roses.
Personalizing their own wedding was an important part of the process for Douglas and Lydia, who worked together on various DIY projects for their big day such as their wedding invitations and wedding favours. "There was a lot of DIY in our wedding," says Douglas, "which was quite a bit of work, but in the end it made our wedding that much more memorable for us."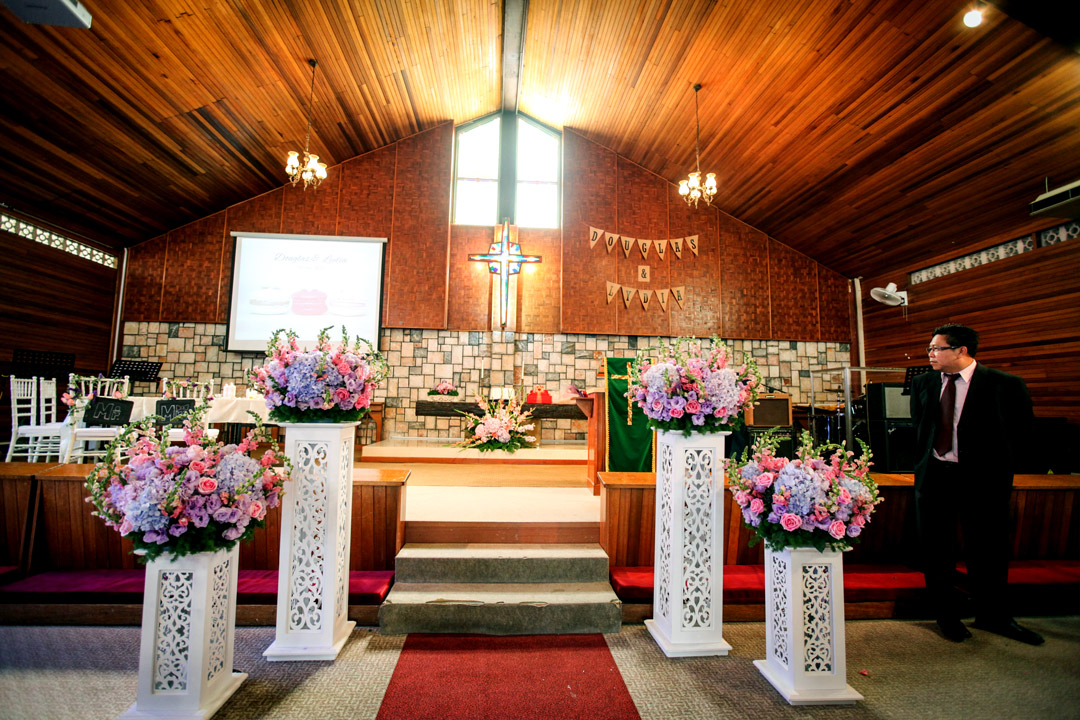 A quiet moment at the altar, decorated with Lydia's favourite roses and hydrangeas.
Douglas reveals that the flower arrangements at the altar was one of Lydia's favourite parts of the wedding ceremony. As he and his wife stood between the pedestals for most of the ceremony, it created an atmosphere of warmth and sweet romance for Lydia who "really loves flowers", says Douglas.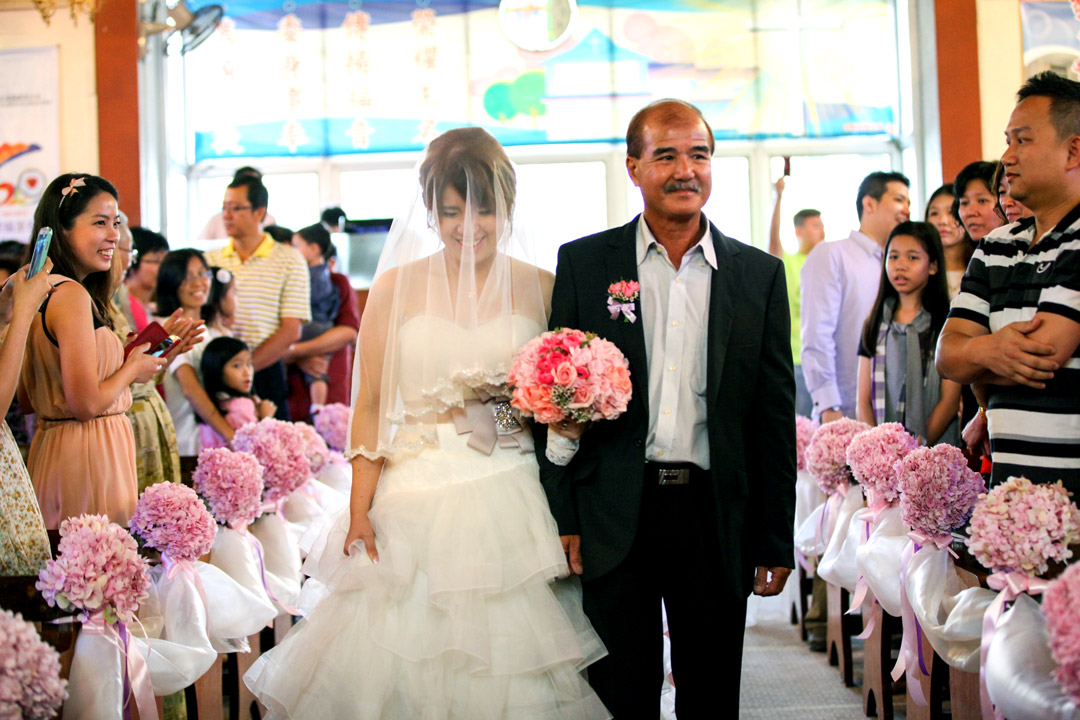 A proud and touching moment for our bride's father as he walks her down the aisle.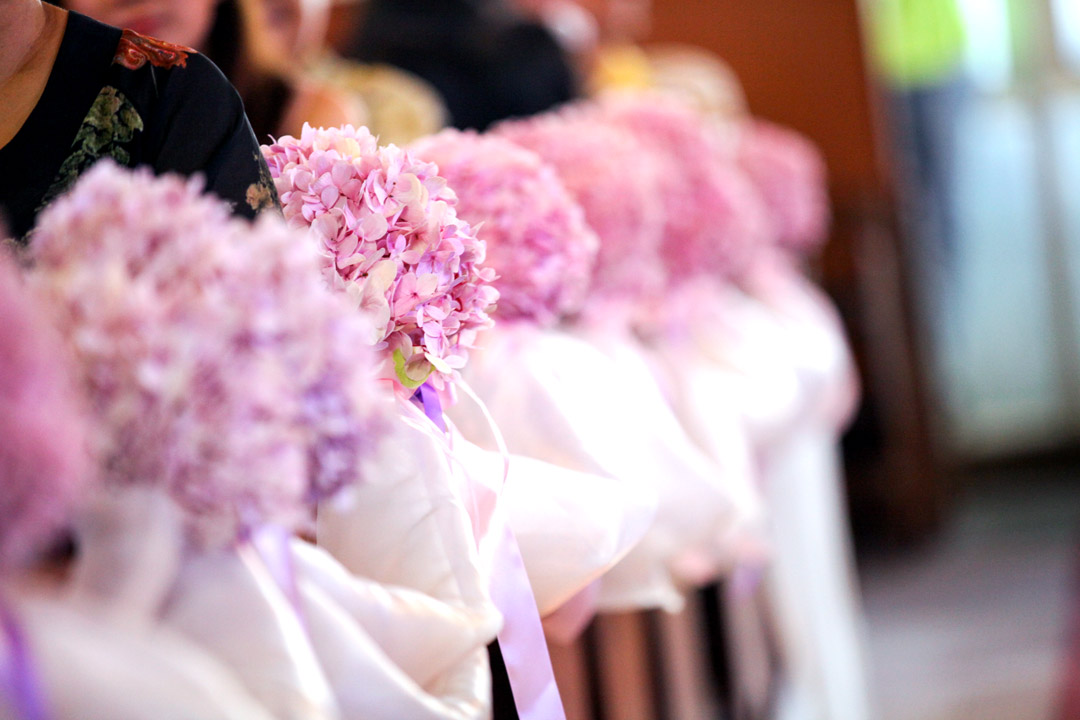 Lydia's favourite flower adorn the pews lining the aisle.
One of Lydia's favourite flowers is the hydrangea, and there was no lack of it on her wedding day. Each pew was adorned with lush, pink hydrangea and white satin sashes with pink and lilac coloured ribbon. They accompanied Lydia all the way as she walked down the aisle as a single lady for the last time. This was also one of her favourite, most memorable moments of her big day.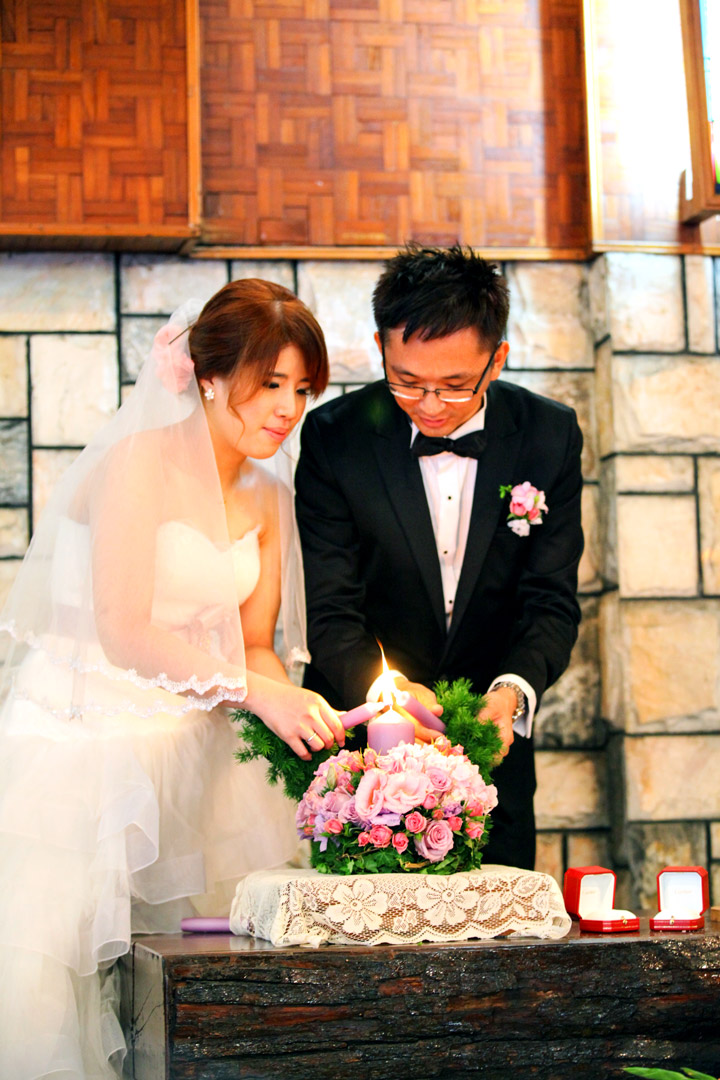 Our couple light the Unity Candle, a significant symbol of their union as man and wife.
Next up, Douglas and Lydia turn up the glam dial for their wedding dinner reception at the Hilton Kuala Lumpur!