The Chinese Lunar New Year is upon us! "Xin nian kwai le" and "gong xi fa cai" to all our readers who celebrate. With the colour red dominating all manner of dress and decor during this festive season, we'd say there is no better time to share Han and Justine's wedding with you.
Their reception was held at the Hilton Kuala Lumpur, photographed by Alan Yong of Pages & Pixels.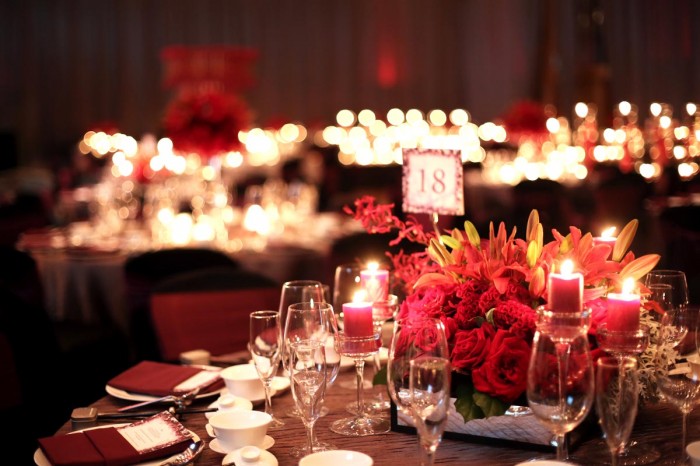 Guest tables adorned with high and low centerpieces. All in red, of course.
"Dark romanticism" was the ambience our bride Justine was going for. Red was her colour of choice, with accents of black and silver, to create a space that was romantic, bold and lush.
We love a bride who knows what she wants but also knows to trust her decorators. If you have planned your own wedding, you know that trusting people you hardly know with the responsibility of putting together your most important life event is something that's easier said than done. And if you're a wedding planner, you'll know to never compromise that trust. For once, Justine has the pleasure of being both!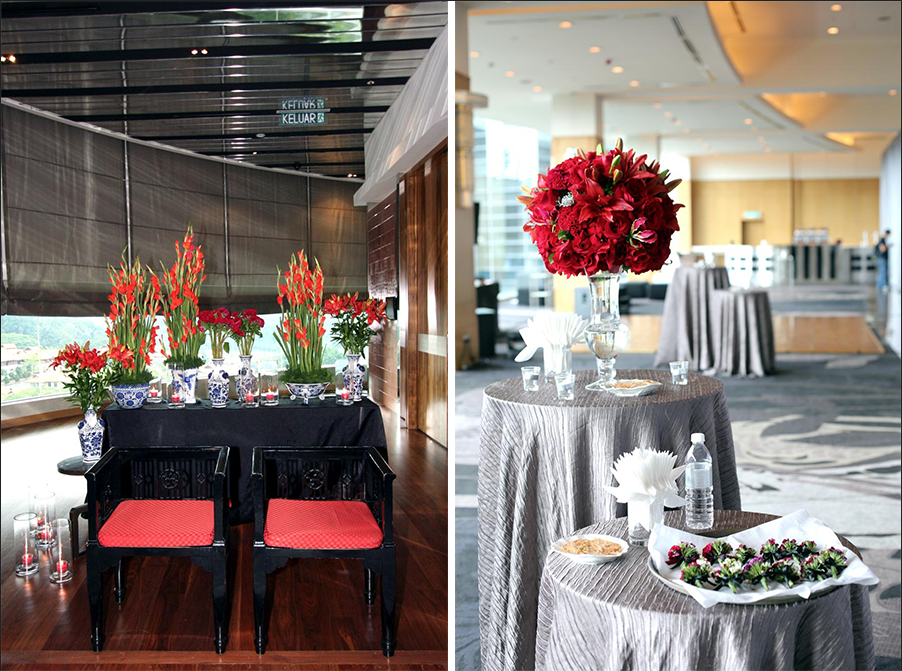 Left: One of Justine's favourite parts – the tea ceremony area, small but elegantly decorated with a contemporary Chinese touch. Right: Pops of bold red for the cocktail reception.
As a professional wedding and event planner at I Do, Justine had a distinct advantage over first-time brides. For one, her arsenal of experience and phone numbers of Kuala Lumpur's best wedding vendors (thanks for calling us, Justine!). Secondly, it is considerably less stressful when you know exactly how to plan a wedding, obviously. While Justine planned the wedding with her now-husband, Han, and their family members, the coordination for the wedding day was entrusted to the lovely ladies at The Peak Xperience so that family members and friends could just sit back and enjoy the celebration.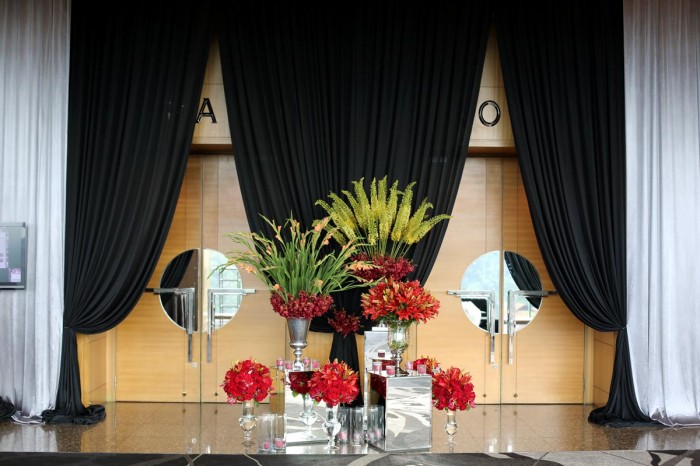 Floral arrangement at the ballroom entrance at HIlton Kuala Lumpur.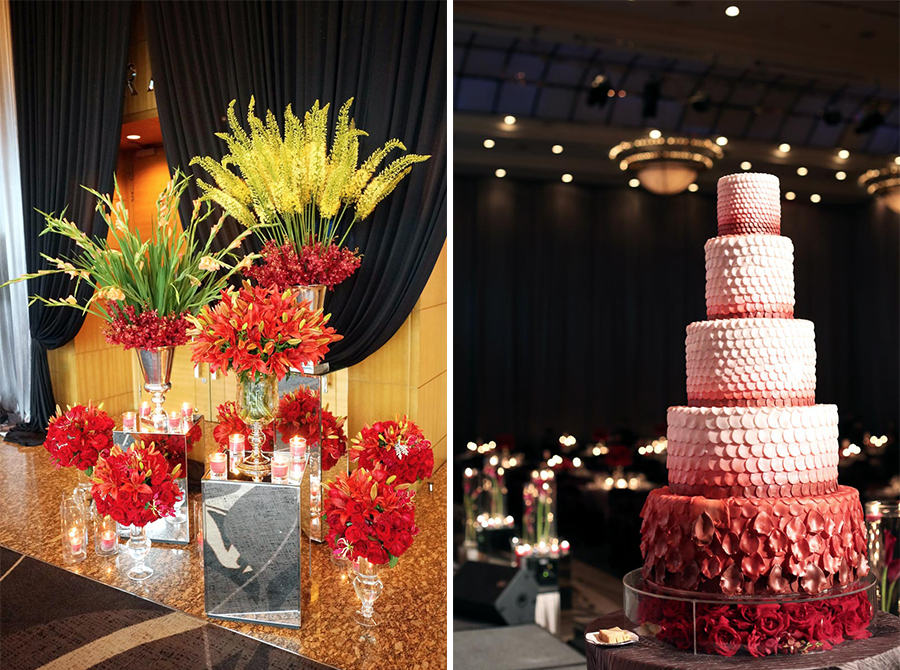 Left: Ballroom entrance floral entrance. Right: The stunningly simple and elegant wedding cake, baked by Hilton KL's pastry chef, inspired by Justine's design and enhanced by Wishing Tree's red roses at the base.
Inside, the ballroom at Hilton Kuala Lumpur was enchantingly transformed. Deep reds and golden glows lit up the space, reflected beautifully against shiny glassware everywhere you looked.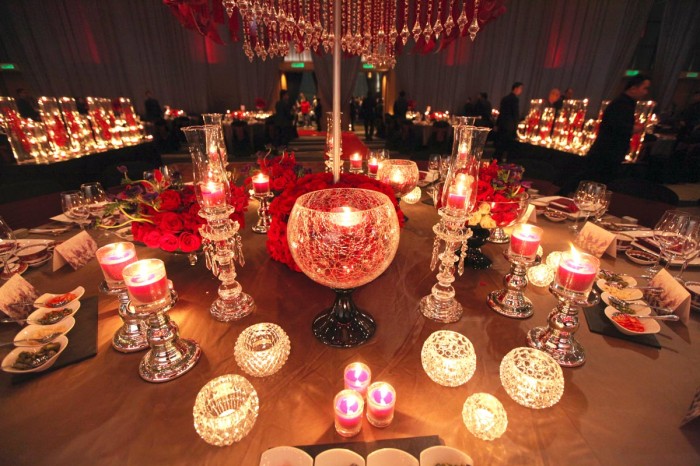 Dramatic yet uncluttered. The bridal table features just several carefully curated silverware and glassware, ambient lighting, and small floral arrangements.
But it was the floral chandelier above the table that stole the evening! Justine's favourite flower, the calla lily (specifically in maroon), was star of the chandelier. The sleek lines and elegant sweep of petals combine in perfect form to create a contemporary floral arrangement, and nicely complements the textures below it.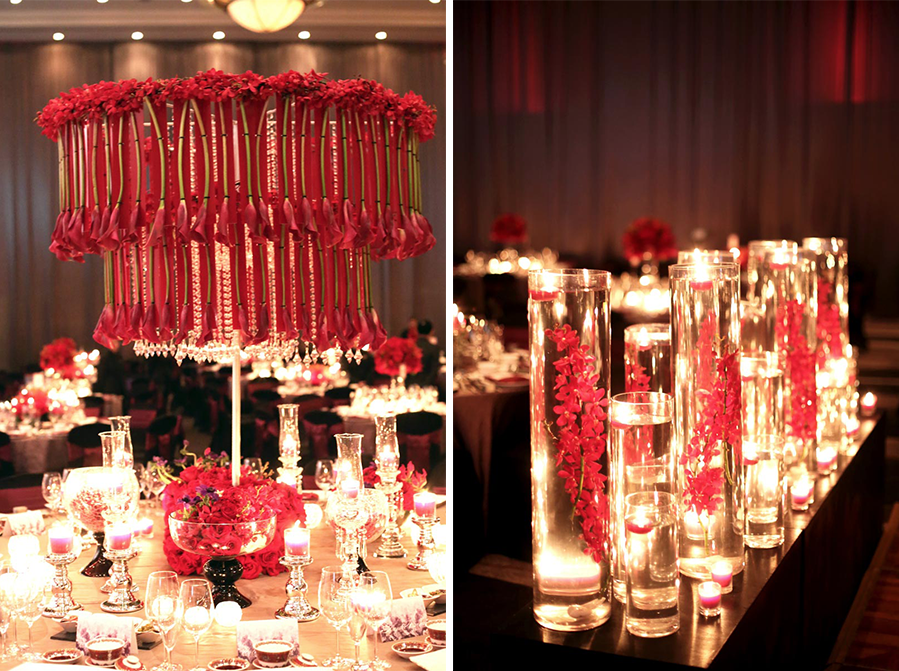 Left: The striking floral chandelier centerpiece for the bridal table. Right: A gorgeous display of light, colour, textures and reflection.
While floral chandeliers are great ideas in terms of creating something stunning or different, they can be quite an obstruction for guests at the table if not properly planned. Here we took into account the height of seated guests so that everyone can see and talk to each other. Do keep that in mind if you would like to create a floral chandelier for your next event.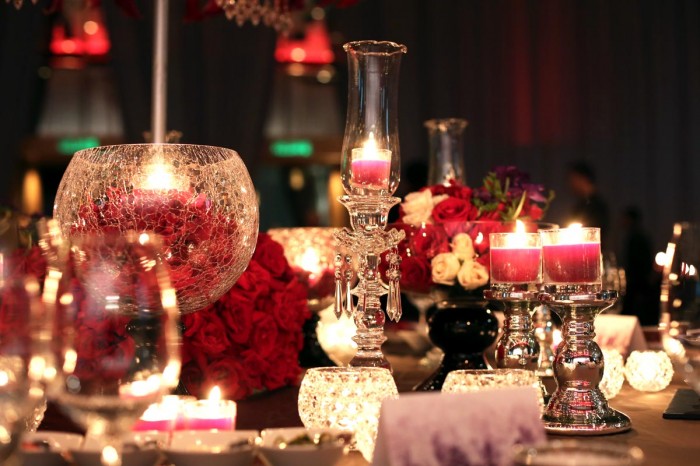 Want to use glassware and silverware that don't match? Go for it!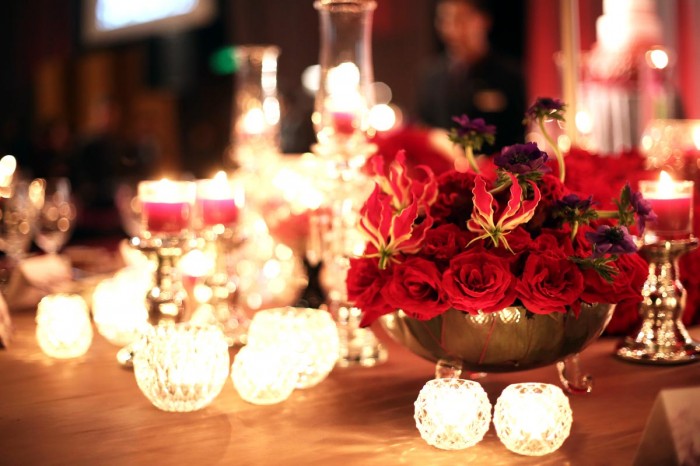 Create visual interest with different shapes and sizes, like with these gorgeous crystal tealight holders.
Thank you once again, dear Justine and Han, for sharing your amazing day with us and our readers. We wish you a lifetime of love and happiness!
"It's always a pleasure to collaborate with the Wishing Tree team. Their ability to make your ideas a reality and exceed expectations was definitely true in my personal experience, and their enthusiasm from day one helped to keep the planning process fun and engaging. I think many people overlook how the environment you create can affect the tone and flow of an event. What the Wishing Tree team created for us really captured the feel of what we wanted and managed to embody our own personal touches to help make the whole experience really magical for everyone. Perfect!" – Justine and Han