When Evan and Jasmine discussed their wedding ideas with us, we were pleasantly surprised with the main colour they wanted for their decor. We're sure you would agree that "midnight blue" is a pretty unusual colour for a Malaysian wedding, but unless they were especially dyed or coloured, midnight blue does not exist naturally in flowers. So we agreed to use the next best thing – beautiful shades of deep purples.
Many thanks to GallerieCK for the photos!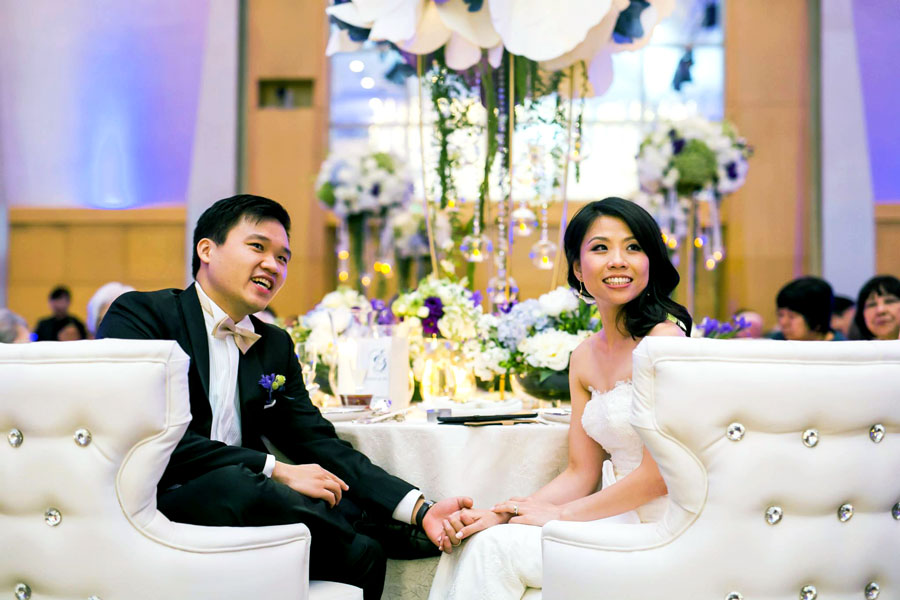 Our beautiful bride Jasmine and her dashing groom Evan.
Our couple found us online while researching wedding vendors in Kuala Lumpur. Together with their wedding planner, Lane Ho of MY Wedding Planner, we created this beautiful evening for Evan and Jasmine.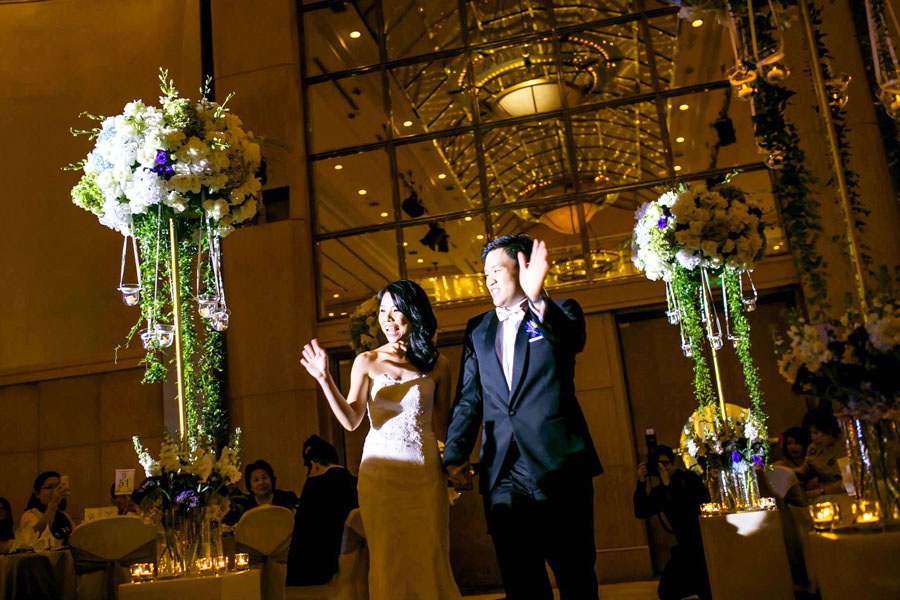 Evan and Jasmine make their entrance as man and wife.
Evan and Jasmine were very involved in the decisions surrounding their wedding reception decor. They had ideas about what they wanted and shared them with us. This was extremely helpful in designing the ambience and arrangements that our couple would love. We can't stress enough the importance of communication in this process, especially when there is a budget to adhere to.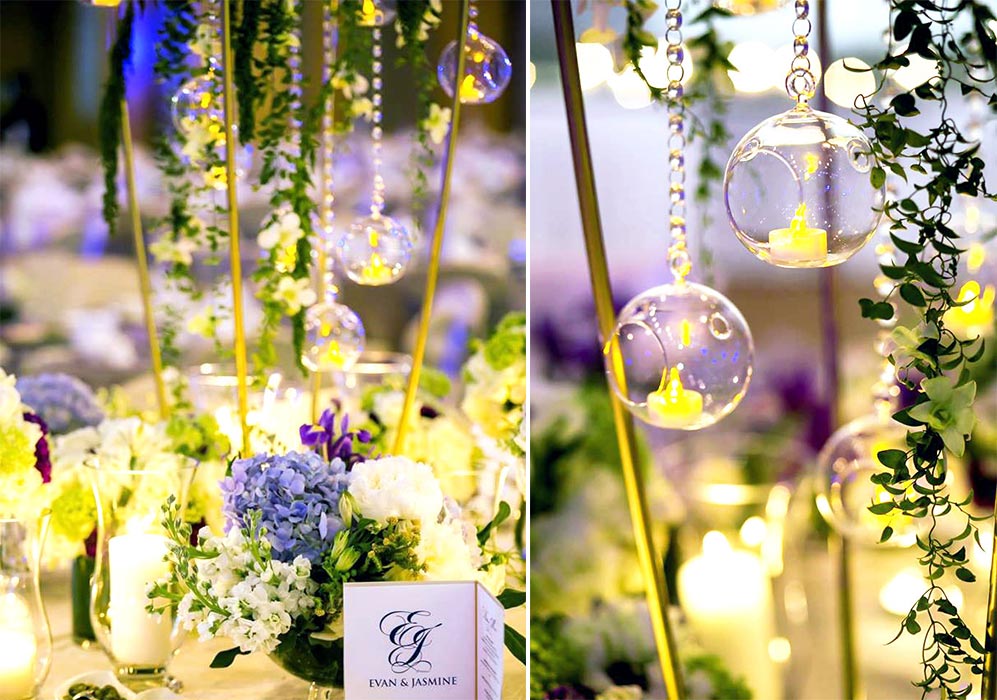 Flowers and ornaments arranged for a subtly whimsical ambience.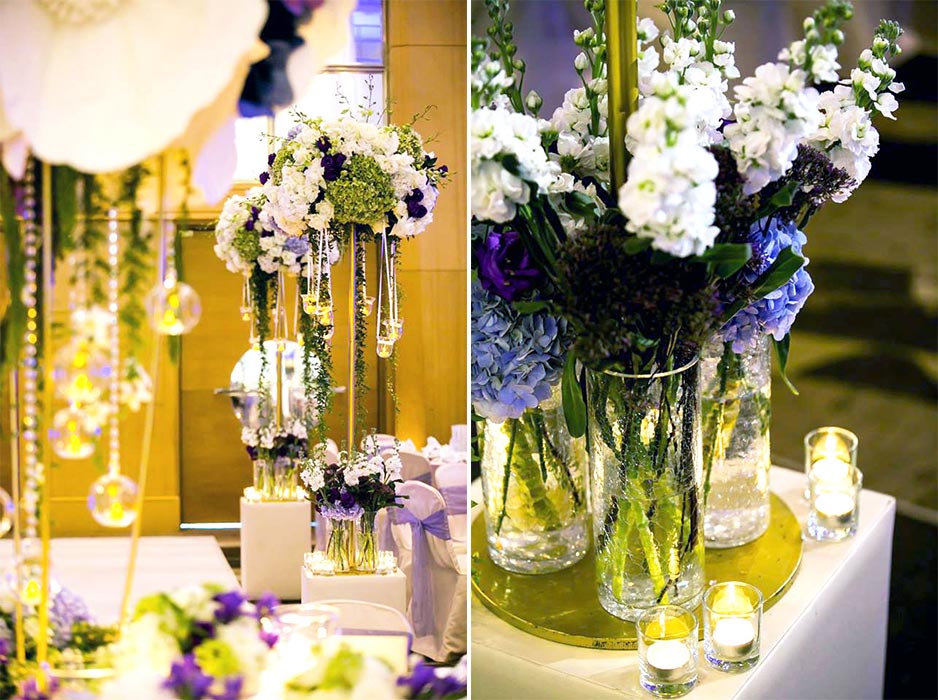 A mix of structured floral arrangements and rustic arrangements.
We love a mix of structured floral arrangements with rustic floral arrangements. They help to create a formal atmosphere for the occasion, but also adds an element of fun. We used clear glass for all vases and candle holders to keep the decor looking clean and sharp, without complicating textural landscape of the flowers.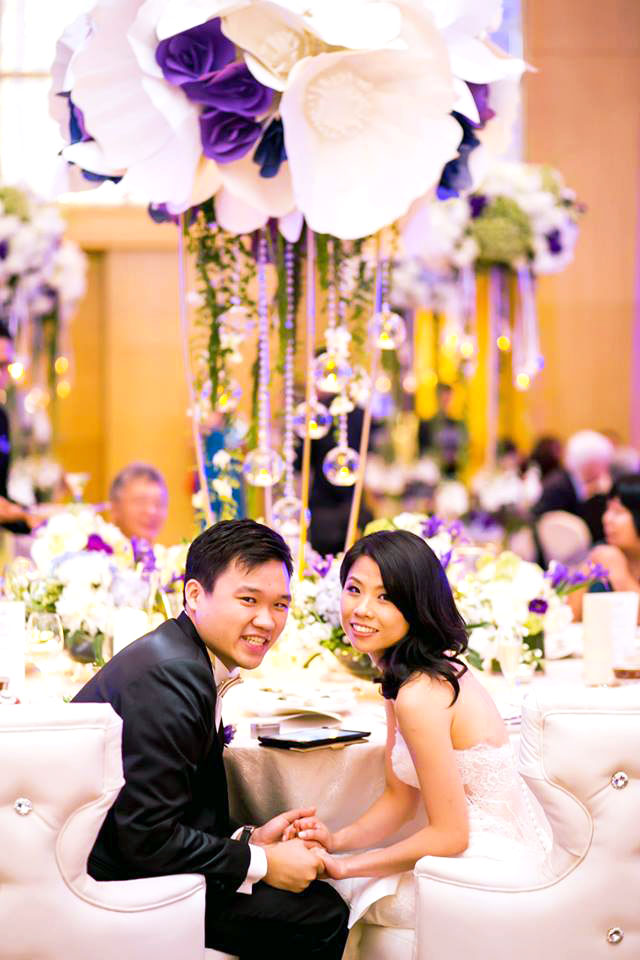 For something a little different, we decided to go with oversized paper flowers to top off the bridal table's centrepiece.
Thank you, dear Evan and Jasmine, for sharing your most treasured day with us and our readers! It's always a pleasure to decorate occasions dedicated to love and then receiving a note from the couple after the celebrations. It always makes our day! Here's one from them…
"Having Wishing Tree as our decor team was great! We got what we wanted and they made our wedding truly beautiful, creating a very romantic atmosphere for us and hopefully our guests as well. Thank you very much to Lily, Adrian, and the Wishing Tree team!"