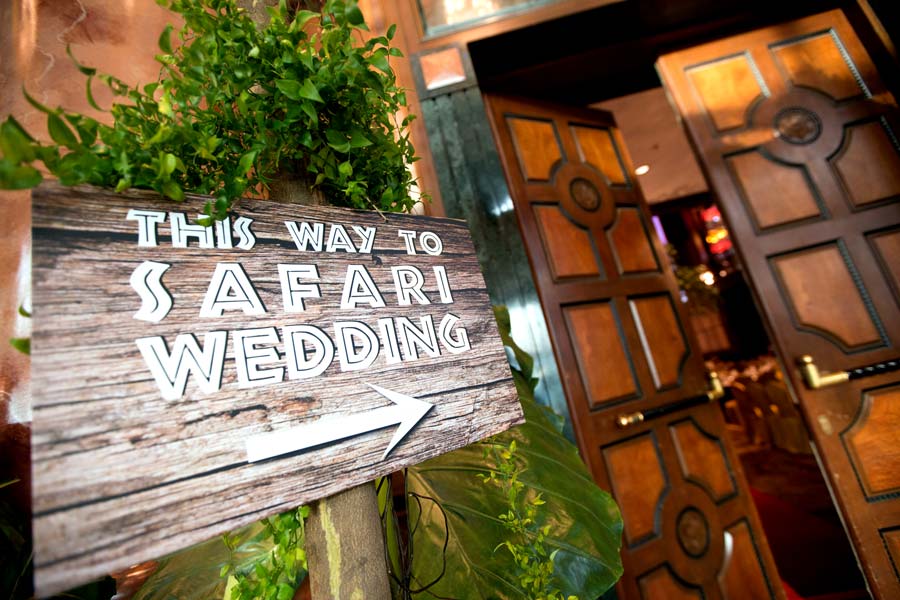 Follow the sign to the party!
Are you intrigued?? We definitely were when Satiesh and Rennu shared their ideas with us! They are known among their close circles for trying out new things, so, for the grand finale of their wedding celebrations they decided to take a very different path for their dinner reception. "Something non-cliche, but creative, fun, and exciting," says Satiesh. Their Safari-themed wedding was surely a first for us so we were happy to get on board and see what we could create together.
Many thanks for the amazing photos, MeaHow of Mphotoo!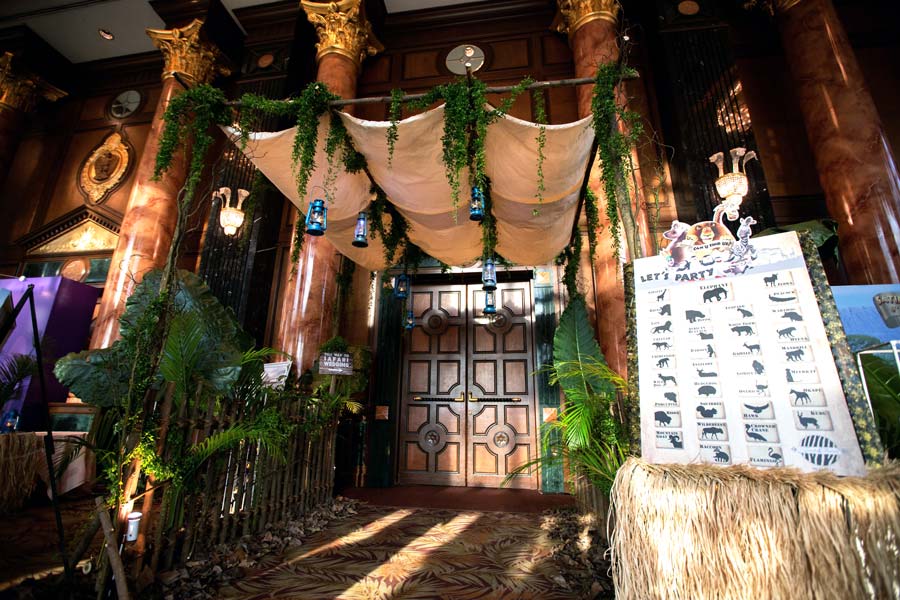 Entrance to the Safari Wedding
We were introduced to Satiesh and Rennu by their wedding planner, Patricia of MY Wedding Planner, whom we have known since she started her Kuala Lumpur-based business almost 10 years ago. Over the years, we have collaborated on countless weddings – a fact that our couple considered while shortlisting wedding decorators. "Of course the Wishing Tree Blog, website, and client reviews helped with the decision to hire Wishing Tree," Satiesh adds.
As a professional wedding planner trained at and accredited by the Association of Certified Professional Wedding Consultants (ACPWC) in San Jose, California, and having planned over 200 weddings, Patricia is used to the process. She meets with the soon-to-be-wed couple, is hired, and starts the wedding planning soon after, which usually initially begins with ideas for the wedding theme or decor for the big day. But not this time.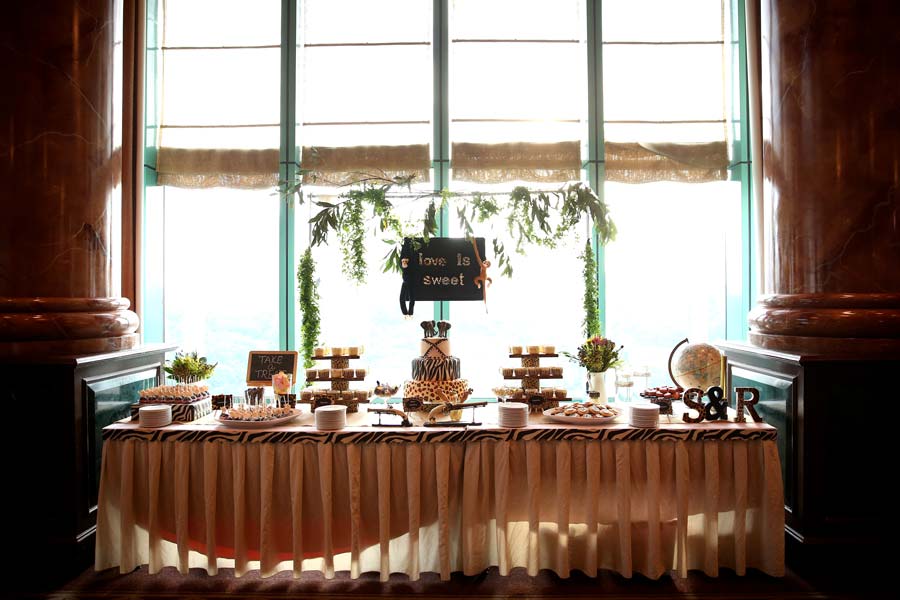 The enticing safari-themed dessert bar.
As Satiesh and Rennu were not in the country, it was her client's father who met with her prior to the couple's official engagement. However, she was not hired immediately. "I was given two weeks to come up with the theme design, and presented the proposal at his office, in a conference room, on a projector and screen, as did several other wedding planners."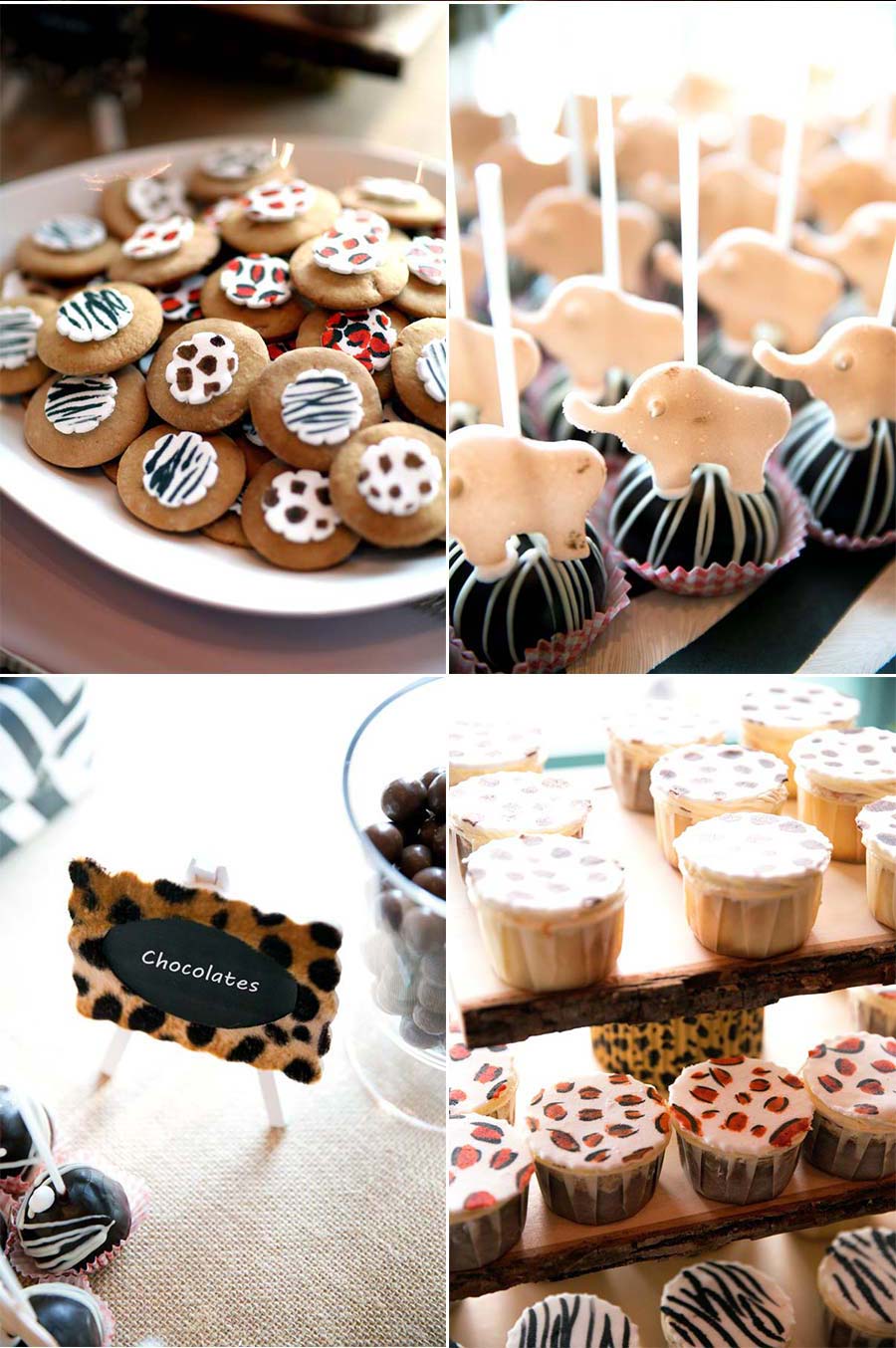 Satiesh-and-Rennu-sweetbar
The impressive attention to detail extended to the lovely desserts.
So how does one put together a wedding of this size? "Communication determines the success of any event," says Patricia. "I was blessed to have Satiesh and Rennu for a client, together with their beloved, fun-loving family who shared openly their thoughts and ideas and diligently kept up-to-date with the progress of the wedding planning. Just as your wedding planner shares his or her thoughts and ideas with you, it is also our hope that our clients feel the same and share theirs with us."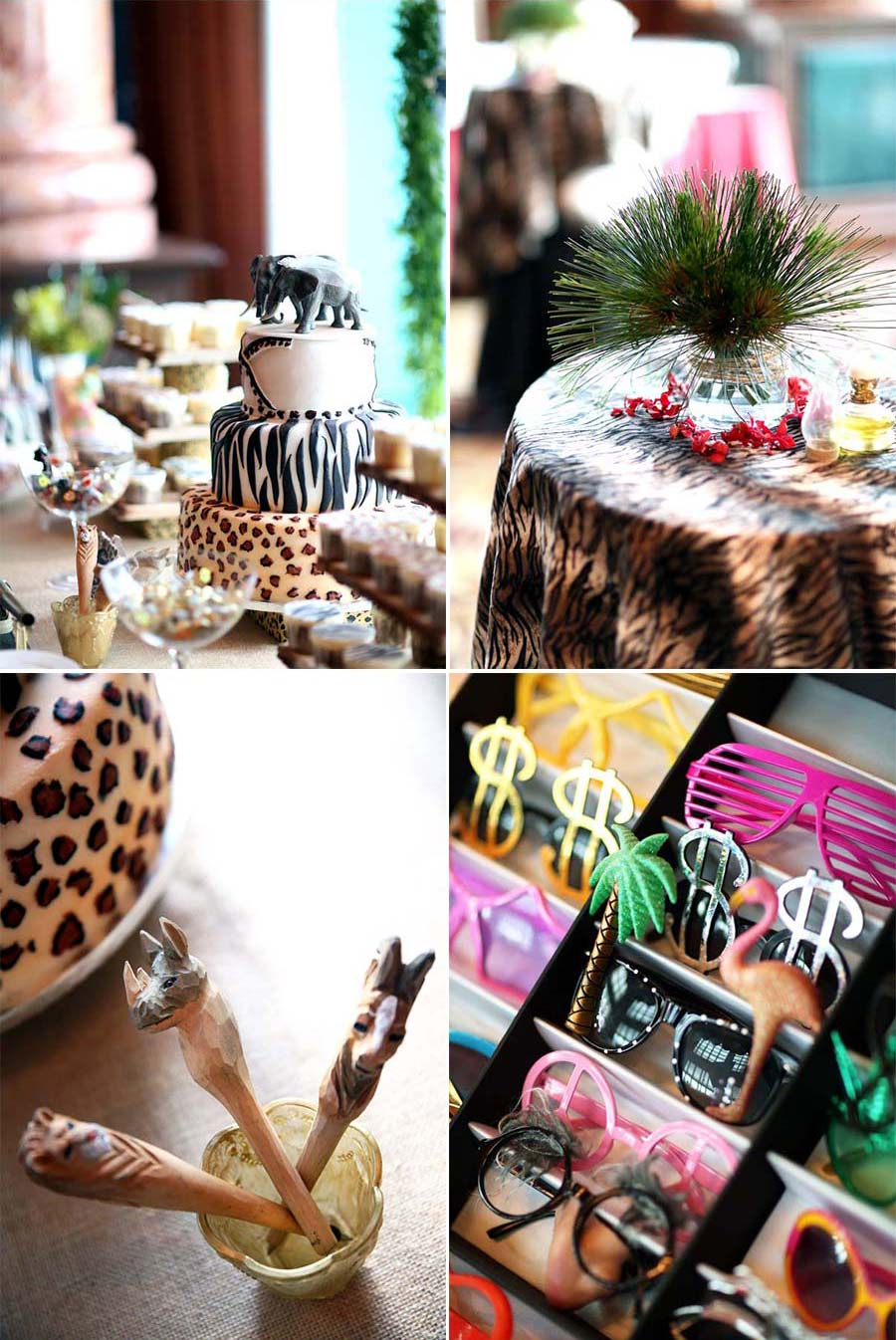 Satiesh-and-Rennu-receptiondecor
Theme-appropriate ornaments and decor, right down to the cake topper! And a fun bunch of props for camera-happy guests.
Sharing your ideas and thoughts openly with us, Patricia explains, achieves more than just letting your wedding planner know what you want and what you like. "The more information we have on your choices, likes and dislikes, the more accurately we can identify the right decorator to achieve your wedding decoration goals."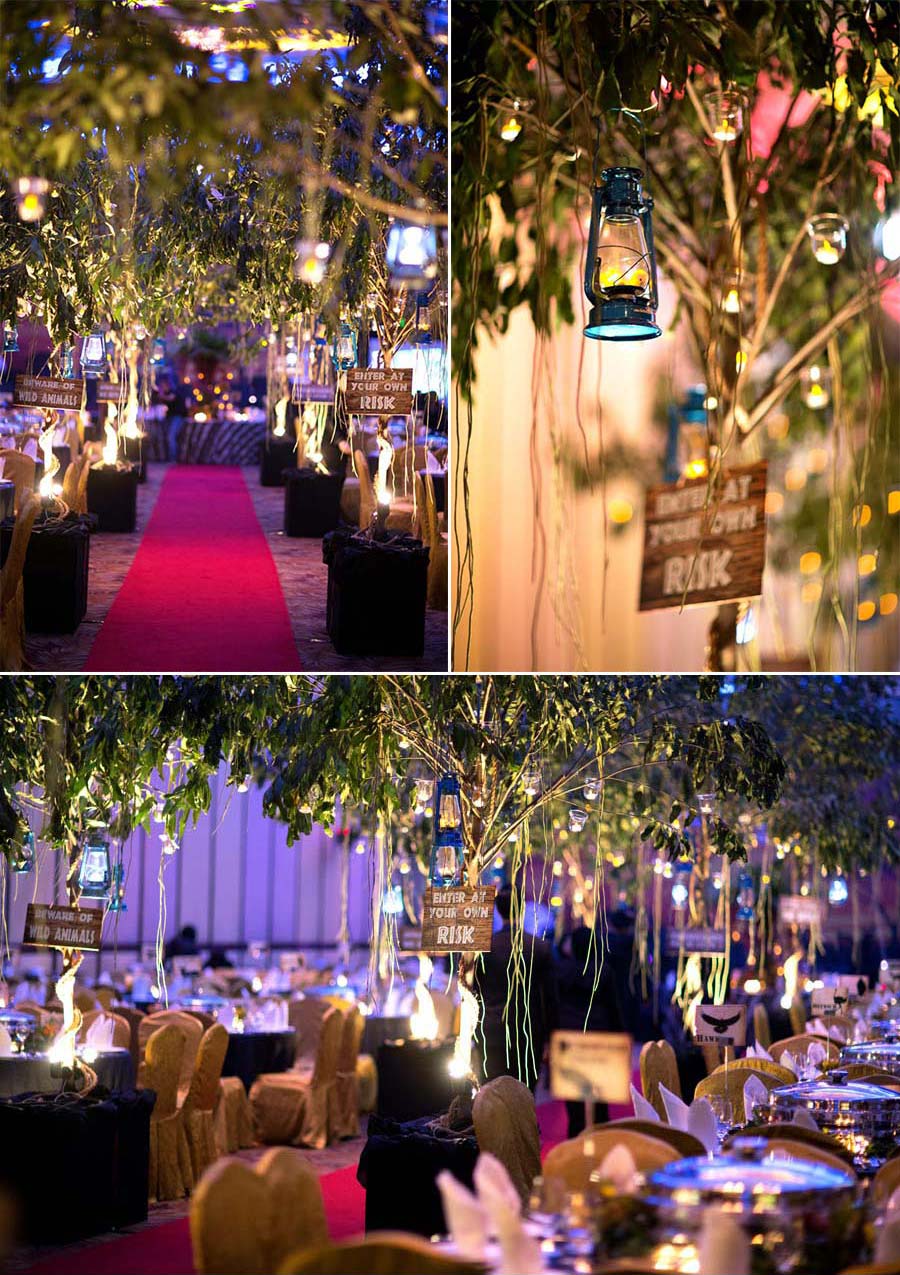 Satiesh-and-Rennu-safari-aisle
The jungle safari welcome, complete with vintage lamps and jungle vines.
The atmosphere in the ballroom was amazing! From the moment guests walked into the space, they are transported into a scene from the movies.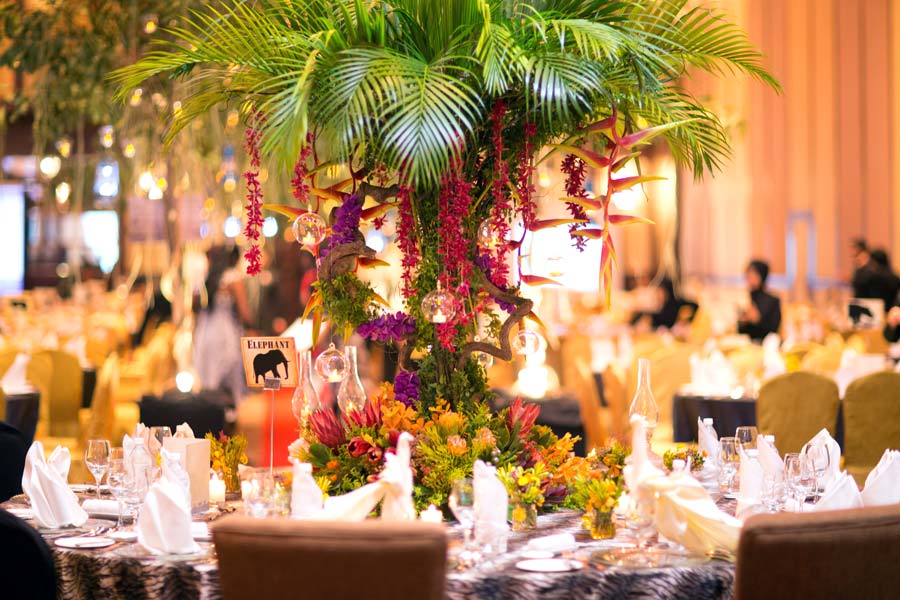 A centerpiece fit for the safari King and Queen!
The centerpiece for the bridal table is one of our favourite parts of the wedding decor, the "cherry on top", so to speak.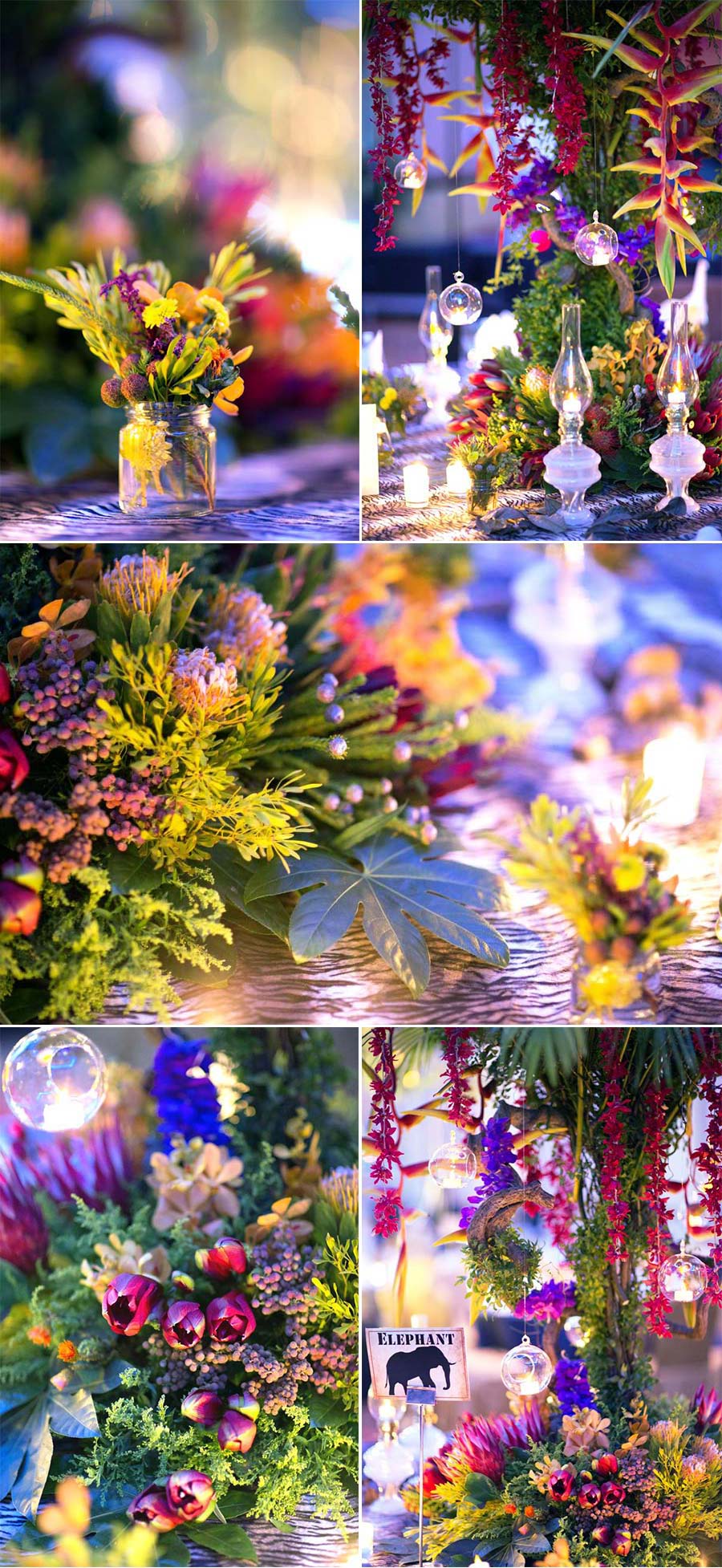 Close-up of the plethora of flora used in the majestic centerpiece.
Colours abound on the bridal table with a beautifully curated collection of blooms. We chose a palette of colours that would be vibrant and exotic, but also "restrained". If you're interested, the list of flowers include: red vanda, cherry pink vanda, hanging heliconia, red hippeastrum, leucadendron platyspermum, leucospermum, protea compacta, nosa brerzelia, carthamus, and solidago (commonly called "goldenrods"). The leaves are: fatsia, palm, and ivy.
Fun side fact: Hanging Heliconia is also commonly called Hanging Lobster Claw or False Bird of Paradise.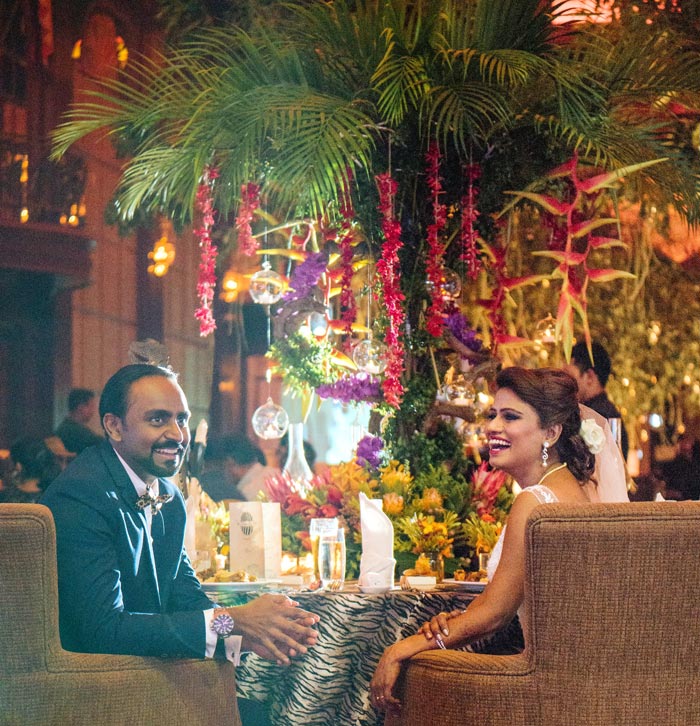 All smiles for our wonderful couple, Satiesh and Rennu,
Thank you, Satiesh and Rennu, for sharing your big day with us and our readers. Your wonderful note is much appreciated, and we wish you both a joyful lifetime of love and happiness!
"Planning your big day can be very stressful, hence finding the ideal wedding decorator with the right level of experience, professionalism, and flexibility is key for a successful event. I'm glad we chose Wishing Tree as they took the complexity out of the process and made it a fun and exciting experience for us. We were blown away with what they created and kudos to the team for making it perfect. I would highly recommend engaging Wishing Tree for your next event if you are looking for a company that will take care of your needs and deliver an unforgettable event." – Satiesh & Rennu