Hello, dear readers! As we approach Christmas and an end to another wonderful year, we are by no means done with "wedding season" in Malaysia. Today we are excited to share with you a feast for the eyes, a toast to romance – the beautiful wedding of Jack and his bride, Benz.
Gorgeous gold hues… all-white florals and linens… deep red goblets on every table… We're loving all the details and hope you do too!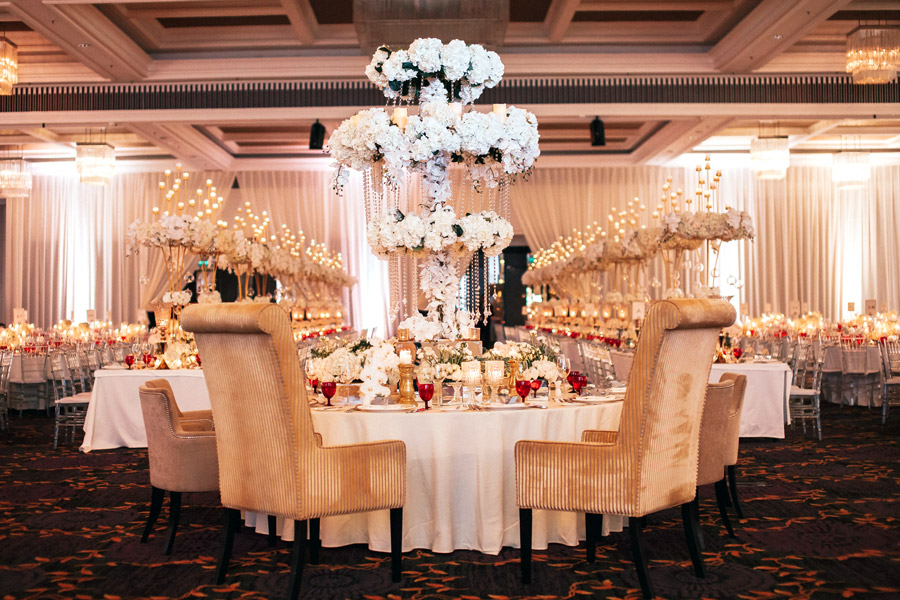 Jack and Benz's wedding reception is timeless and elegant in white!
A big thank you to Louis Loo for the sumptuous photos of this very special evening, and to the couple's wedding planner (and former Wishing Tree bride), our dear Sherly Abd Aziz of Tie The Knot, for chatting with us for this feature.
Jack and Benz entrusted their big day to Sherly almost entirely! "The only thing Benz wanted was an all-white theme, to complement her engagement party in Bangkok with similar aesthetics and ambience," Sherly explains. "Timeless and elegant, with statement pieces without making the ballroom feel overly cluttered. A careful balance between simply classic and grand luxury."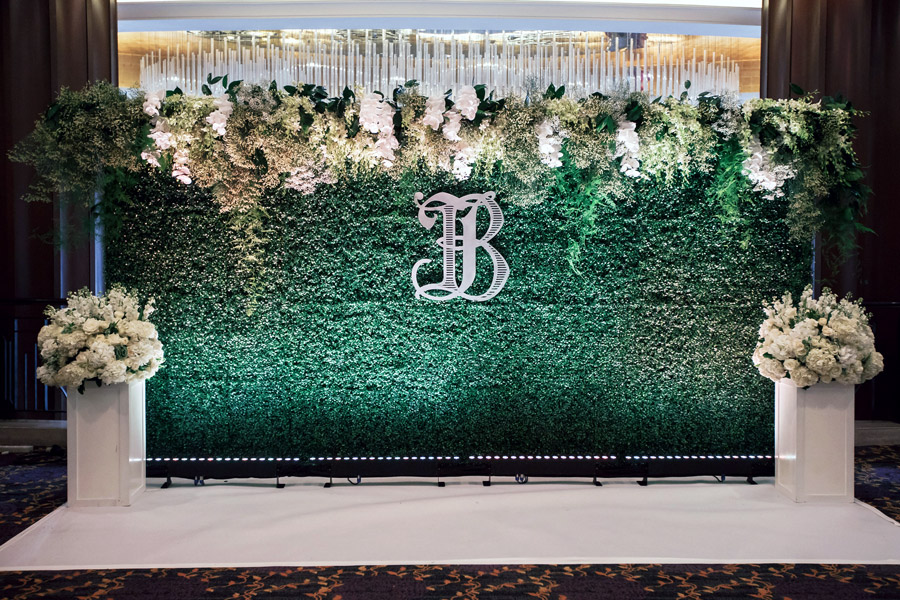 The gorgeous photo wall envisioned by Benz.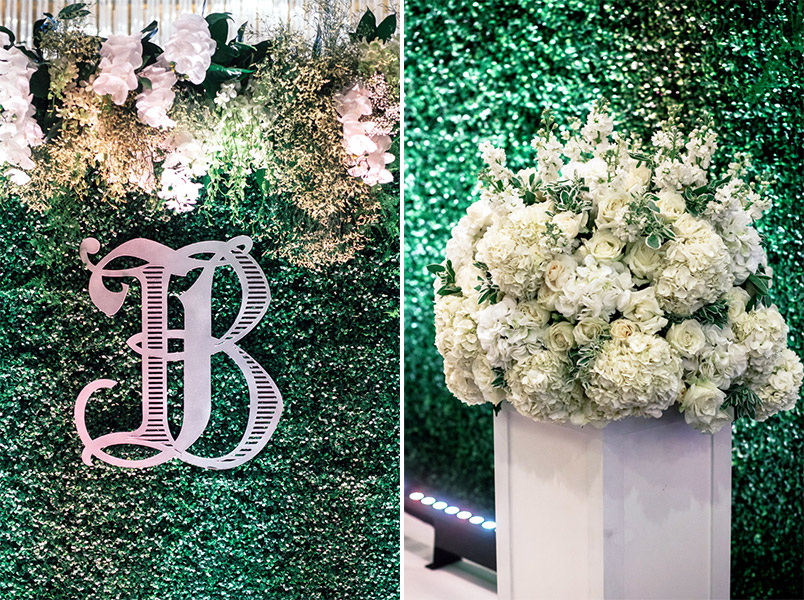 Photo wall details up close.
Benz also wanted a garden-inspired photo wall for the foyer outside the ballroom. "In Thailand, photo walls are a super big deal and usually quite large," says Sherly. "The biggest we could do for the area was 16ftx8ft." The bride shared her vision for this feature and in fact lugged the green turf background all the way back from Thailand for us to work with!

The garden-inspired ballroom entrance decor, with a tree to tie together the garden theme, from foyer to reception and into the ballroom.
Since the bride had a garden-inspired photo wall in mind, and Sherly had planned a floral garden decor for the ballroom, she decided to stick with a garden theme for the reception area outside the ballroom as well. "But it didn't necessarily have to follow the all-white decor inside the ballroom. Firstly, would provide an element of surprise for guests when they entered, and secondly, we get two different ambiences for the wedding."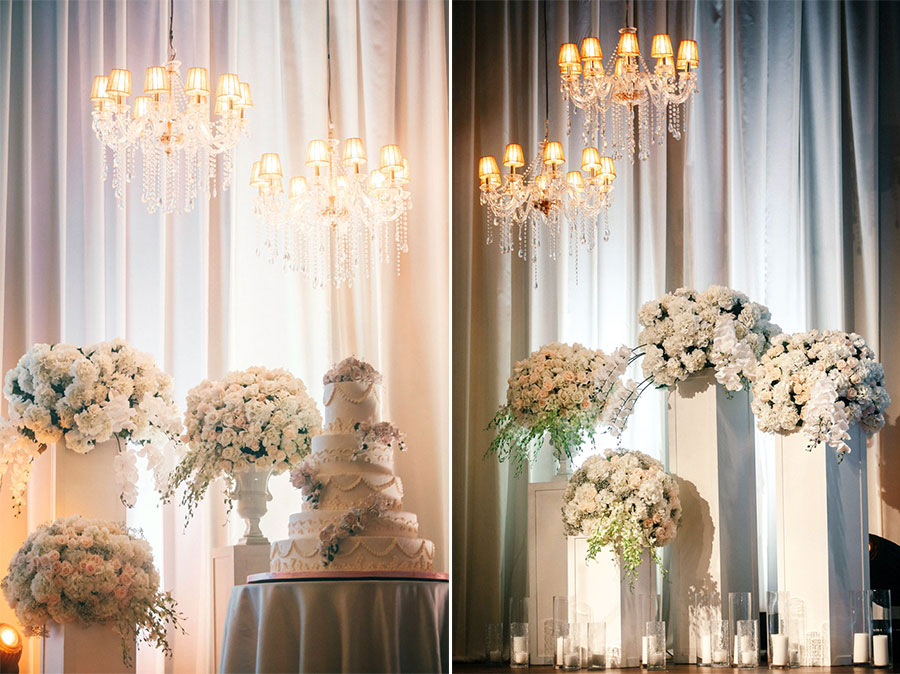 Chandeliers, ivory linens, gorgeous florals and candlelight set a romantic stage for speeches and the cake-cutting ceremony.
At the start of her wedding planning, our bride was initially a little anxious about wedding decor in Kuala Lumpur as she had been a part of countless weddings in Bangkok that are very lush and exquisite, and she was unsure if decorators here were able to meet her expectations. So how did we do?
"Everything," Sherly tells us, "They loved everything, and loved how classy the decor was without looking over the top." This was despite the fact that Sherly had not allowed Jack and Benz to drop by the ballroom while we were setting up. But our bride was so ecstatic after seeing the photo wall and entrance decor that she got ready earlier than intended so that she could come down to greet guests and take photos with them before the wedding dinner!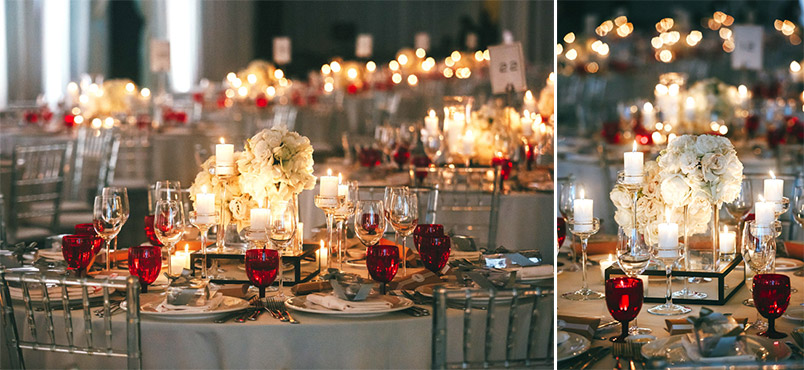 Centerpieces for the round guest tables.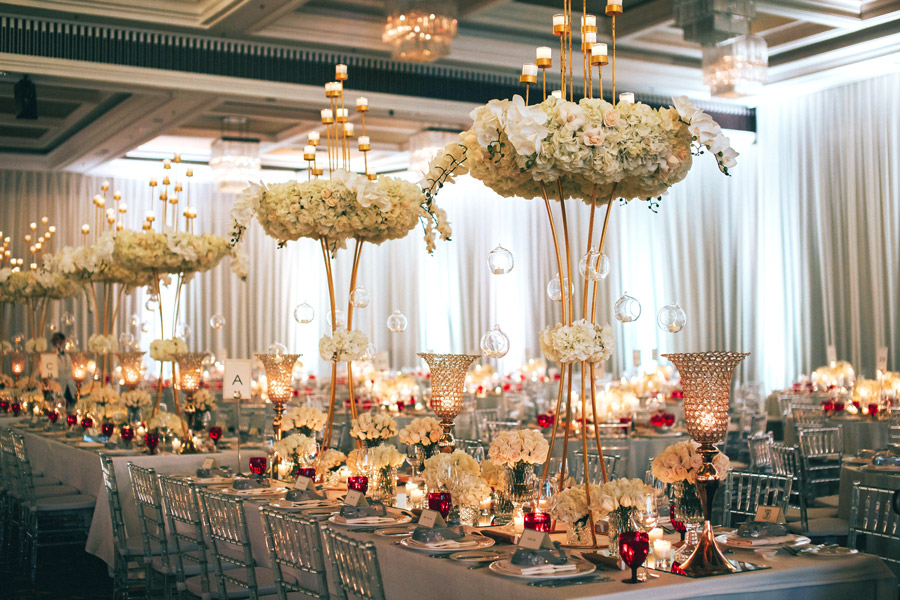 Eye-catching centerpieces for the long tables contribute to the luxe ambience.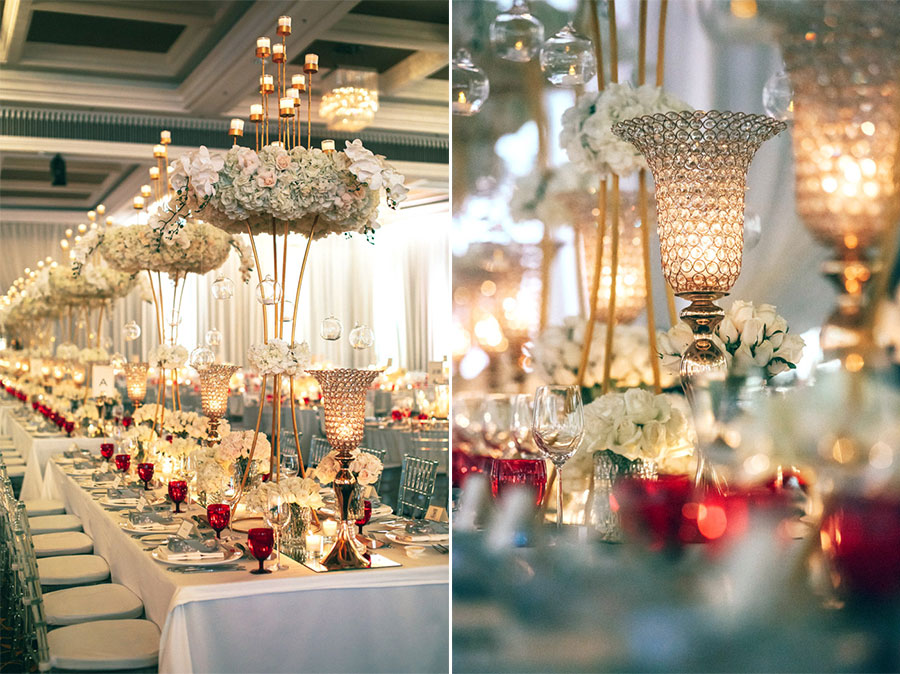 Every detail in place for the perfectly romantic setting.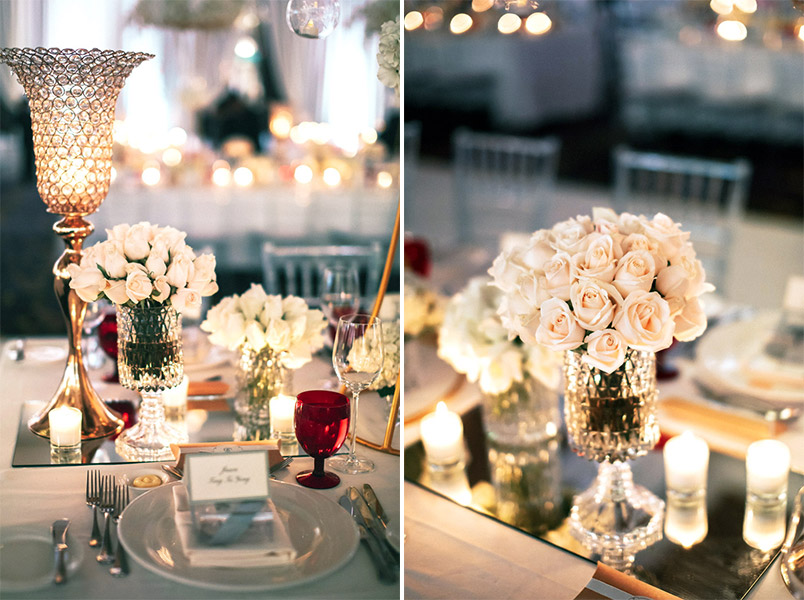 Thoughtfully curated flowers and decoration.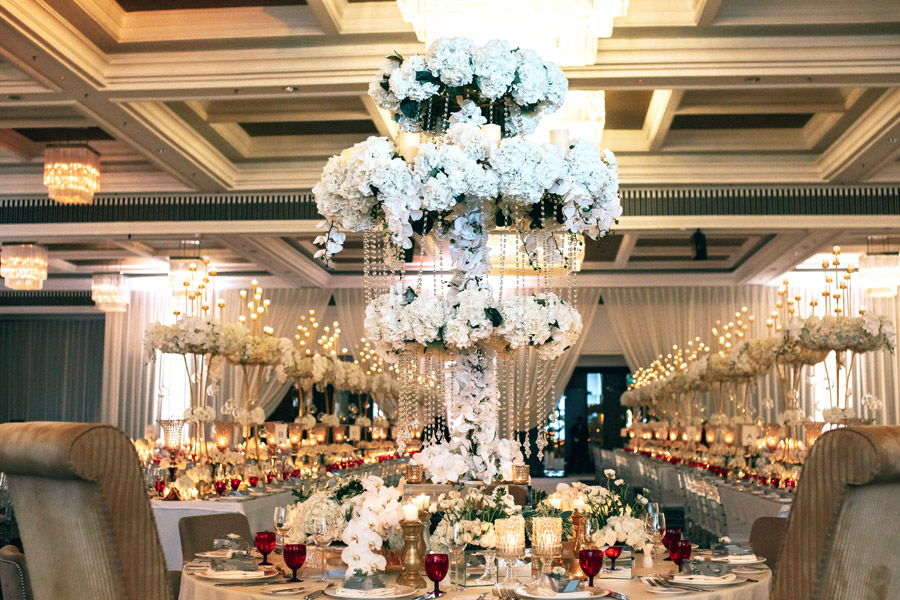 A majestic centerpiece for an equally spectacular ambience.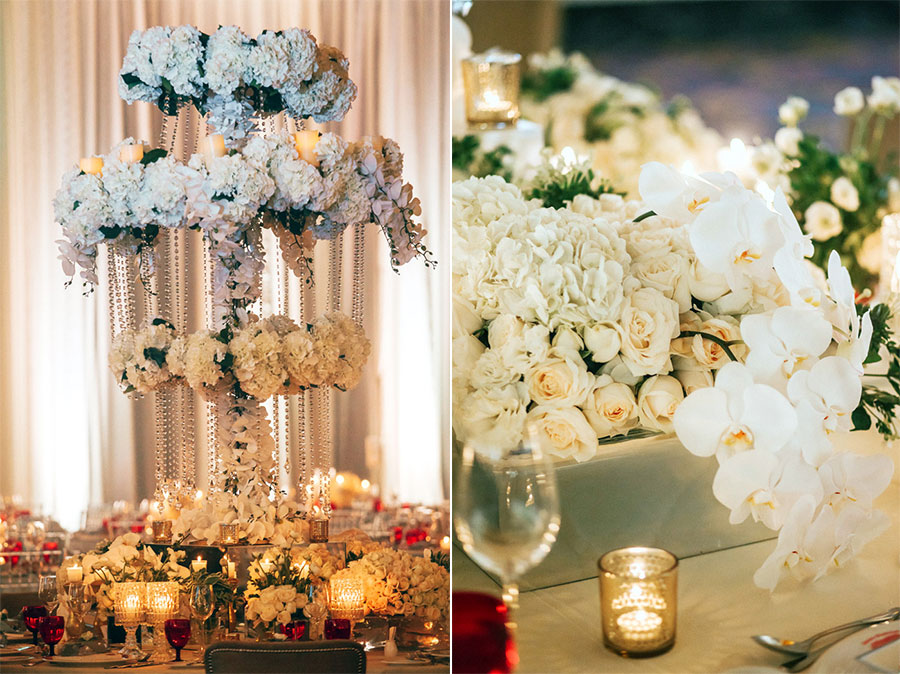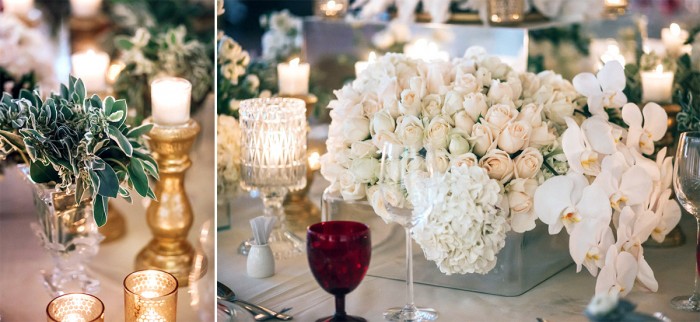 Keeping it classy with a minimal colour palette and pretty details.
Thank you so much, Jack and Benz, for entrusting Sherly and Wishing Tree with your wedding reception and believing in us to carry out your vision for such a special evening. Thank you also for sharing your story with our readers! Your wedding has shown us yet again that a white wedding never goes out of style.
Here a little note from Sherly that we'd like to share:
"Working with your decorating team is not only based on clear communication and transparency with timely updates, but also based on complete trust – as my clients are with me. Working with Wishing Tree is always a breeze. I only have to tell them my vision for the decor, and which flowers I absolutely do not want." – Sherly Abd Aziz