With the Palace of Versailles' Hall of Mirrors as an inspiration, it should be no surprise that this wedding reception at the Grand Hyatt Kuala Lumpur is the picture of stately elegance. How perfect that this celebration of love is dressed in hues of the official celebratory bubbly – champagne!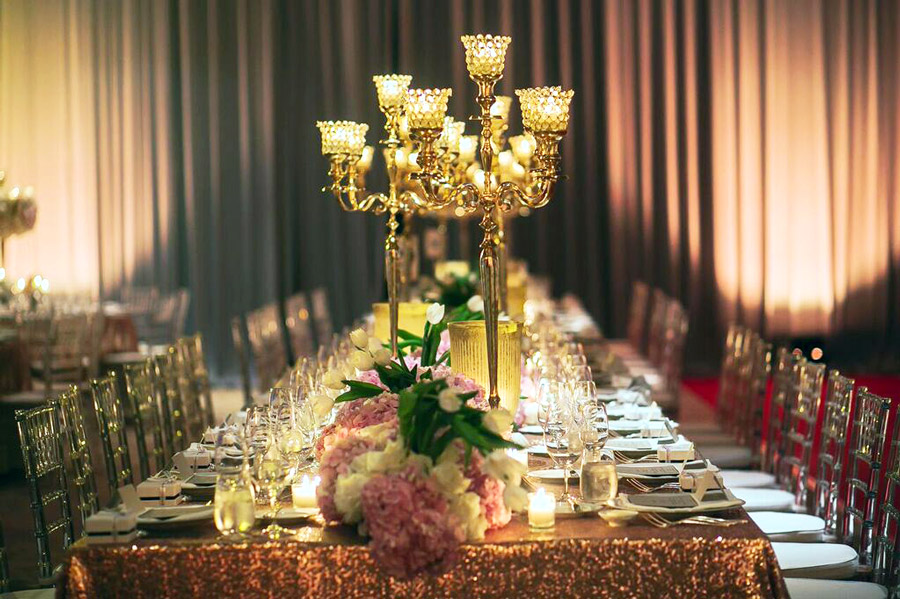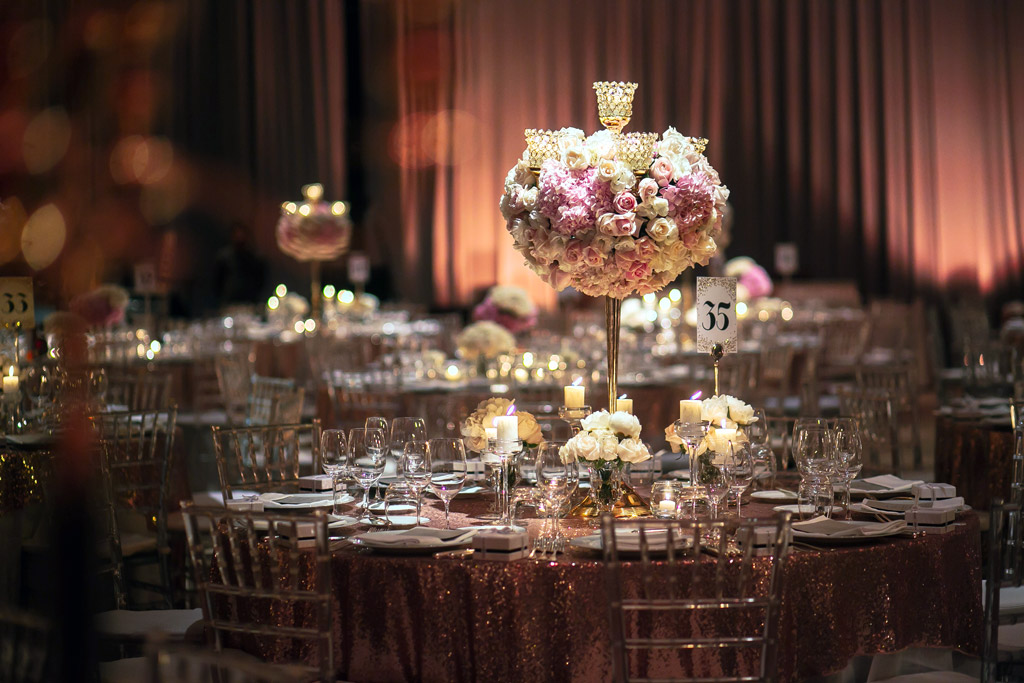 Together with the fantastic Cindy Chang of Nupts & Such, who helped our bride and groom plan and coordinate their most treasured day, we transformed the ballroom of the Grand Hyatt Kuala Lumpur into an inspired space, designed for a grand evening of elegant romance.
See all the beauty and details captured by photographers Louis Loo and Andrew of MunKeat Photography! Now, before you take you back to the ballroom, let's start with some details from earlier in the day of the wedding…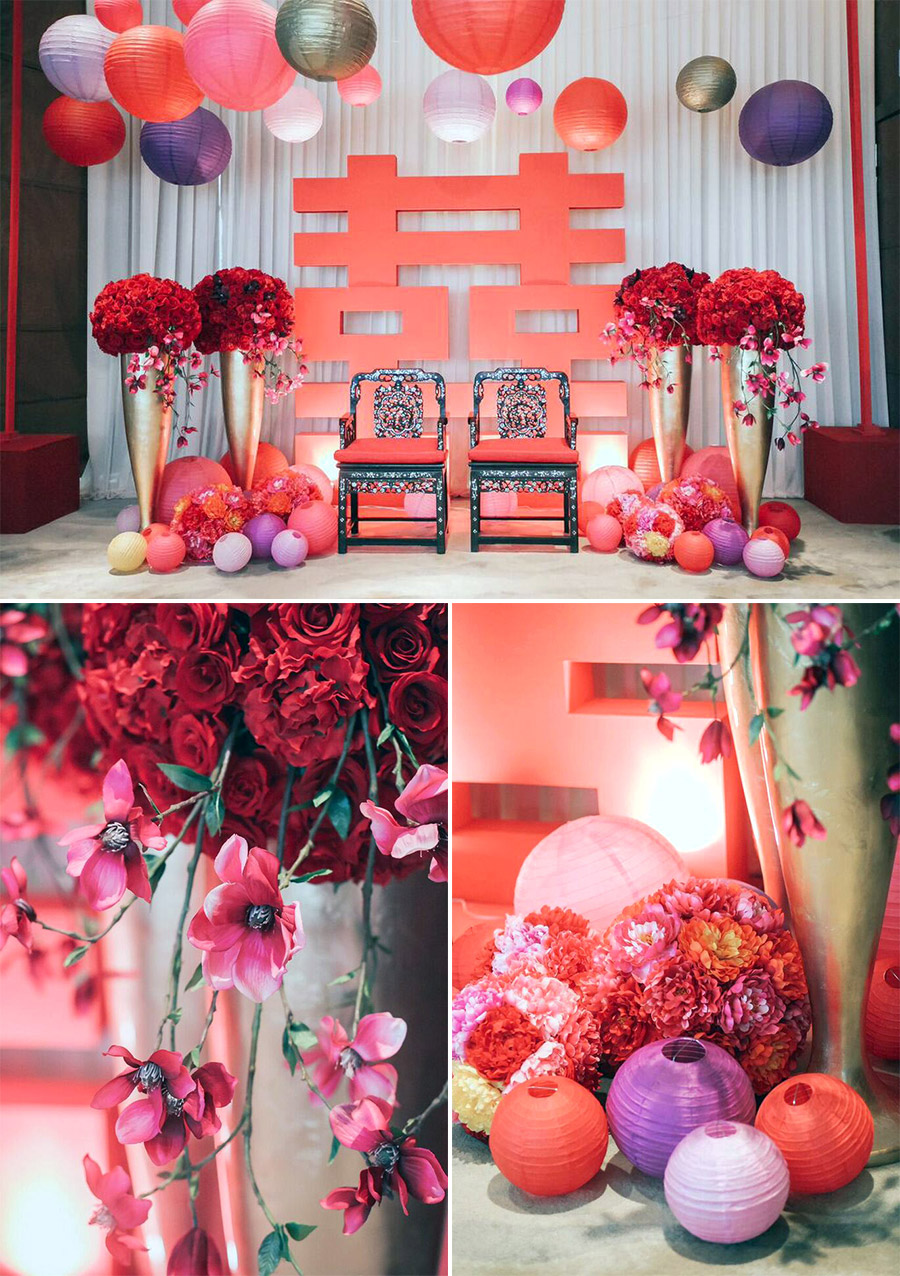 The tea ceremony, decorated to reflect our couple's Chinese heritage.
The bride has been a wonderful customer of ours for years, ordering flowers for her special occasions and special people in her life. "It wasn't merely business," she says, "It was also a friendship with mutual understanding and trust. Lily has never failed me each time I sought her help and expertise – and my wedding was no different."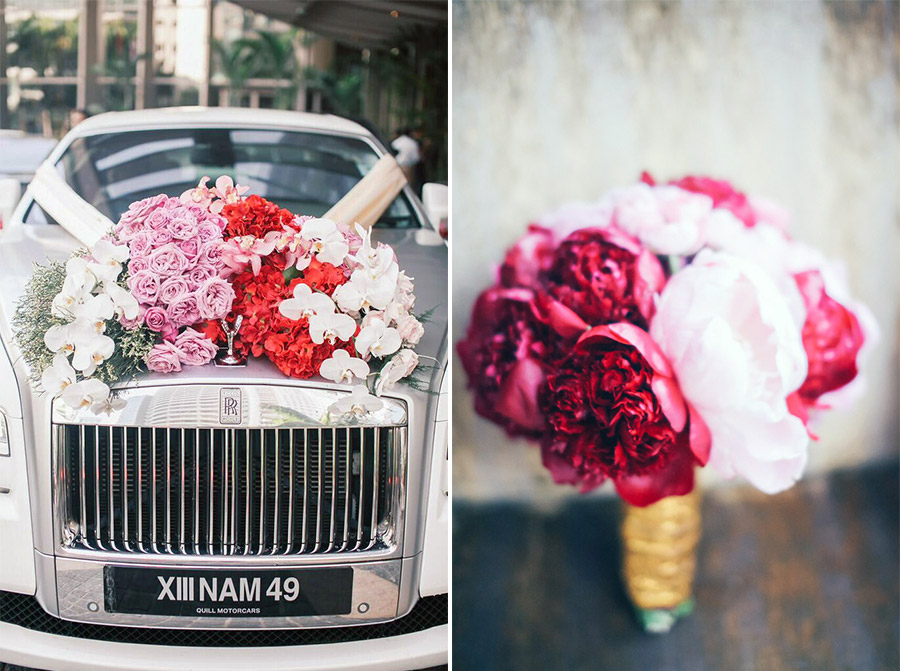 Flowers for the bridal ride, and flowers for our gorgeous bride.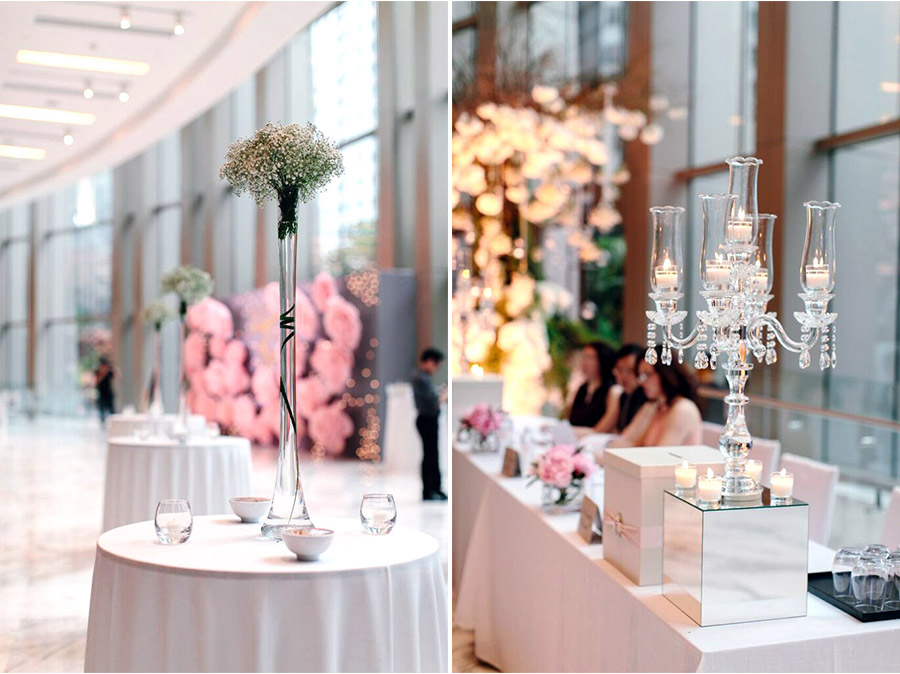 In the foyer outside the ballroom.

A stunning photowall with handmade flowers.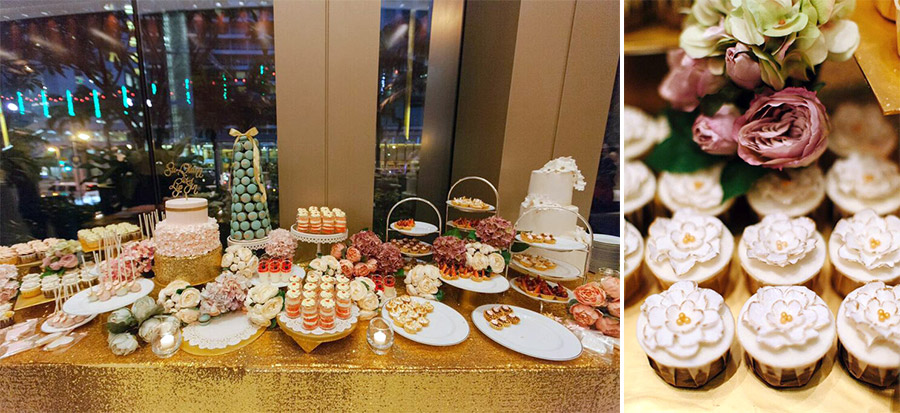 A beautiful spread of sweet treats.
Our bride's wedding gown was also an inspiration for the wedding decor – elegant with a touch of glitter. "We wanted something more grand, with gold and shimmers as a base, and pink to highlight and complete the look."
While she credits Pinterest with much of the ideas she had for her wedding, we believe that her own style and taste are truly the foundation of the design that we have created – and a culmination of six months of working very closely together on the details.
"Once you have decided on your direction, the rest just falls in naturally!" she says. "There is no need to compare with other people or other weddings; I did what I was comfortable with and at my own pace." We can't agree more with that piece of sage advise!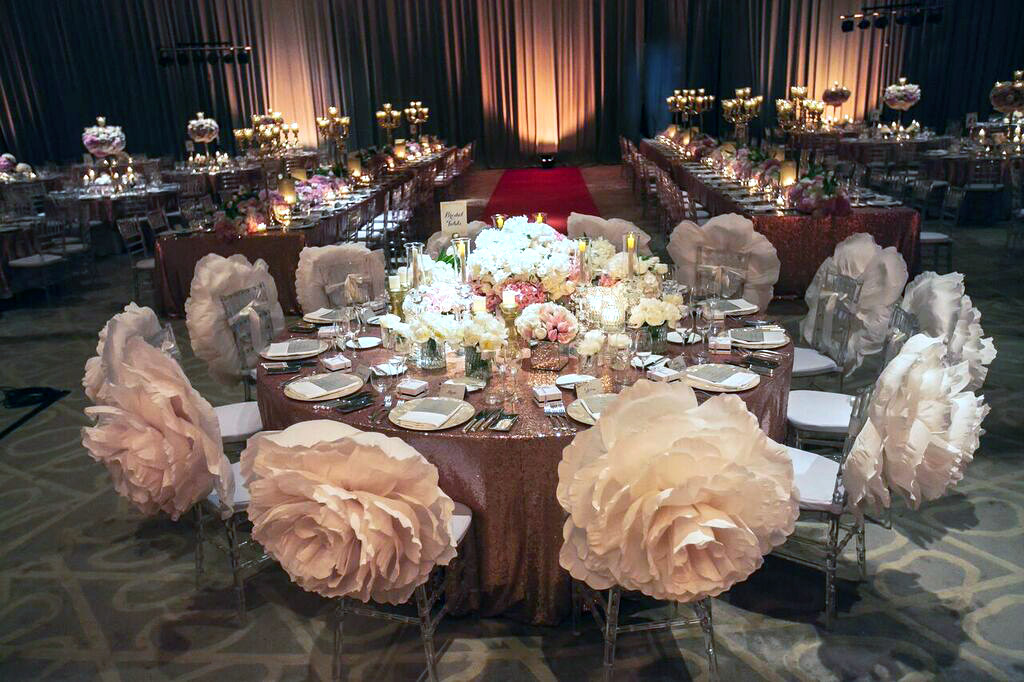 The bridal table makes a boldly romantic statement.
One of our bride's favourite parts of the decor was the oversized paper flowers tied to the backs of each chair at the bridal table. "The touches of pink and ivory amongst the subtle mix of high and low floral arrangements provided for a soothing atmosphere and offsets the golds, which I was initially worried about being too gaudy."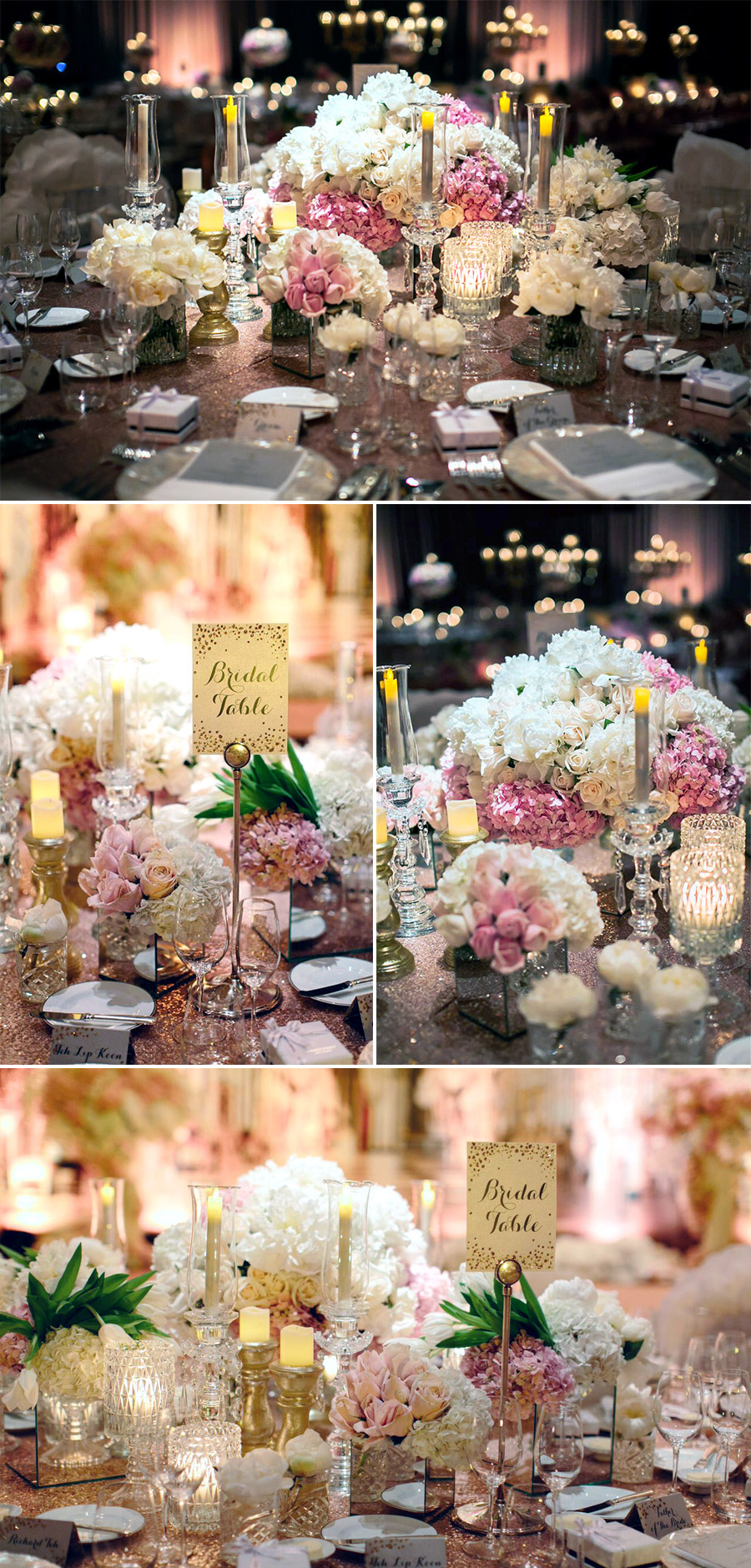 Close-up of the bridal table's centrepiece.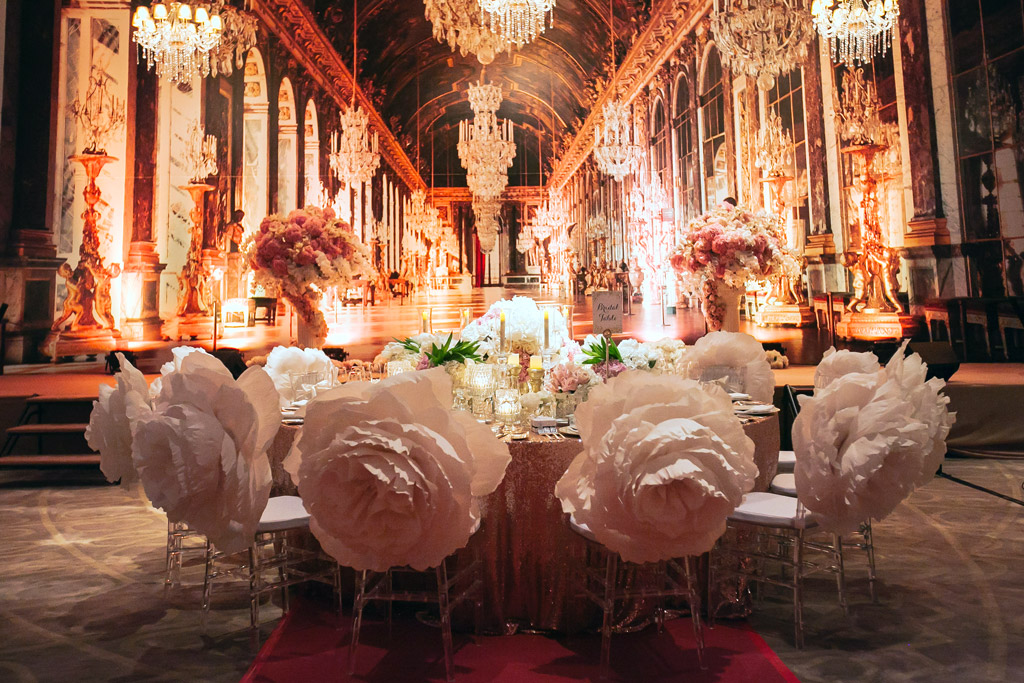 The bridal table against the Hall of Mirrors backdrop.
This is one of the most eye-catching and bold backdrops we have ever seen for a wedding, and we love it! But the only reason it was perfect for this wedding is because our couple set the tone and atmosphere for it, through their fashion, colours, decor, and even the menu.
You can never be too young or too old to be inspired. Our bride visited the Palace of Versailles for the first time at a tender age of 6 while tagging along with her parents, and was very intrigued with the opulent Hall of Mirrors – an impression that never left her through the years. Since she couldn't bring 500 guests to Versailles, she brought a piece of Versailles to KL!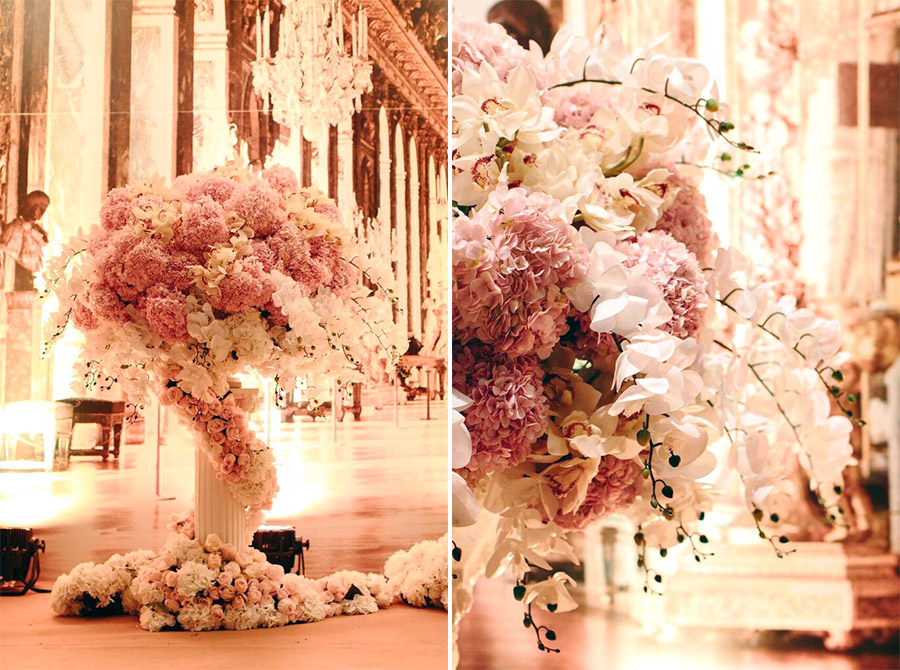 Lush and full floral arrangements for the stage.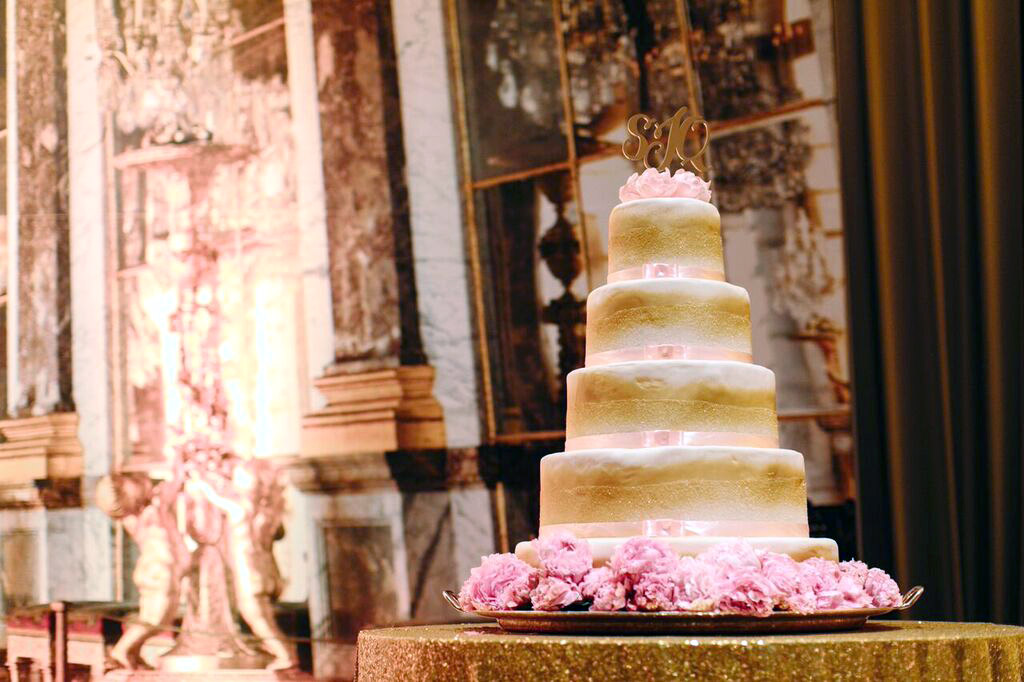 A simple and elegant wedding cake to complement the wedding decor.
For the guest tables, our couple went with three different set ups. It's a clever way to create lots of visual interest and stimuli, especially with the number of tables they had for the evening. For the round tables, there were tall centrepieces and low centrepieces…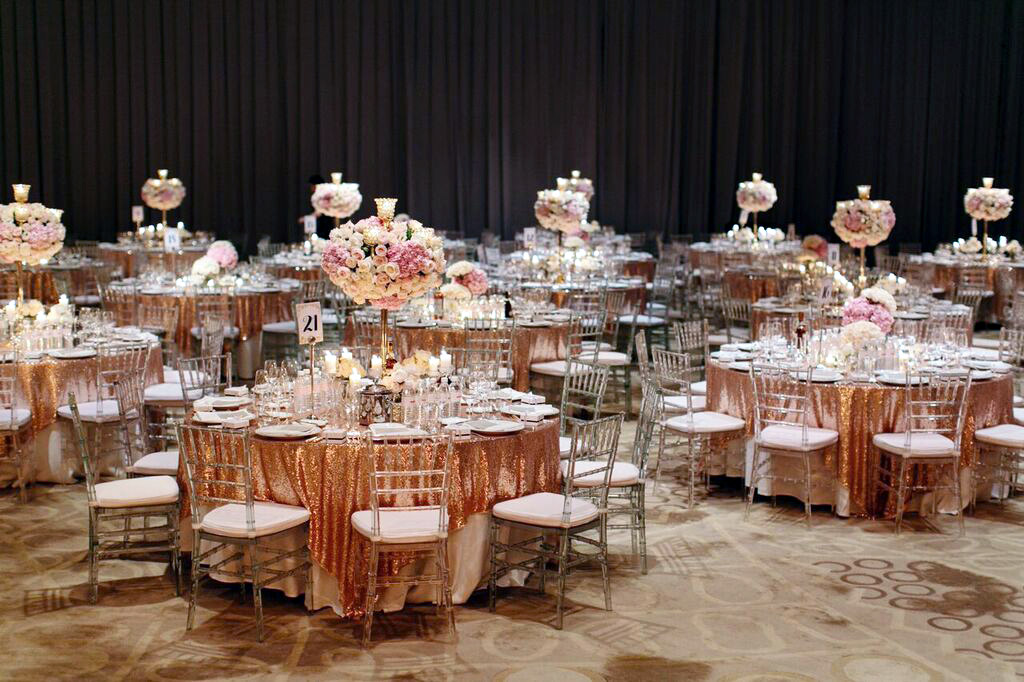 Create a gorgeous ballroom landscape with controlled use of shimmer, colours, and textures.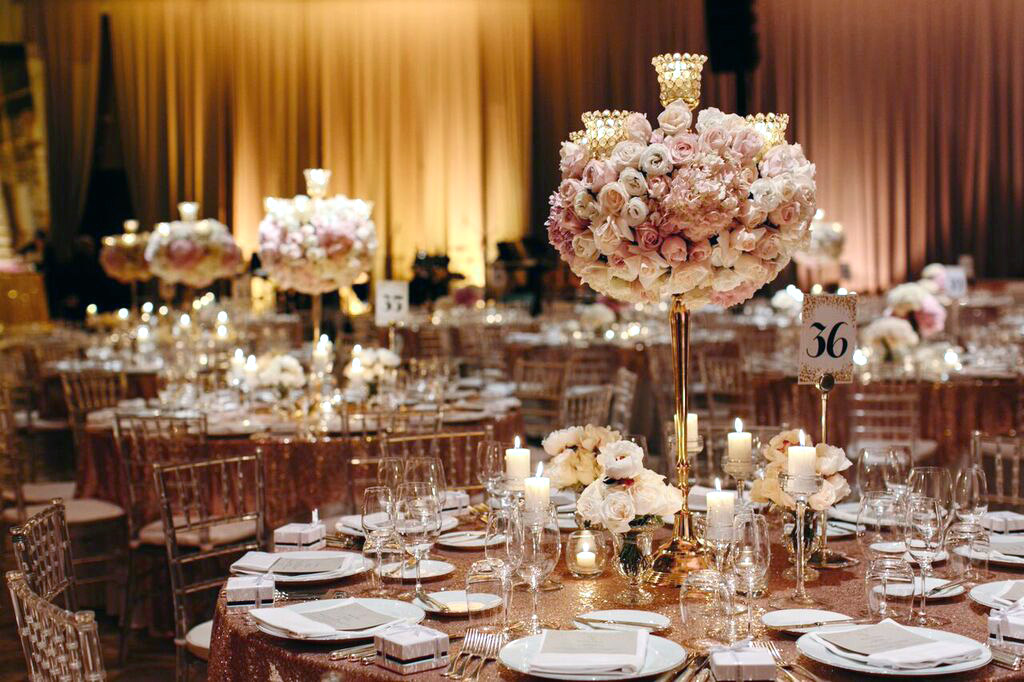 Close-up of the glorious pink-and-gold hued ballroom and guest tables.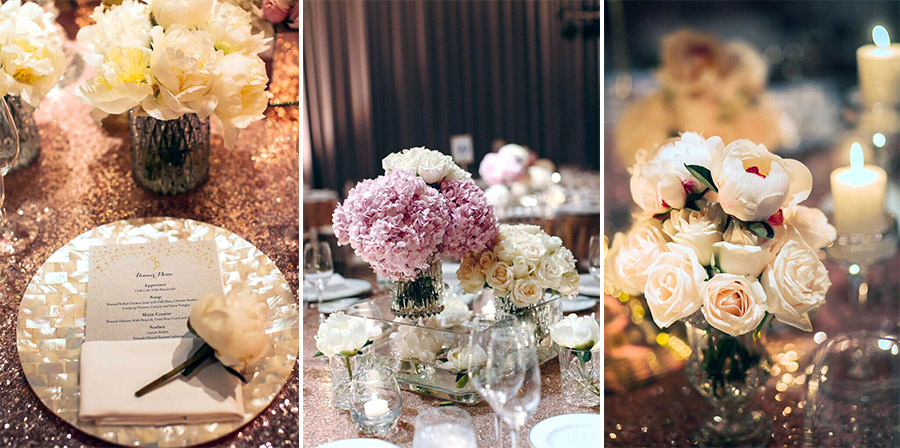 Lovely details of the tables with low centrepieces.
There were also two rows of viking tables, draped in shimmery tablecloths, accented with tall candelabras and low, lush floral arrangements spanning the entire length of the tables. Simply breathtaking!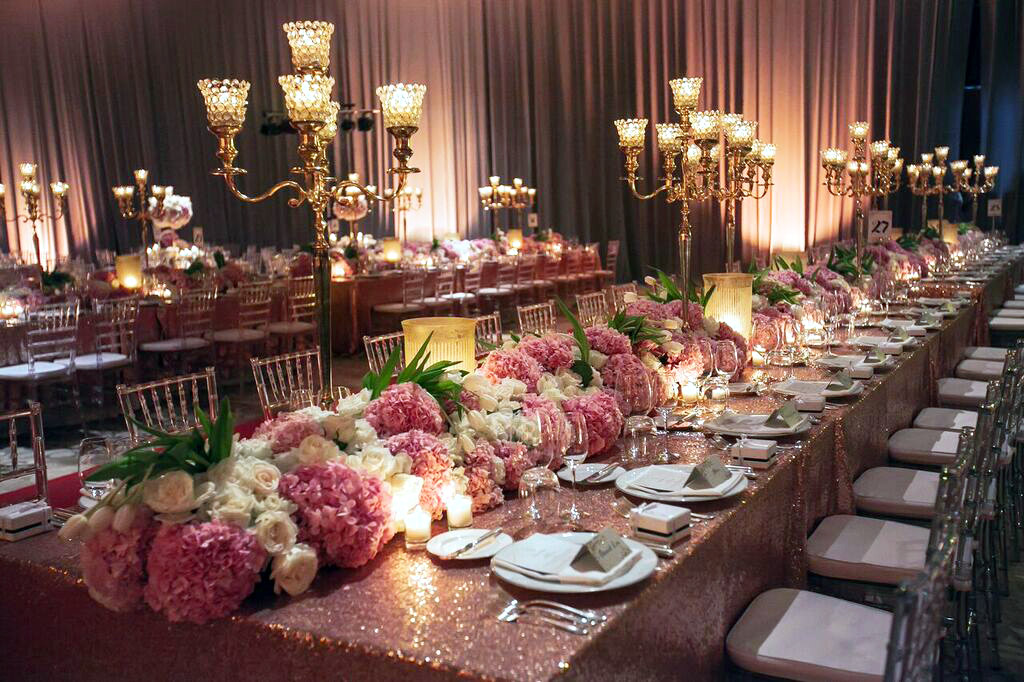 Luscious roses, hydrangea and tulips arranged in a seamless train of floral decadence.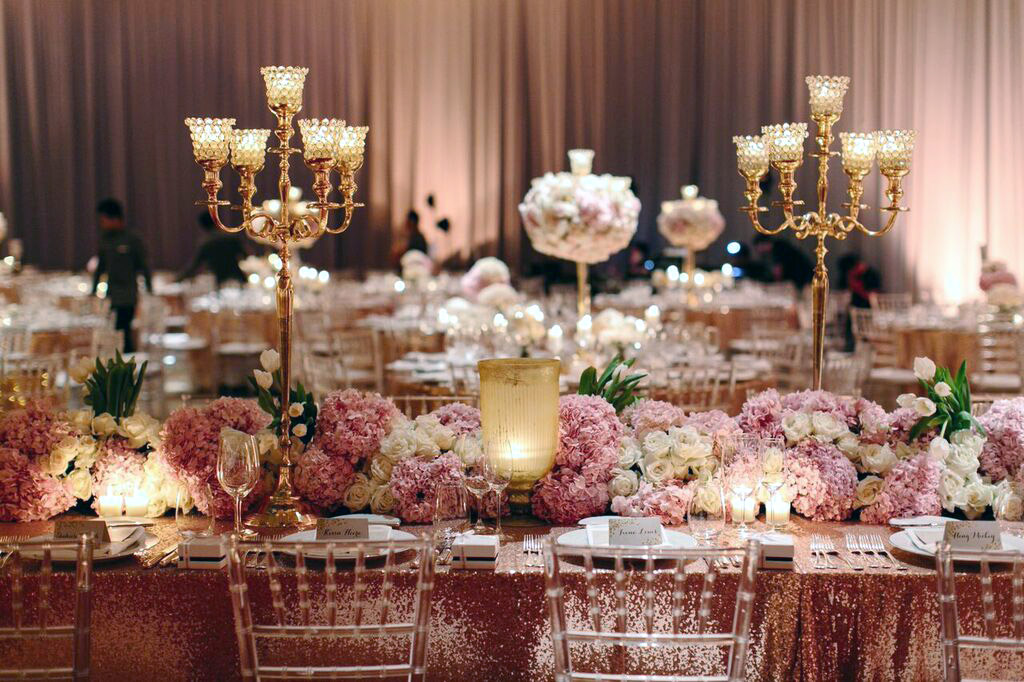 A view of three different floral arrangements from anywhere in the ballroom.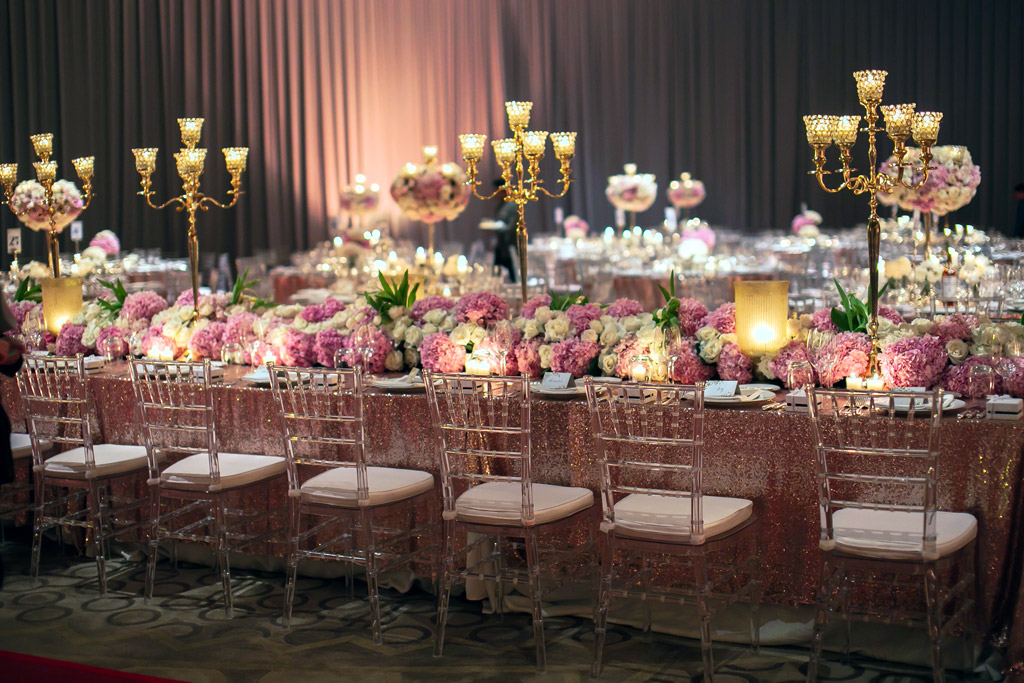 Chiavari chairs in clear acrylic, so as to not distract from the real beauty of the tablescape.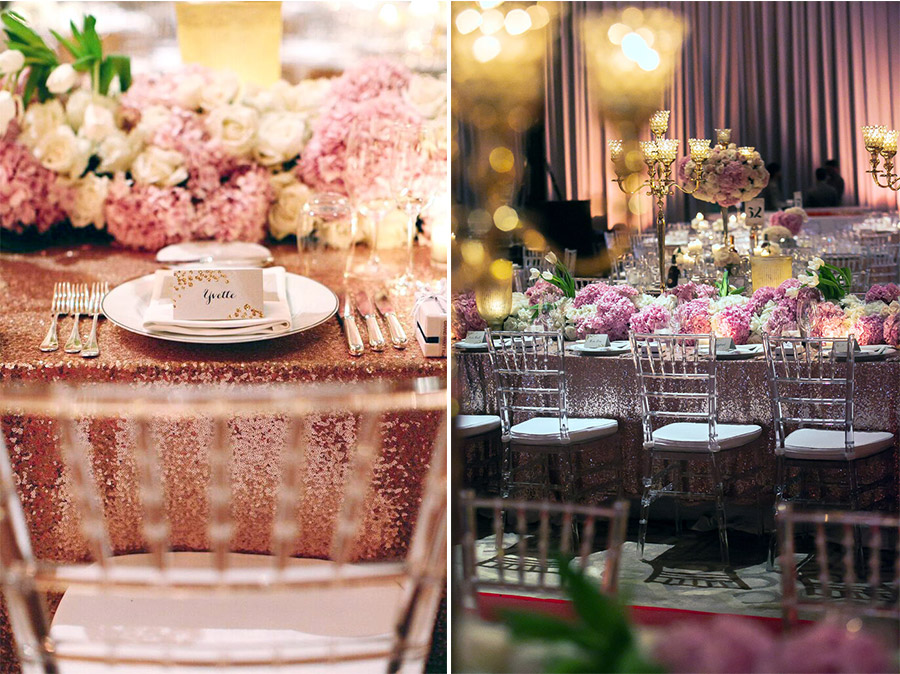 Loving the details, both close-up and from afar!
To our dear couple, we are so happy and honoured to have been chosen to be a part of your big day and and your life journey. Thank you also for sharing the photos and details with our dear readers. We hope this wedding can be an inspiration to those of you who are planning a grand life event but may be afraid to go big. With the right touch, anything is possible!
Our bride left us a message, which we are delighted to share:
"Wishing Tree has made my wedding experience somewhat breezy and effortless. I am glad I appointed Cindy from Nupts & Such to work with Lily and I, because they were always efficient and timely, but never pushy. I knew everything would be alright as long as we were a team. I've realised that it's important to be able to be honest with the people you work with – it certainly helped to have a prior friendship to build on!"