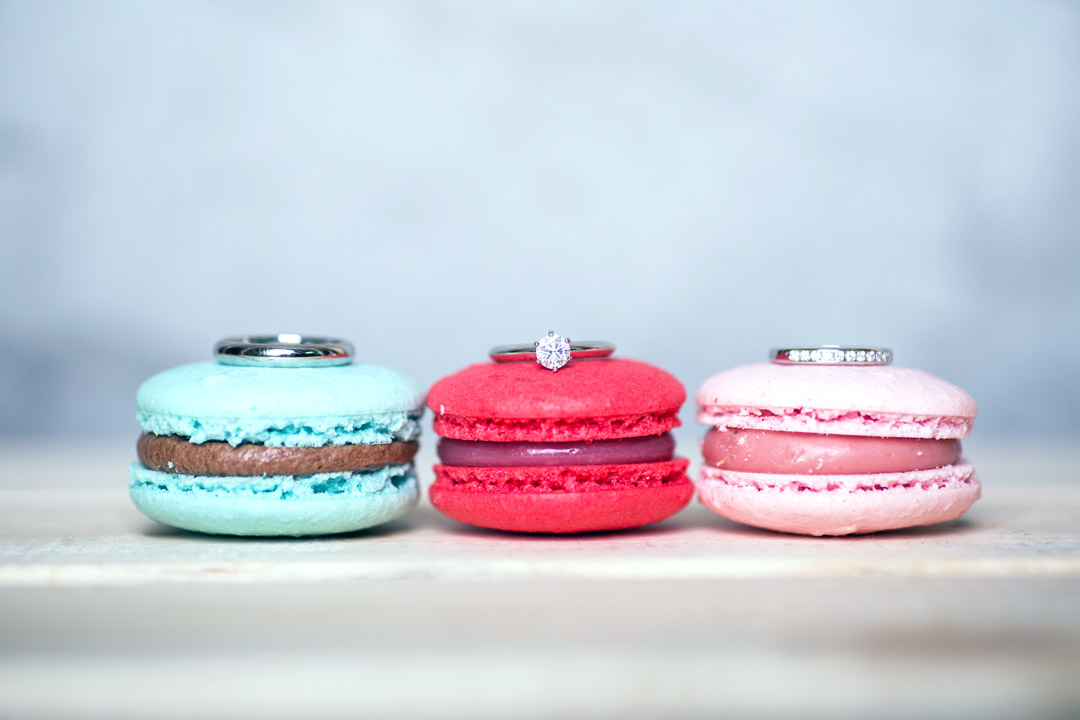 "We will always remember Paris." Pretty pillows for Douglas and Lydia's ring shot, the deliciously-coloured macarons are a big nod to Paris where they shot pre-wedding photos.
In our previous post, we introduced Douglas and Lydia who tied the knot in a lovely and intimate ceremony at Holy Light Lutheran Church in Kuala Lumpur. The timber interior with its dark beams and vintage chandeliers was the perfect backdrop. The next day, the vintage theme is carried forward to the dinner reception at the Hilton Kuala Lumpur, together with a touch of travel to commemorate an unforgettable trip to London and to Paris.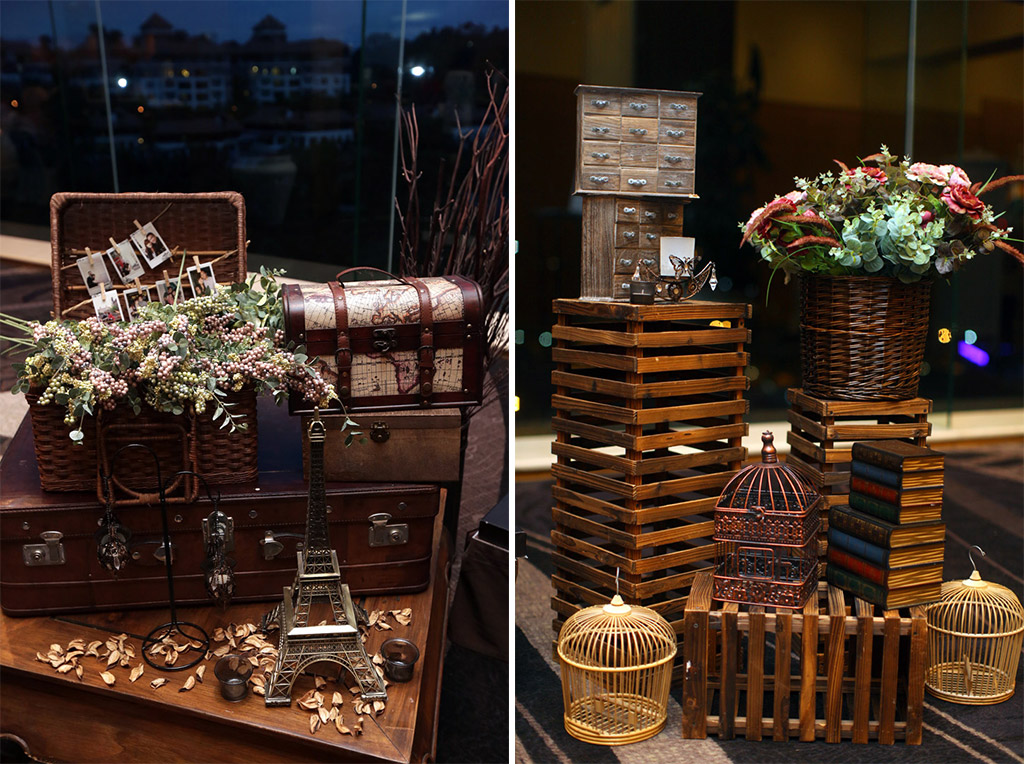 Some vintage and travel decor, to tie in the theme from yesterday's church ceremony and our couple's travels to Paris and London.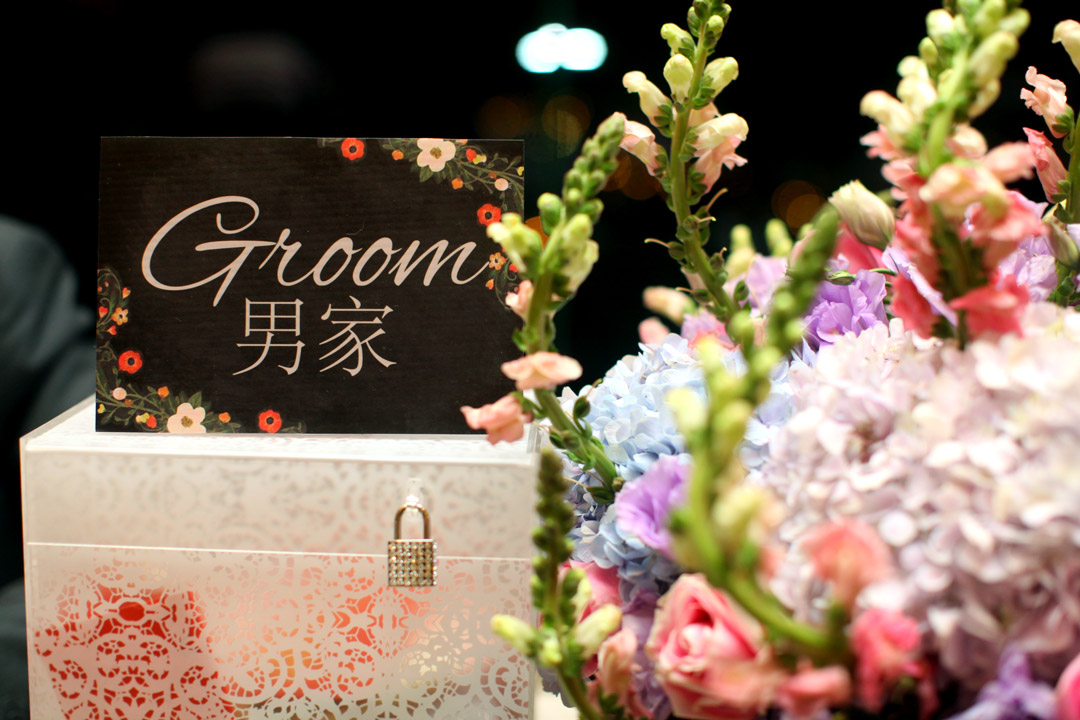 The Groom gets his own box at the reception, for well wishes and gifts from guests. In the Chinese culture, these are usually in the form of cash gifts placed in special red packets ("ang pow").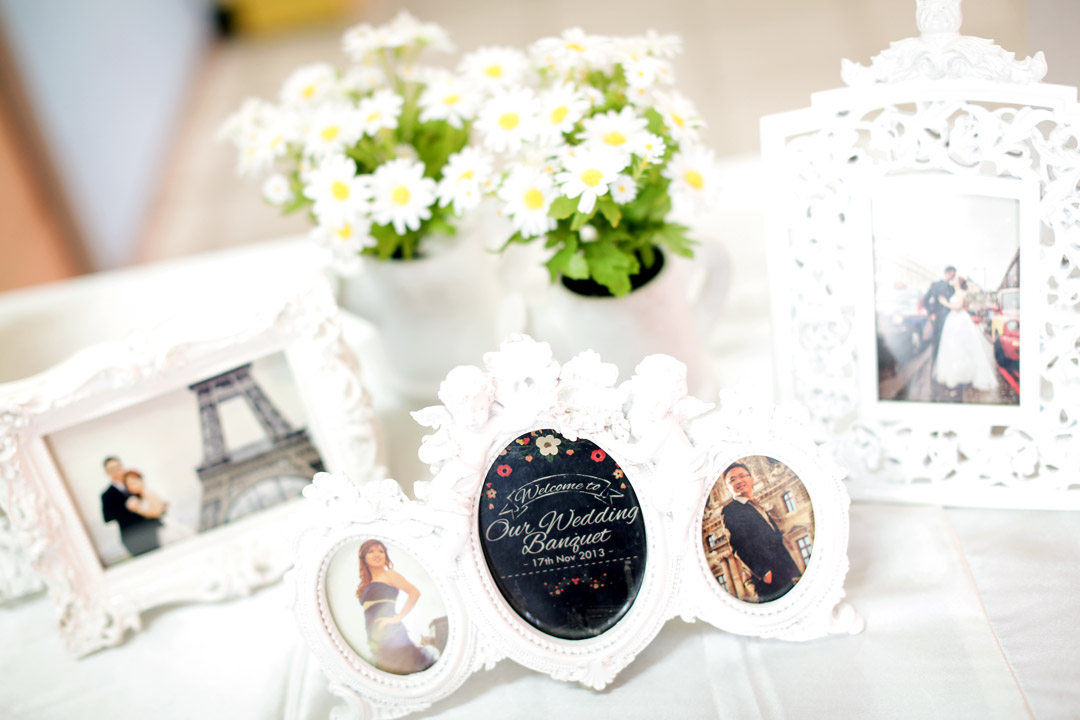 Beautiful memories from a wonderful time together, adorn tabletops in the registration and cocktail reception area.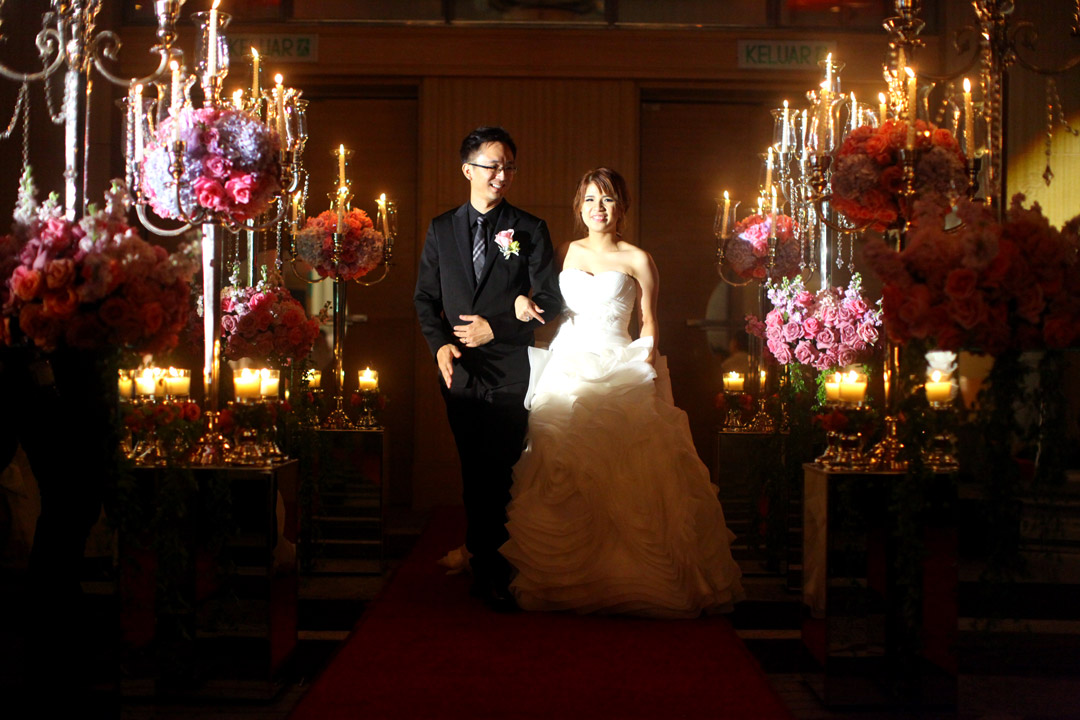 We are happy to create the ambiance for a magical walk down the aisle for Lydia one more time. This time, as Douglas' wife.
The walk down the aisle together was the highlight of the evening for Douglas and Lydia, as they are surrounded once again by beloved family and friends, amidst the amazing arrangement of candlelight and Lydia's favourite blooms.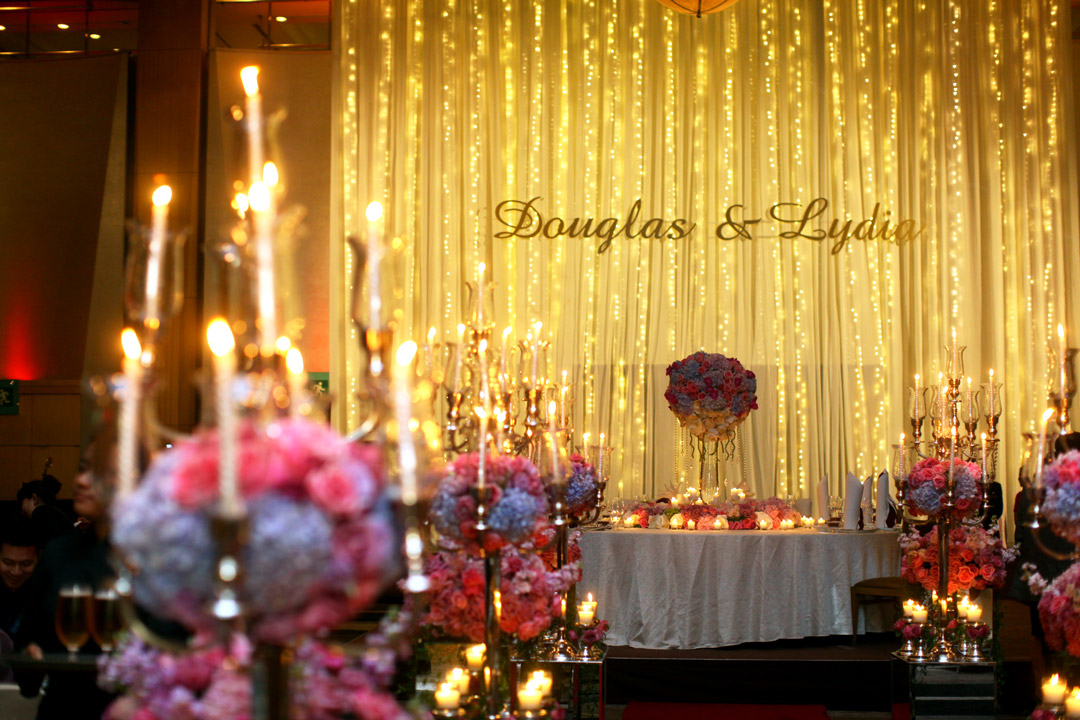 The view that welcomed Douglas and Lydia as they made their way into the ballroom.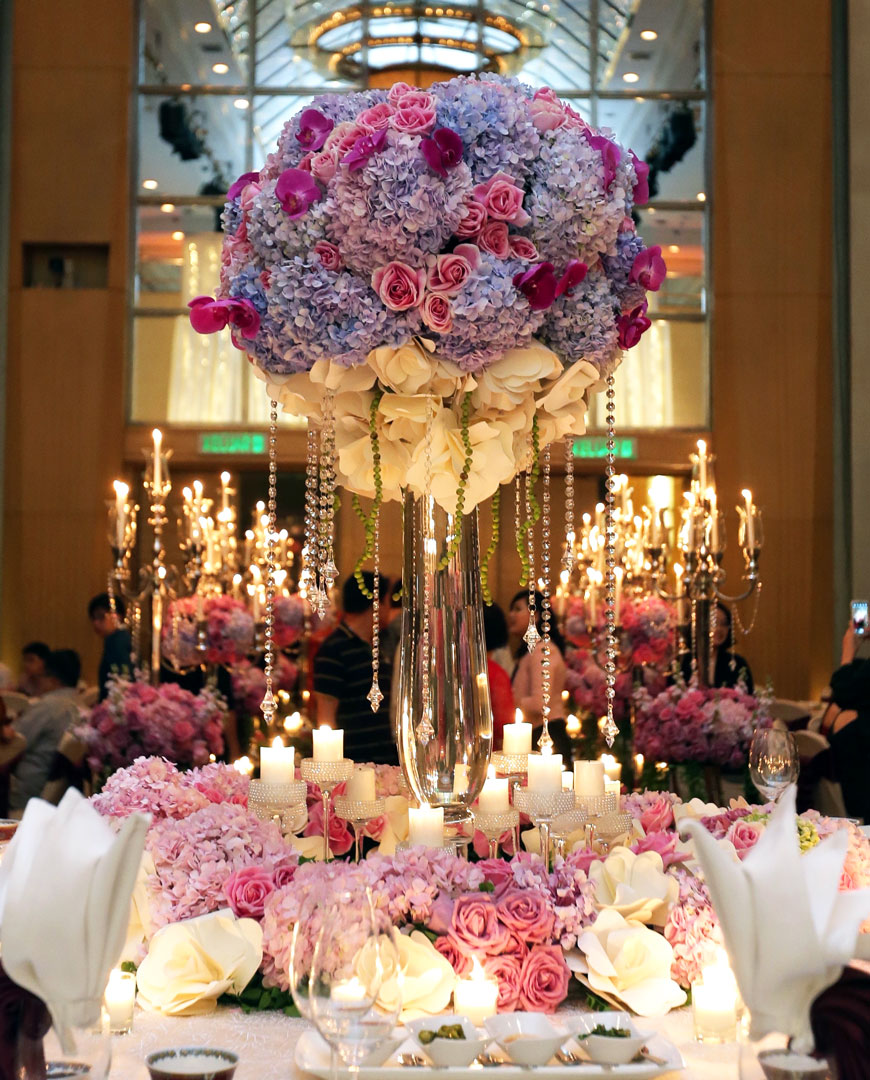 A towering centrepiece for the bridal table, a sight enjoyed by Douglas and Lydia as they dined.
We are ever so happy to be a part of a wedding journey with our couples who have chosen Wishing Tree for the most important day of their lives. Thank you, once again, Douglas and Lydia, for letting us be such a big part in your big day and for sharing it with our readers on the blog as well.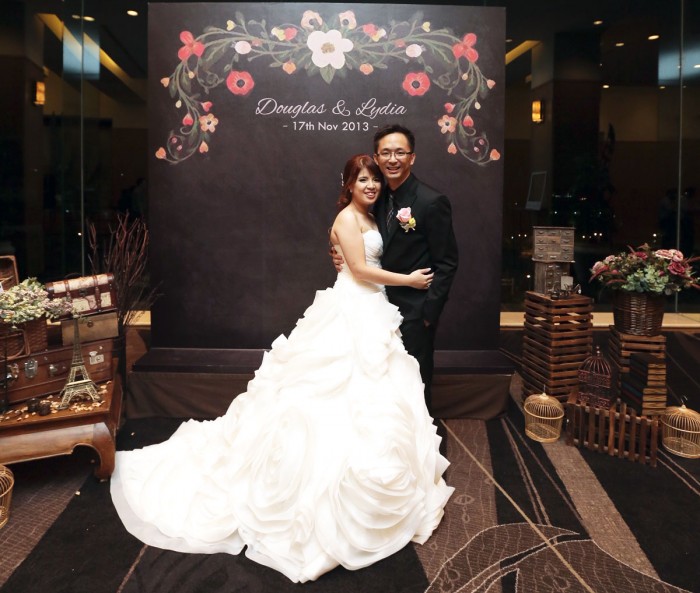 Douglas and Lydia pose for a photo in front of their vintage floral backdrop that they made. We love a couple that crafts together!
"It was wonderful working with Wishing Tree. Lily was professional, approachable and honest, from the moment we met. Through her guidance and vast experience, she took the bits and pieces of our thoughts and ideas and captured the essence of what we really wanted, even though we were clueless in the beginning. We still remember her words: "Trust me, it's going to be beautiful!"
Indeed, it was. The outcome was breathtaking, a masterpiece. The arrangements were grand, but not exaggerated. All our guests had only praises for them. Lydia loves flowers and Lily got to the heart of her dreams." – Douglas and Lydia