What comes to mind when you think about "summer vintage"? Many people imagine along the lines of nature and the outdoors, with blue skies, lanterns and lace, pale summery colours that fit the "vintage" look.. you get the idea. For our featured wedding reception hosted by our lovely couple Sanjeevan and Nisha, in the beautiful ballroom at Grand Hyatt Kuala Lumpur, "summer vintage" could not be more different.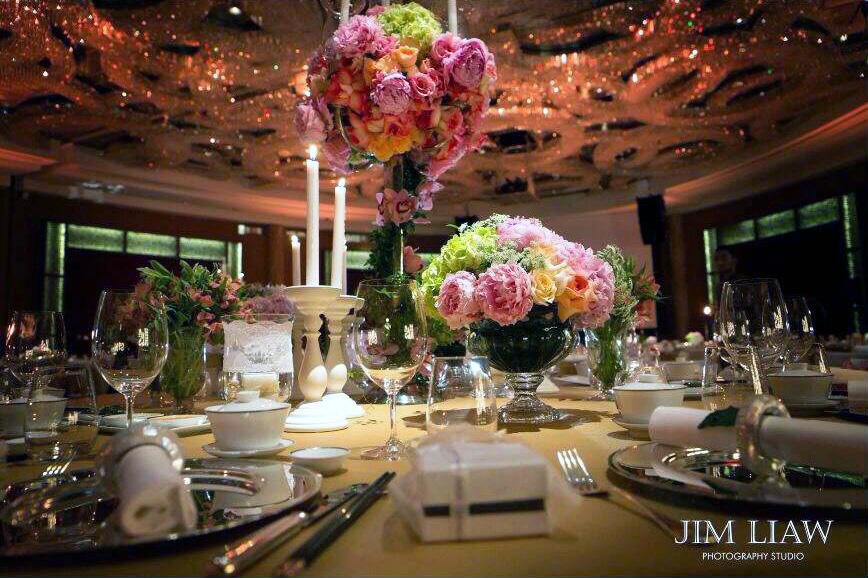 The lush centerpiece of pink peonies, green hydrangea and champagne-coloured roses against a backdrop of glittering crystals and flickering candle light. Silver-stemmed vases and lace ribbons lend a vintage atmosphere to the setting.
Our couple is effortlessly classic and elegant, so it was no surprise to us when they said they loved vintage weddings – they are an evergreen style! Pink, green and champagne hues take centre stage at Sanjeevan and Nisha's wedding reception, with favourite colours of blush shades and refreshing greens that happen to thrive in the summer. It's practically "summer" in Malaysia all year round, so we don't need to be too technical with the term.

A closer look at the beautiful blooms that make up the centerpiece.
Nisha and Sanjeevan planned their own wedding, which was put together and coordinated with lots of help from family and friends. It's a wonderful thing, when family and friends get in on the action and really become a part of the wedding, not just as guests but as an extension of the wedded couple. Nisha and Sanjeevan found us while browsing on the Internet, and through us got in touch with Jim Liaw Photography who captured the wonderful moments of their big day.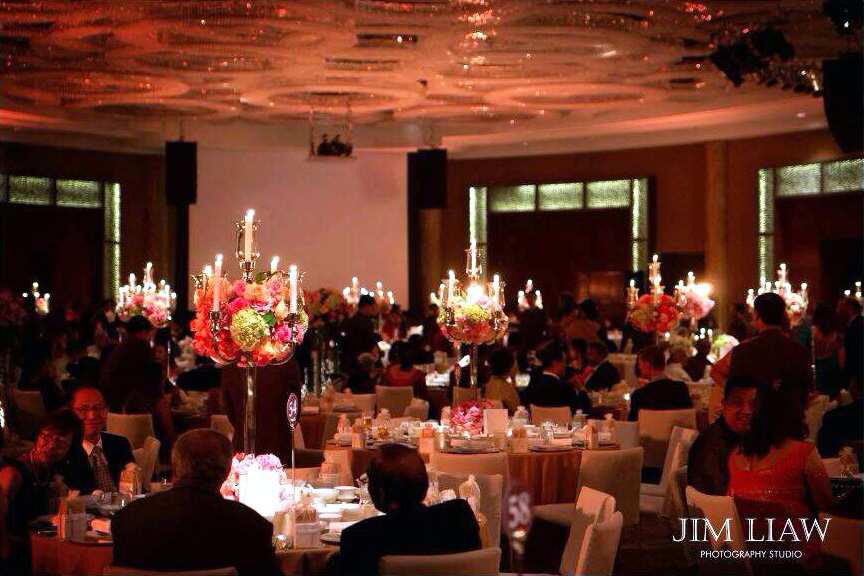 Guest tables decorated with tall centerpieces of candelabras, glowing warmth and romance throughout the ballroom. The centerpieces feature wedding flowers not just at the top but also at the base, so whether you're looking up or down, you always have flowers in your sight.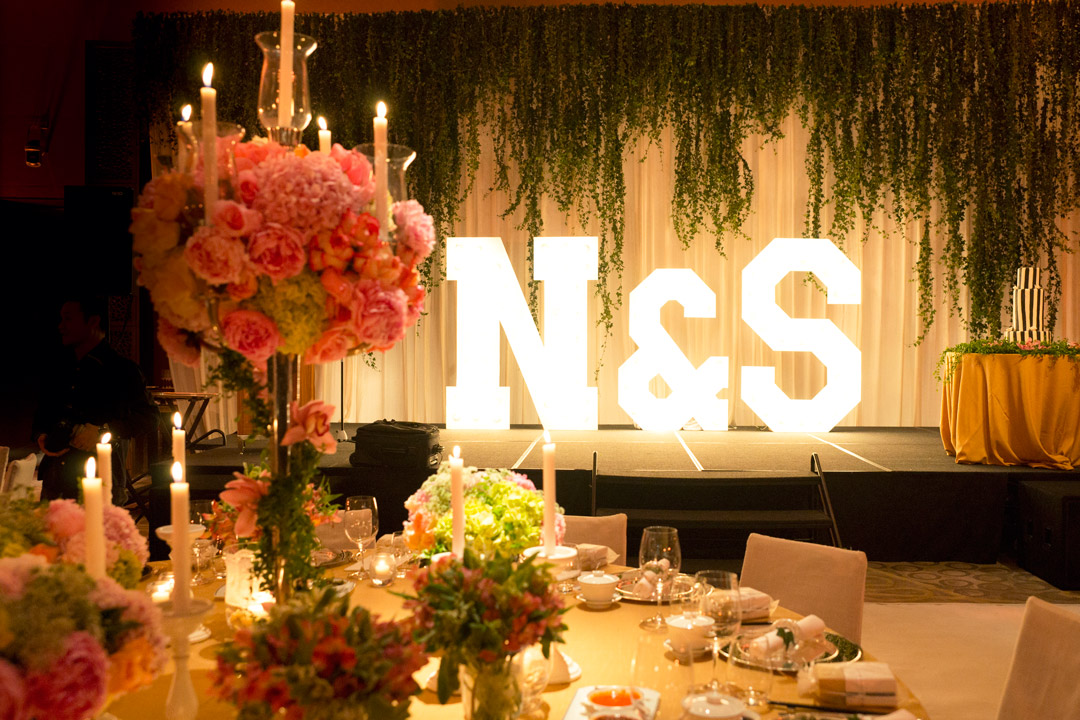 Bringing the outdoors in, we decorated the stage with simplicity in mind.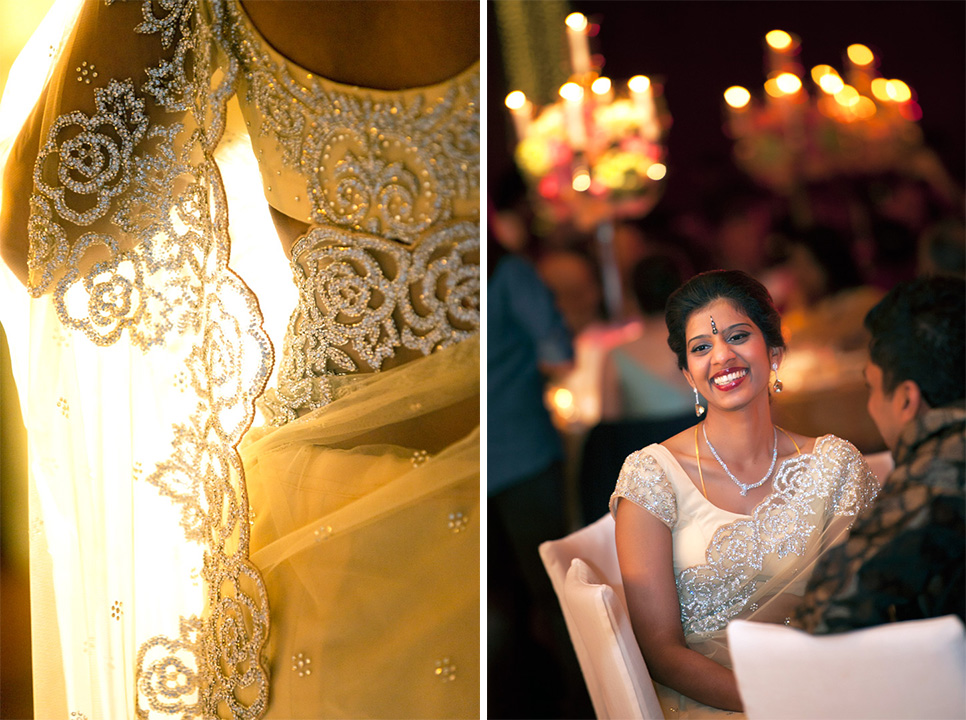 Beautiful Nisha is queen of the night in a classically elegant cream saree with sparkly diamante appliqué.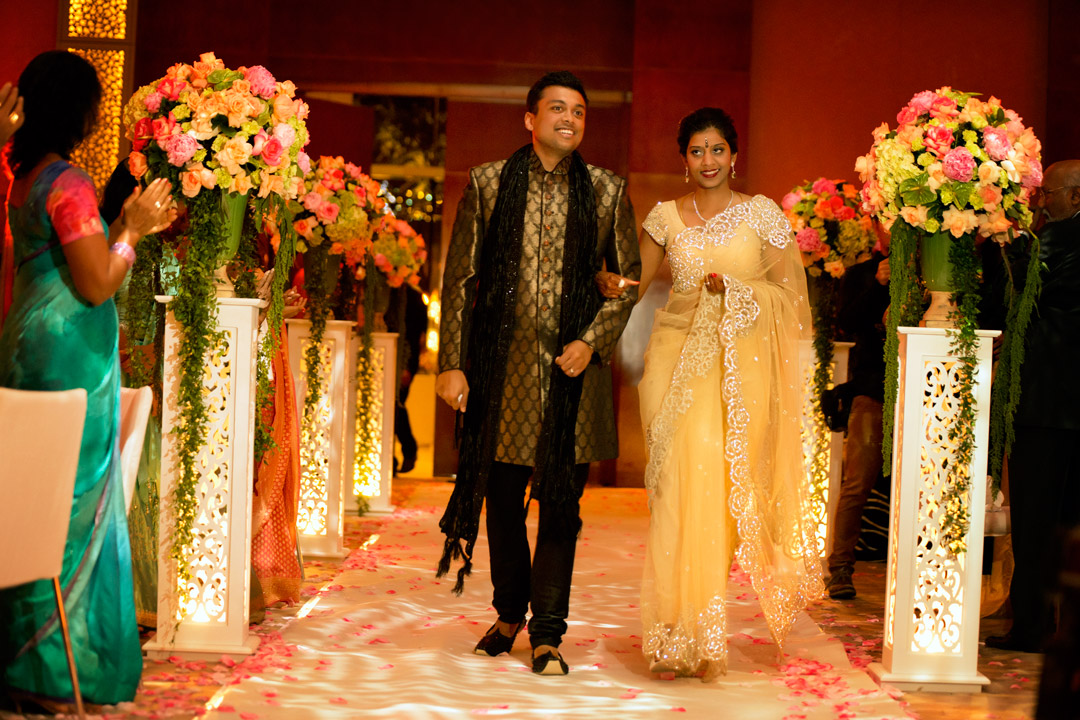 Sanjeevan and Nisha make their entrance as husband and wife, surrounded by family and friends, and their favourite flowers.
Thank you both for letting us be a part of your wonderful wedding, and also for sharing it with our readers. We wish you a lifetime of love and happiness! Thank you also for leaving us this lovely message, we truly appreciate it.
"A wedding is a great occasion that needs lots of planning to make it a most memorable and beautiful day. Wishing Tree made our dreams come true. It was a beautiful experience from start to finish and we couldn't have asked for more. Thank you all for everything, our wedding day was a truly unforgettable one." – Nisha and Sanjeevan