In Malaysia, it is extremely common for weddings to take place in at least two parts – the first part is usually a smaller cultural or religious (or both) ceremony, followed by a dinner reception in the evening. Today we feature the wedding ceremony and wedding reception of our lovely couple, Eng Hian and May, captured beautifully by Mun Keat Photography.
Thank you, dear Eng Hian and May, for sharing your day with us and our readers!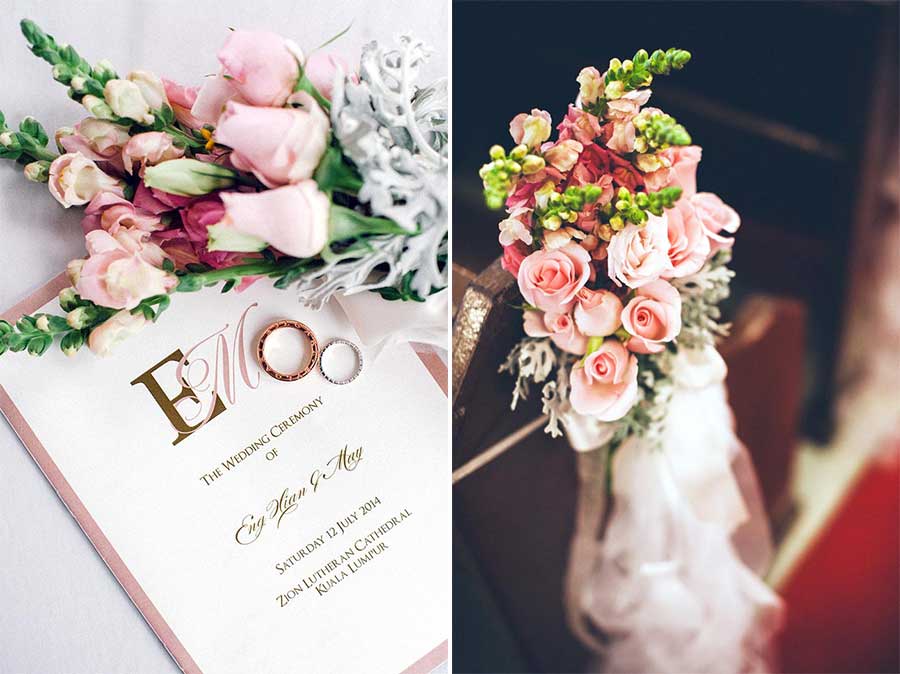 Eng Hian and May's lovely rustic daytime palette of dusty pinks and greens.
We met our couple through their wedding planner and coordinator, Cheryl of Chic Occasions, who has worked with us on many events and recommended us. Eng Hian and May did not have a theme per se, but had a strong idea for a colour palette that would include blush, pinks and greens. For their dinner reception, it was to be all-white with elements of bling and sparkle.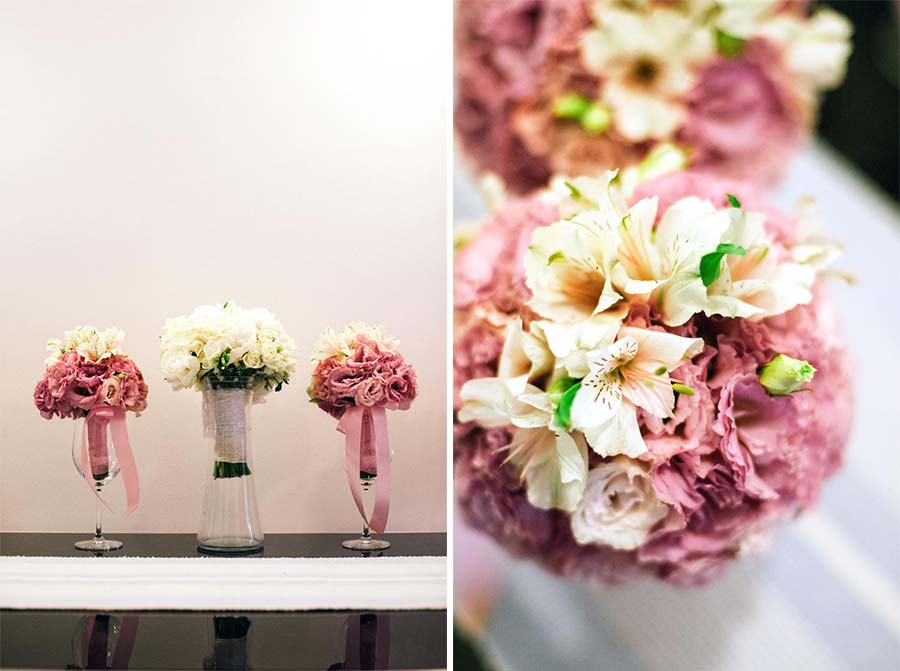 Bountiful bouquets for the beautiful bride and bridesmaids.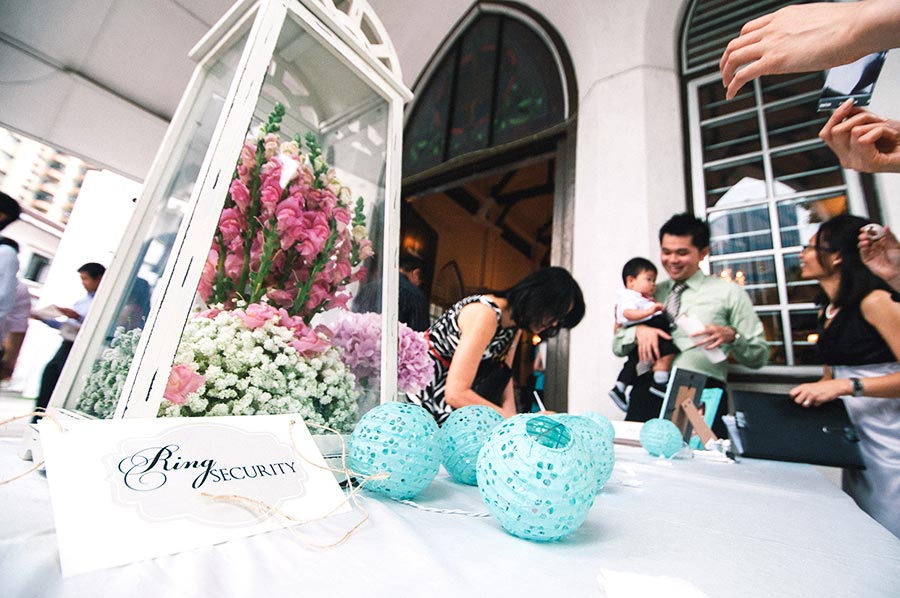 For the registration table, May added a pop of colour with aqua paper lanterns, providing an element of contrast that also complements the colour theme.
Their church ceremony was held at Zion Lutheran Church in Brickfields, Kuala Lumpur. Outside the venue, the registration table was decorated simply but elegantly. The larger floral arrangement encased in a glass and wood lantern comprises lush pink matthiola, pink roses and white baby's breath. The pop of aqua in the form of paper lanterns, adds a little more depth to the table decor.
Now let's take a look inside the church…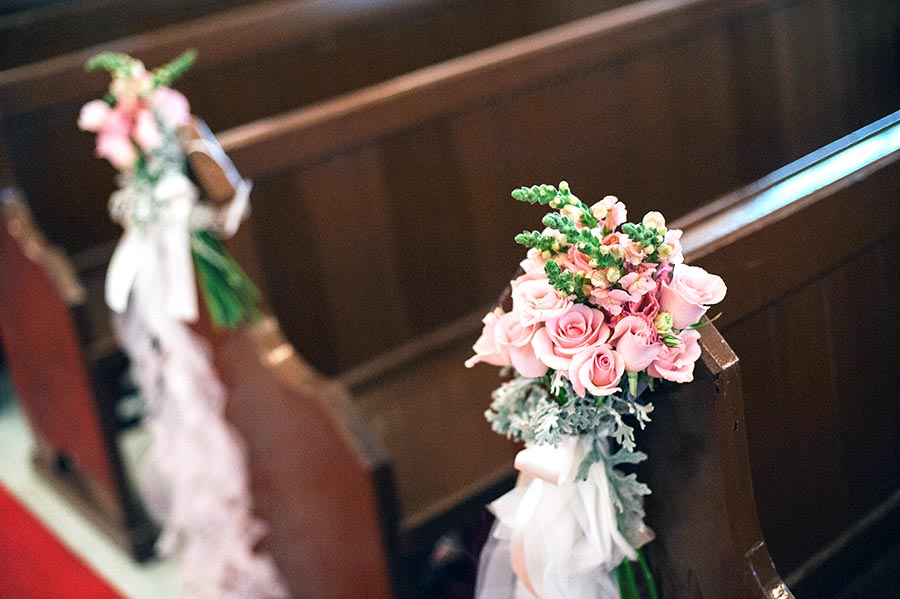 Each pew bench gets a floral treatment, which helps make the aisle look very lush without the bulk.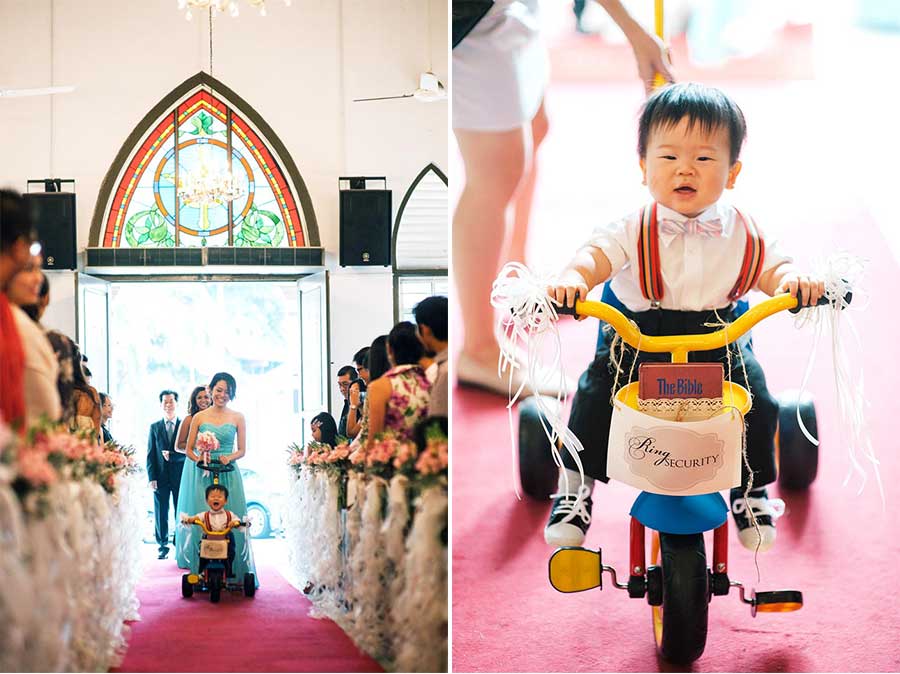 What a great idea to have this little guy lead the wedding party in a tricycle as 'Ring Security'!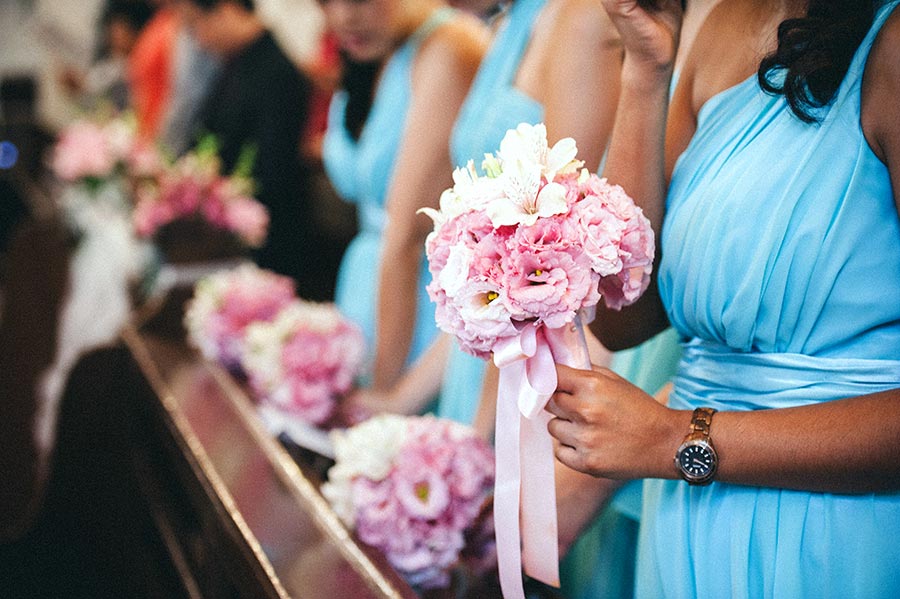 As with the aqua paper lanterns, the bridesmaids add a pop of colour with their pretty gowns.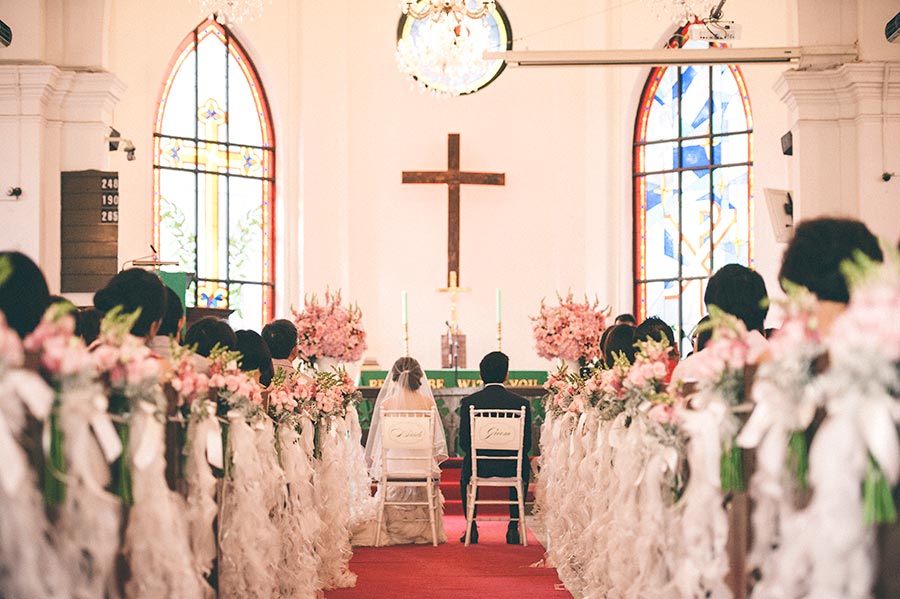 The beautiful aisle leading to the altar. Design inspired by the brillant Karen Tran of San Diego.
Later, Eng Hian and May's dinner reception takes us to the grand ballroom at Mandarin Oriental Hotel Kuala Lumpur…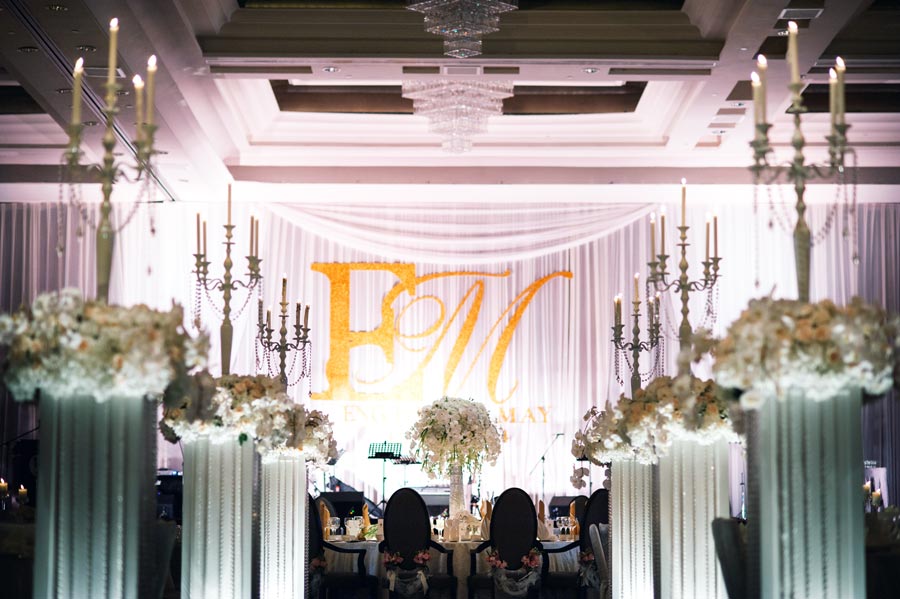 From the ballroom entrance to the bridal table, Eng Hian and May keep it classy with modern pedestals, simple florals and candelabras.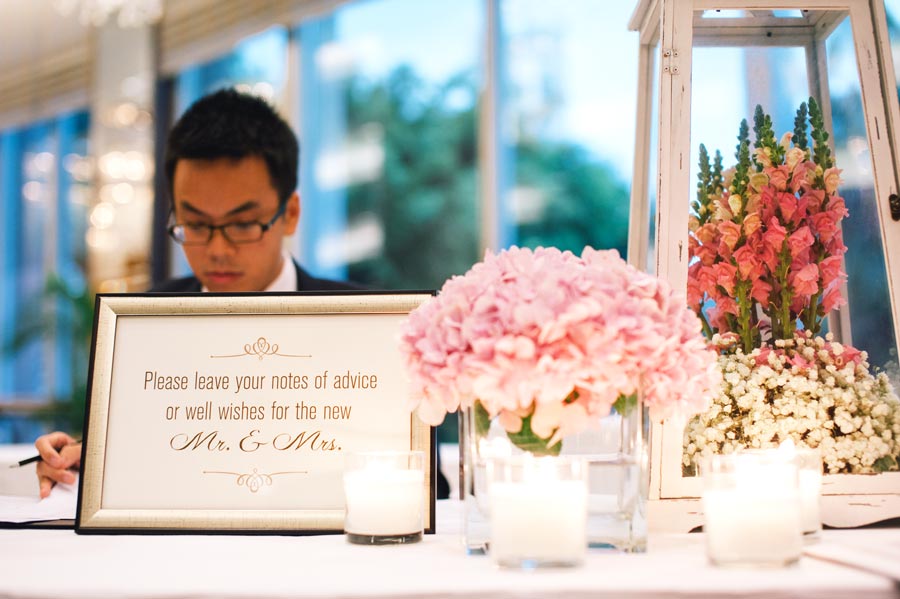 Does the guest registration table decor looks familiar? It should, as it first made its appearance at the church ceremony earlier that day.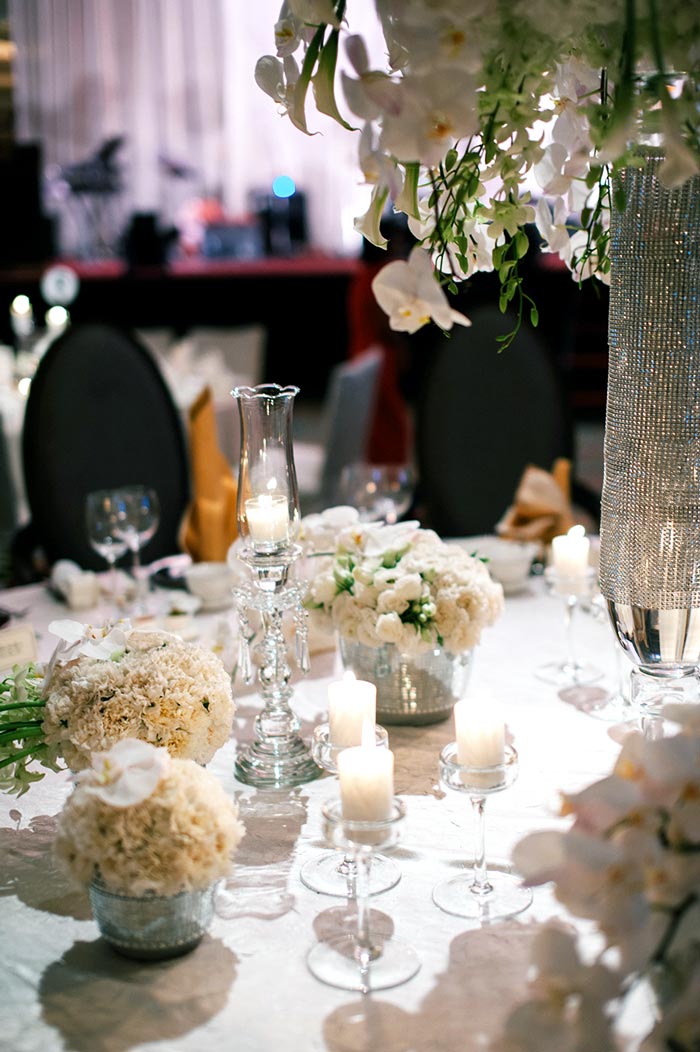 All-white blooms adorn the bridal table, with sparkly elements for a dash of glam.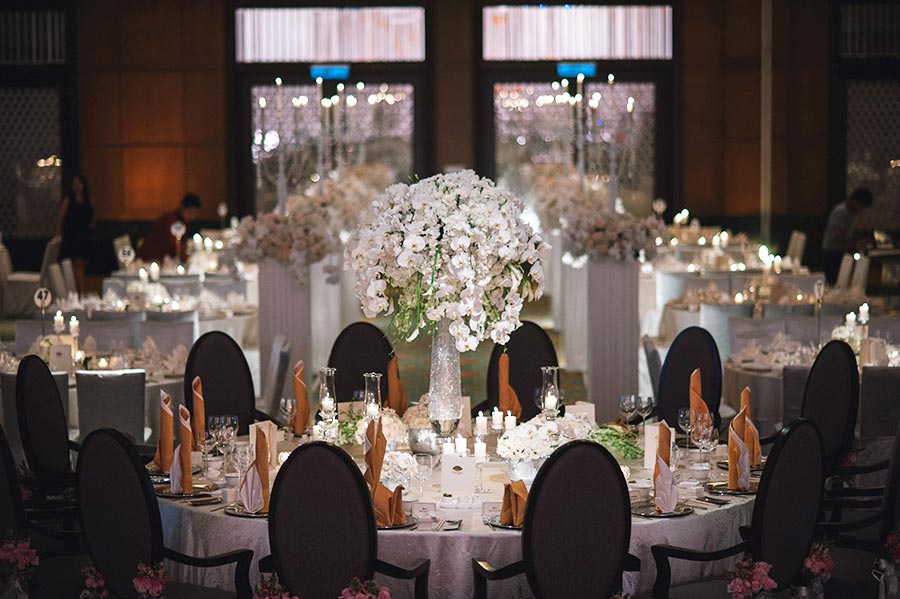 Another view of Eng Hian and May's bridal table.
"I had heard the rave reviews of Wishing Tree, and I'm very glad to say they certainly lived up to their reputation. From a service point of view, I found Wishing Tree to be dependable, trustworthy, and accommodating. As for the deliverables, well, the photos speak for themselves! Lily really tried to understand what we liked and what would work best while staying within a reasonable budget, and I didn't feel like they gave us "recycled" or "cookie-cutter" designs. Thank you for your gorgeous work that made our wedding extra special and so memorable!" – Eng Hian and May.