This photograph of our couple walking into the ballroom as man and wife might be one of the most beautiful we have ever seen. Everything from the composition, the angle, the lighting, the colours, the decor, and the dress… perfection!
Many thanks to Daren Chong Photography for the beautiful photos you will see here.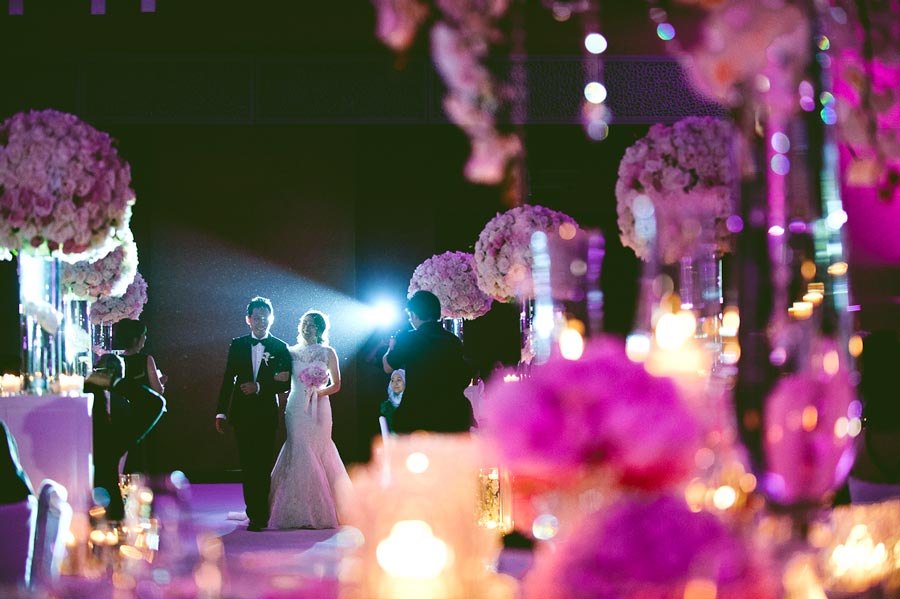 Kevin and Janice look resplendent as they make their way to their dinner reception.
As one of many wedding and event decorators in Kuala Lumpur, it always special and meaningful to us when our clients choose us to decorate the most treasured day of their lives. This is especially significant to us when our clients have seen our work in past weddings and events or have come to us via word of mouth.
Our couple has friends who have worked with us, and have attended events that we decorated. This was how Kevin and Janice heard of Wishing Tree. Coincidentally, we also have a wonderful working relationship their wedding planner, Cindy from Nupts & Such. "These events helped me choose Wishing Tree as our decorator, and it has been a choice that we are very pleased with to this day!" says Janice.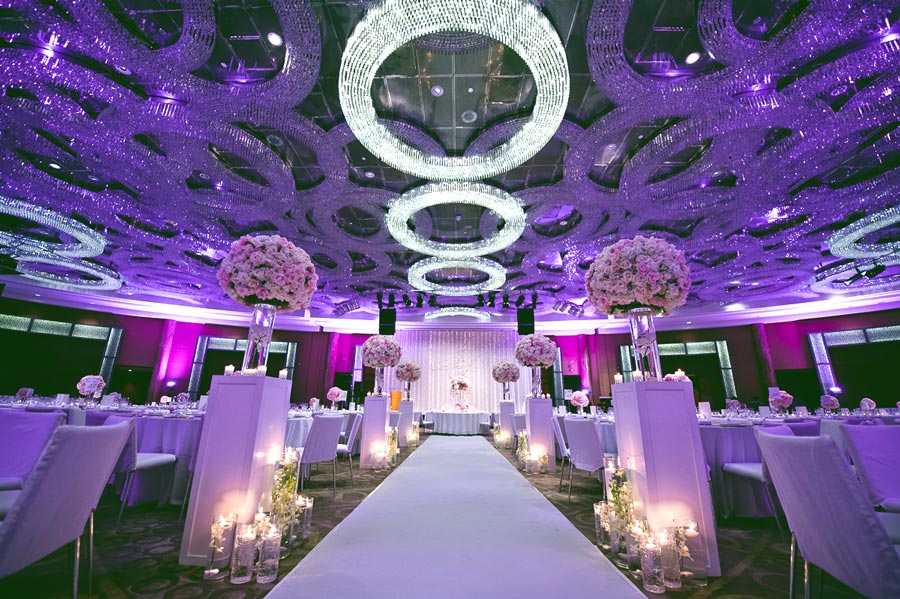 Kevin and Janice's aisle, crowned with the ballroom's magnificent overhead crystal lighting.
The ballroom at Grand Hyatt Kuala Lumpur is an amazing venue, as you can see. Janice and Kevin wanted an elegant and romantic ambience for their dinner reception, which suits this space very well. Working with our couple's chosen colour palette of silver, ivory and pastel pinks, we created this look for them.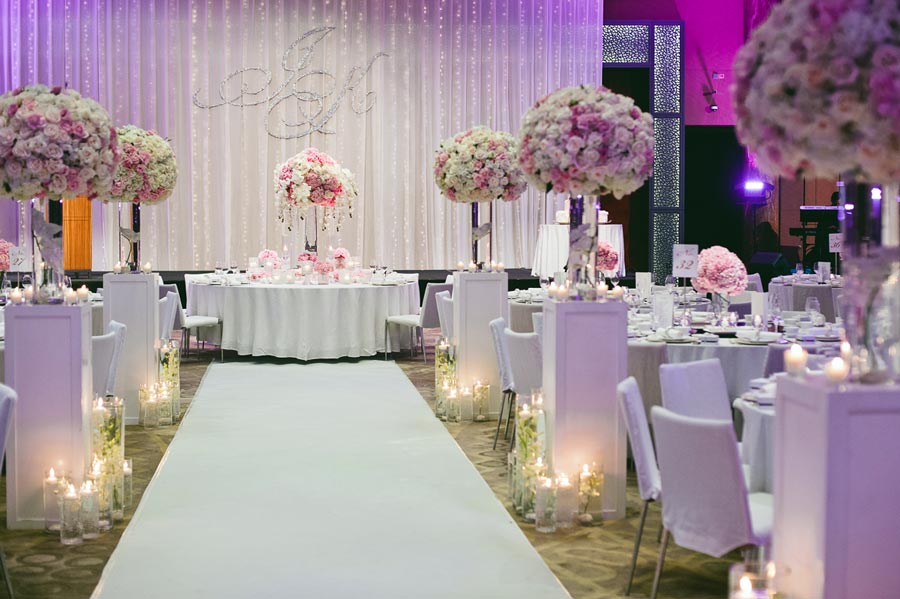 The aisle leading to the bridal table is neatly lined with large-than-life floral arrangements.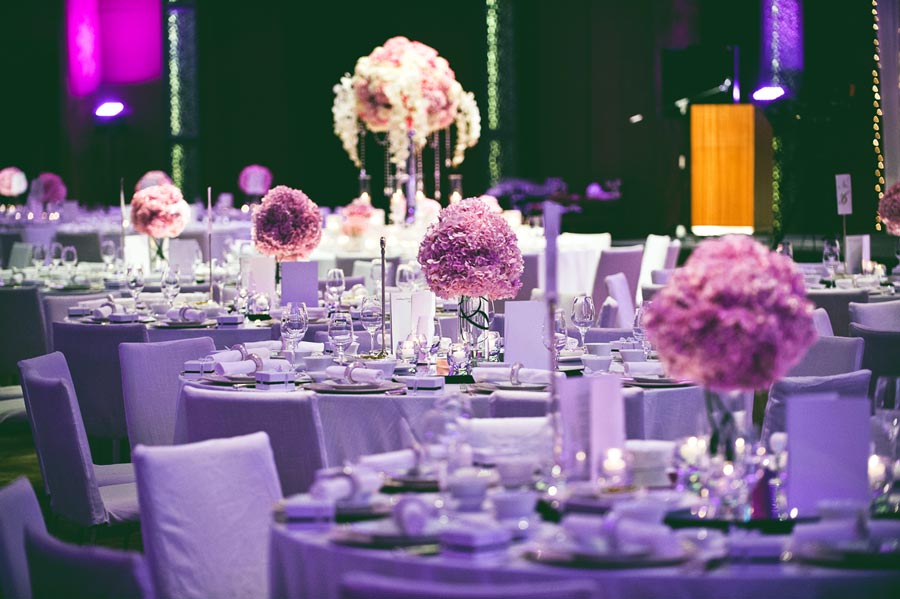 Lush and simple bouquets of pink hydrangea for guest tables.
We love the versatility of hydrangea. So much texture in small bunches and they look gorgeous all on their own. The hydrangea bouquets on each guest table were provided by the hotel's in-house florist.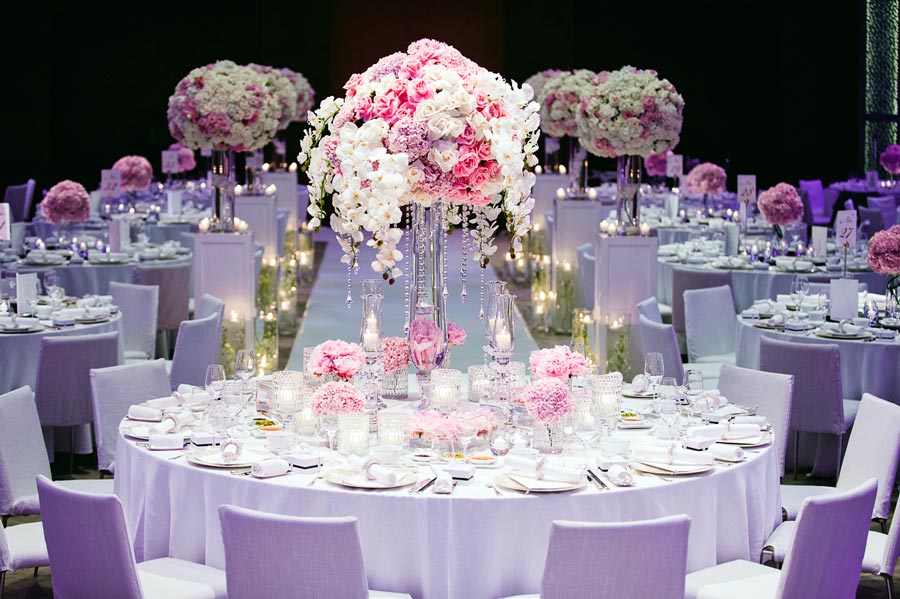 View of the bridal table centrepiece, aisle, and guest tables.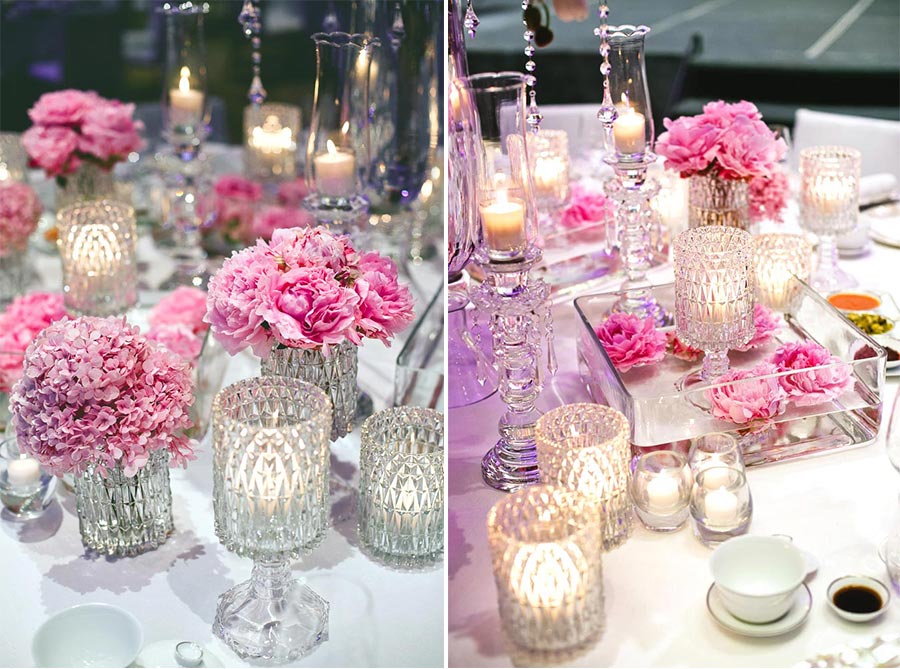 Close-up of the bridal table centrepiece, using textured glass and crystal ware, adorned with a variety of pink blooms.
The bridal table decor was one of Janice's favourite parts. "The main table was gorgeous," says our bride, "I loved the aisle and the candlelight; they made the space look so romantic and elegant."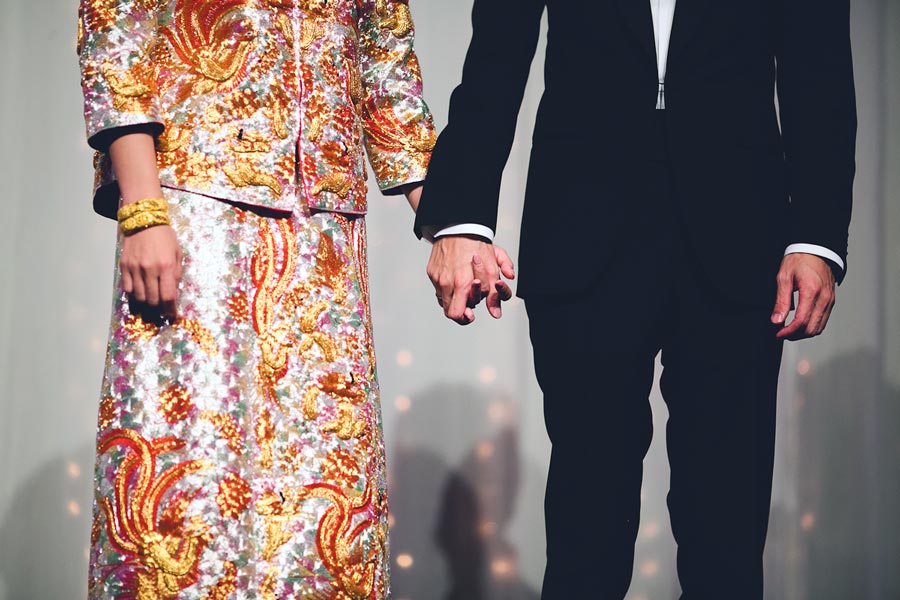 Kevin is stylish in a modern suit, while his bride shines in her exquisite "kun qua", a 2-piece traditional Chinese ceremonial wedding dress.
Thank you, Kevin and Janice, for sharing your special day with us and our readers! We wish you both the very best and a lifetime of love and happiness. Here's a little message our couple left for us:
"Lily helped us create the magic that we were looking for on our special day. We truly appreciate her flexibility in accommodating our budget without compromising the look we intended to achieve. Having had the benefit of attending events that were decorated by Wishing Tree, we were more than comfortable to leave the planning and execution to the team while we sat back and enjoyed our special day!" Kevin & Janice