It was a beautiful day for a garden wedding, and what a beautiful wedding Ee Von and Wei Kiat had! Thank you for choosing us to be a part of your most treasured day and also for sharing it with our dear fans and readers of this blog.
Photographs by MunKeat Photography.
Ee Von's sweetly elegant bridal bouquet, and the bride's personal touch on the wedding invitation that features her hand-painted watercolour design.
Our couple, who live in Melbourne, found us while researching wedding decorators in Kuala Lumpur and came across our website and blog. "We were impressed with the photographs of the works you have put up," says Ee Von. "Wei Kiat and I have been together for over 12 years before our wedding, and we still agree and disagree on many things. Wishing Tree was certainly one of the few wedding vendors that we strongly agreed on after seeing your work!" Thank you for your most kind words, Ee Von.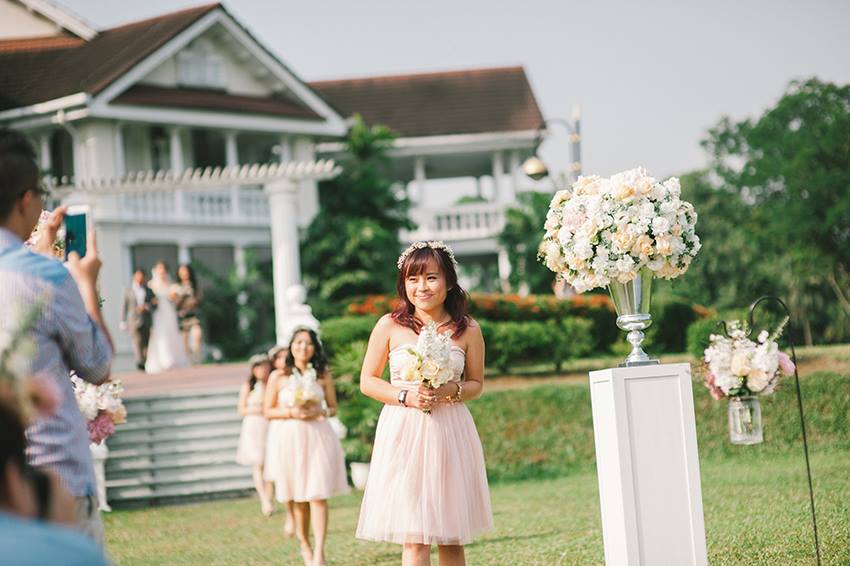 Blush-coloured blooms in vintage vases and mason jars decorate the garden wedding, while pretty bridesmaids look lovely in their pale peach dresses.
We chose a blush palette for our couple's big day, as they did not have a specific theme but wanted a country garden decor that would complement Carcosa's garden as well as its interior decor. The colour palette includes a lot of white, pale peach, pale yellow, pale pink, and a touch of pale orange.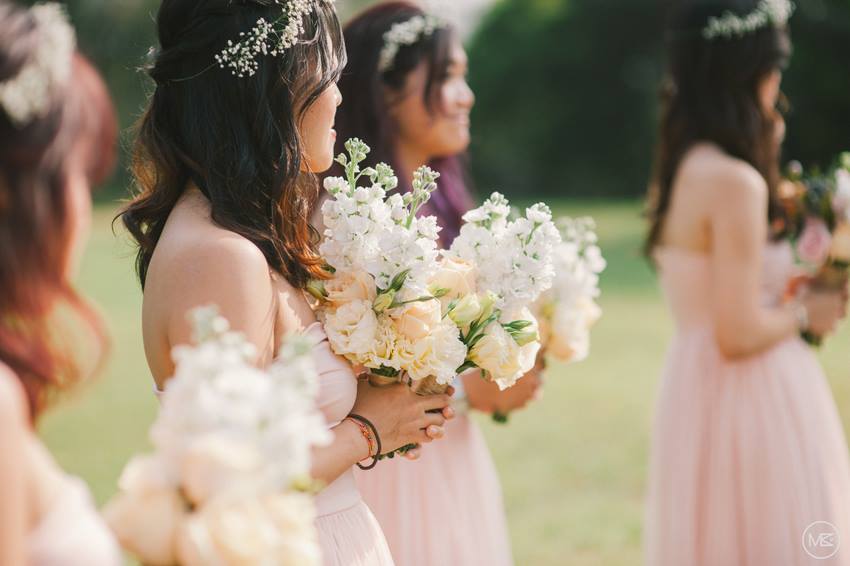 Gorgeous white matthiola and pale peach roses for the bridesmaids' bouquets.
Ee Von's favourite flower is the peony, but sadly we were unable to use peonies as they were not in season at the time, so she and Wei Kiat left many decisions to us with regards to flowers.
We chose luscious, white matthiola to feature in the floral arrangements, paired with pretty roses. Matthiola are absolutely beautiful on their own and one of our favourite flowers. We just love the amazing textures and their air of romanticism!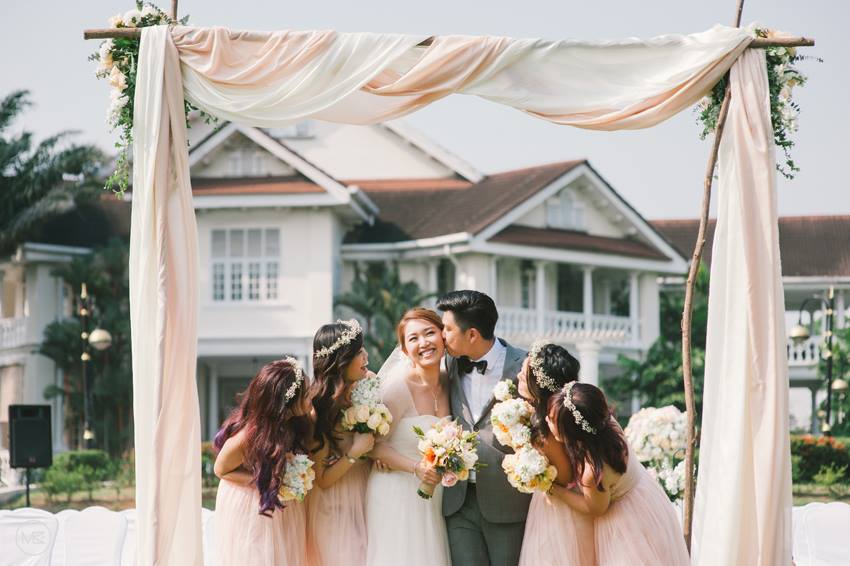 A celebratory kiss under the arch.
The arch was one of Wei Kiat and Ee Von's favourites. "I was quite particular with the type of arch that I wanted for the outdoor ceremony. I was definitely worried about whether or not it could it be achieved as I had yet to see something like this in other weddings. But Wishing Tree assured me that it was possible," Ee Vons explains. "I prepared myself mentally that it may not look like what I had in mind… but on that day, I was blown away – it was every bit as I imagined it to be!"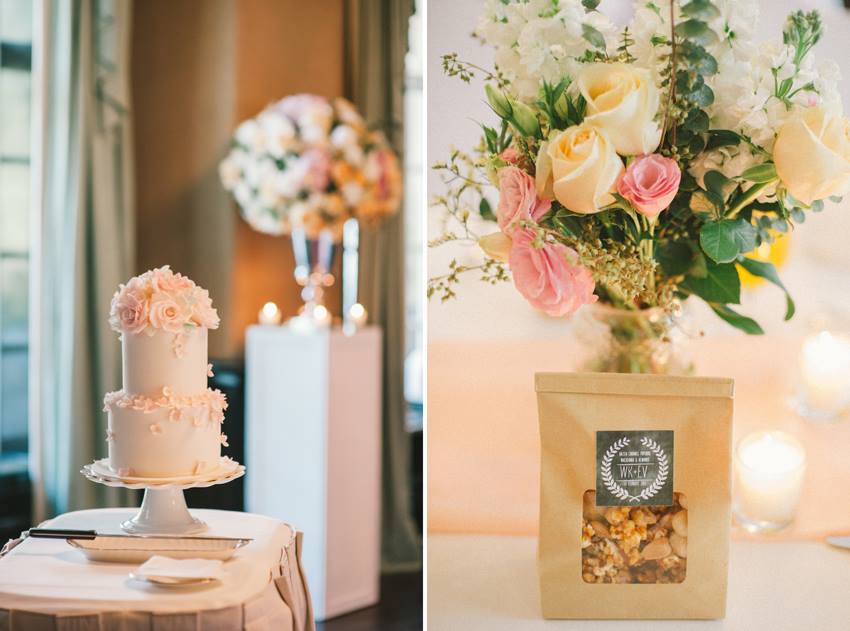 A gorgeous wedding cake by Gateauxlicious to complement the theme, and handmade wedding favours to sweeten the day.
In addition to the DIY wedding invites that our couple personally printed, which featured a watercolour print painted by the bride herself, our dear couple managed another DIY project for their wedding.
"We made, designed, and packed our own wedding favours (salted caramel popcorn with roasted almonds and macadamia) because, again, we wanted something that would give a personal touch to our wedding without breaking the budget," says Ee Von. "I thought the idea of salted caramel was rather symbolic – a dash of salt can make something sweet so much more tasty, just like in a relationship. Popcorn because everyone loves popcorn, and, because we're based in Australia, macadamia nuts seemed like the appropriate addition."
Another factor that motivated their DIY projects was the size of their wedding. It was small, with no more than 60 guests, so their projects were very doable and not overly time consuming.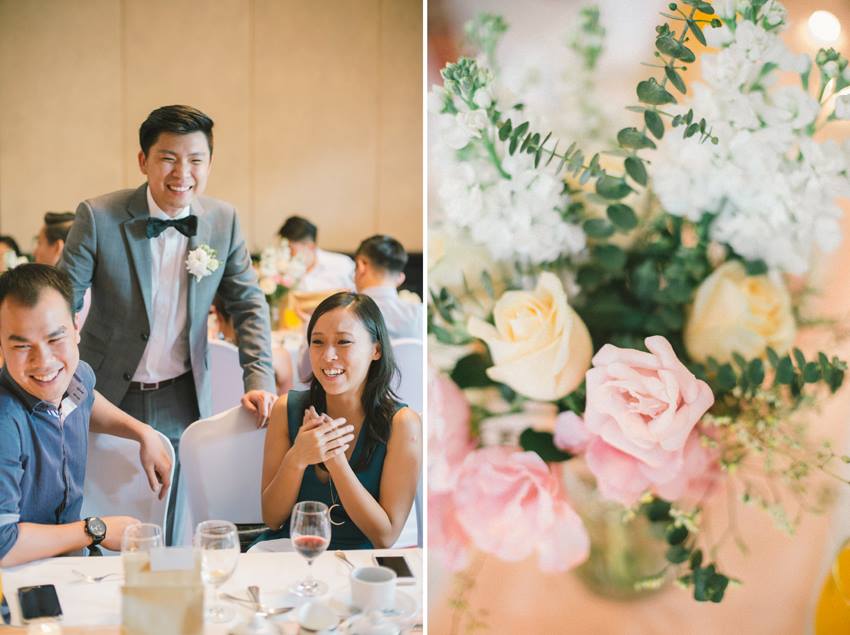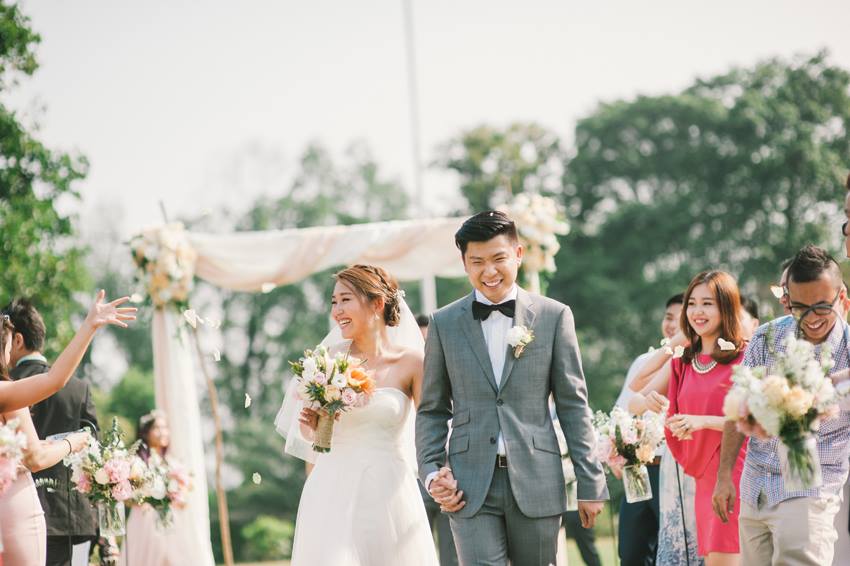 Wei Kiat and his beautiful bride make their way up the aisle, as man and wife.
Thank you once again, Wei Kiat and Ee Von, for sharing this important day with us and our readers. We wish you a lifetime of love and joy on your blessed new journey together!
"After the wedding, we wholeheartedly agreed that we made the best decision with Wishing Tree. Quality was never once compromised by a restricted budget, especially when our wedding day fell on Valentine's Day. Should any bride- or groom-to-be ask for our suggestions, we would not hesitate to recommend Wishing Tree. For such a special occasion, every cent was worth it!" – Wei Kiat and Ee Von.