Hello dear readers! We know it has been a while since we updated this space with weddings to inspire you – but we hope these beautiful pics and story from Soren and Lavinne's big day will make up for it.
Using a monochromatic palette of black, white, and grey, with accents of gold and silver, the breathtaking backdrop of the Petronas Twin Towers from the 57th floor, and with the stylish influences of fashion icons Jimmy Choo and Keith Kee, you know this wedding day perfection. Let's check out the photos, courtesy of the talented Jan and William of Axioo.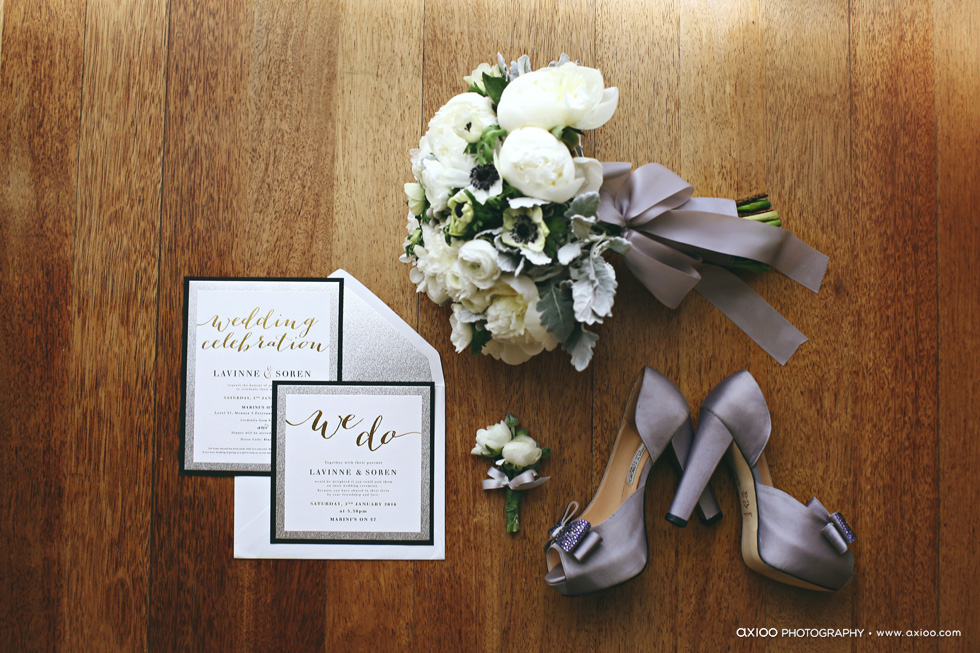 An elegant palette of black, white, and grey, with gold and silver accents for a touch of luxury.
While doing her research on wedding decor, Lavinne came across a wedding decorated by Wishing Tree in collaboration with Mint Events & Soirees on Facebook, and the rest, as they say, was history. We are so honoured to have been chosen for your most treasured day, Lavinne and Soren.
Black and white are our couple's favourite colours, and "grey was added to our palette as a symbol of compromise between our favourite colours," says Lavinne. "We added gold and silver for a bit of extravagance to the theme."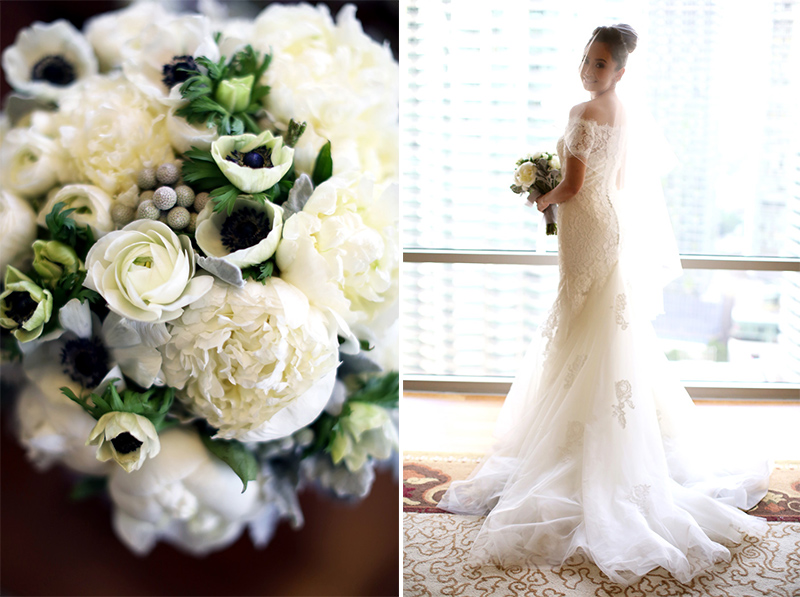 Beautiful Lavinne in her gorgeous gown created by Rosana by Lasposa.

The bride and her bridesmaids with all-white bouquets.
"Most girls have a dream wedding. Mine was a cozy garden wedding," Lavinne tells us. "Soren influenced our decision to host our wedding at Marini's On 57, overlooking the magnificent Kuala Lumpur skyline. In fact, we were the first couple to have had a wedding reception at Marini's!" she quips.
Thanks to Soren and Lavinne, their's was the highest wedding we've ever decorated!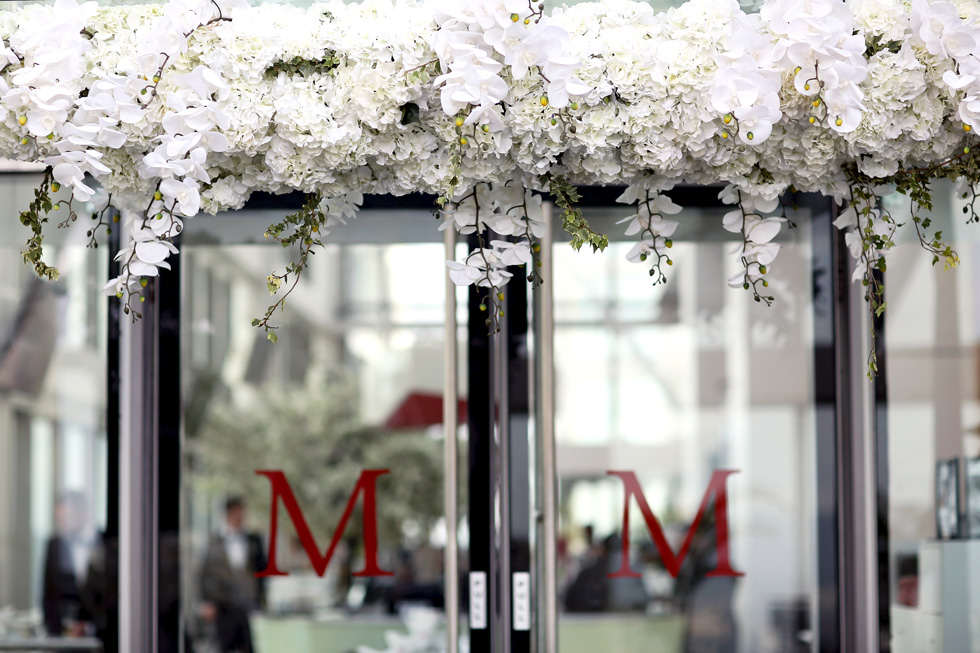 Lush florals for the wedding venue entrance, and a beautiful welcome for guests.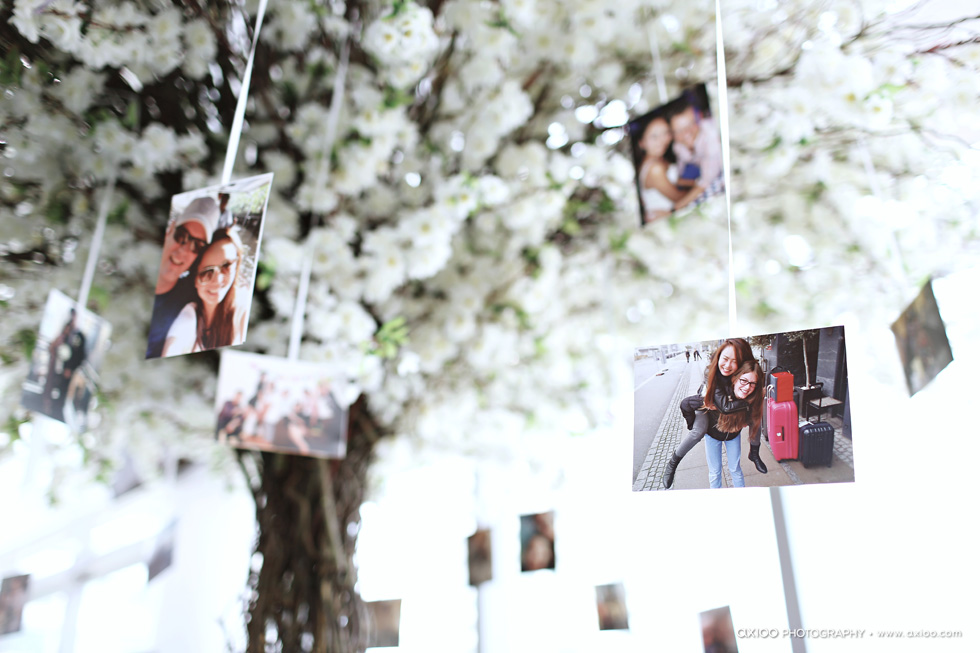 A custom, larger-than-life wishing tree is a focal point for reception area.
Although she calls herself "a perfectionist", Lavinne was a thorough bride.. which you all know we appreciate, because it just makes us that much more accurate in pinning down the look, style, mood, and ambiance that our couples desire for their big day. Our bride shared a long brainstorming meeting with us and her wedding planner Natasha of The Peak Xperience, to pick out every detail of her dream wedding, from types of flowers to linens, lighting options and floral arrangements, accents and decor ornaments… the whole works!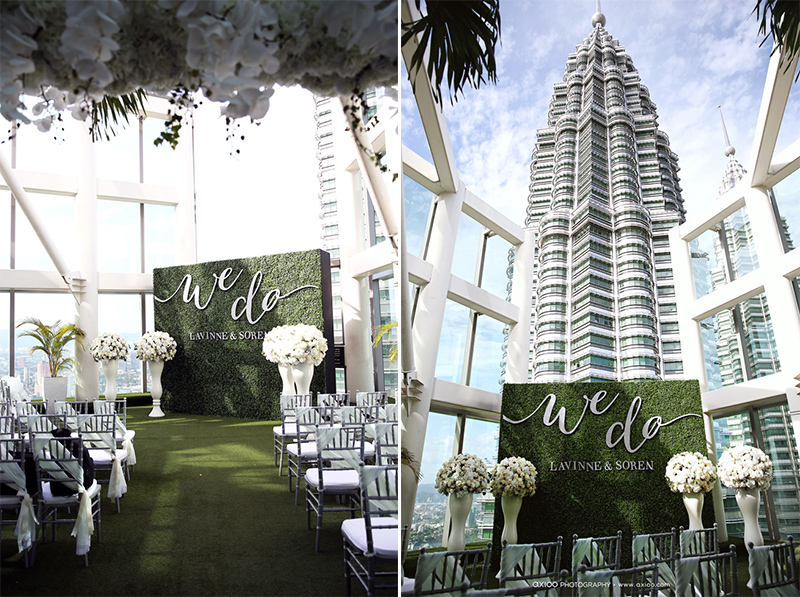 A garden wedding 57 floors above ground, how breathtaking!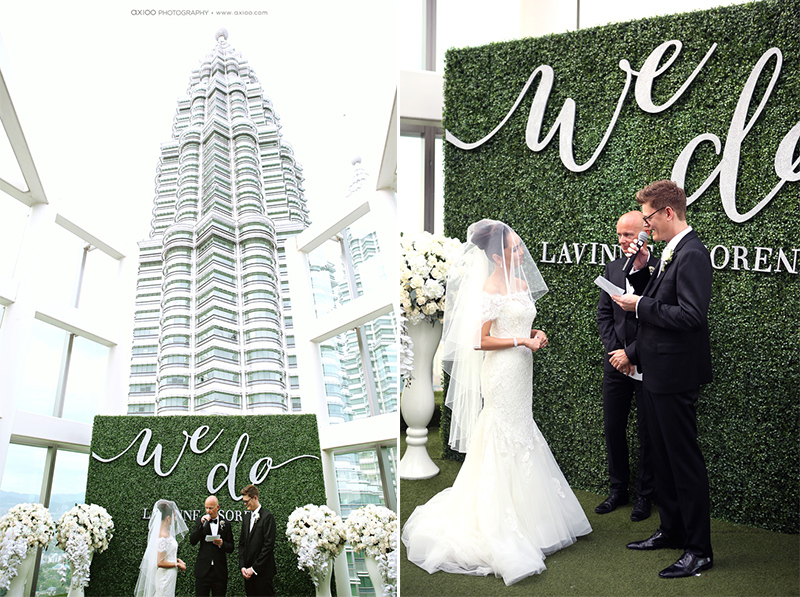 An exchange of vows, witnessed also by the two of the world's most iconic buildings.
What a treat for their overseas guests to experience this beautiful wedding with the towering Petronas Twin Towers as a backdrop.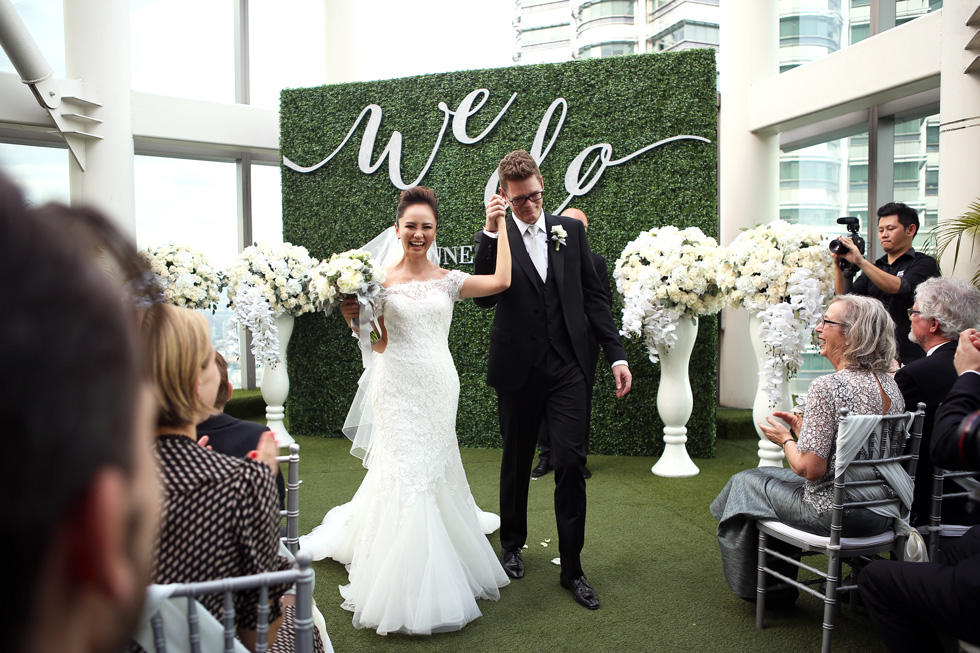 "We did it!"
Some of our readers who are planning their wedding may be feeling a bit stressed out and frazzled with all the details – it is totally normal. But, as Lavinne found out…
"Honestly, planning an intimate wedding wasn't as easy as I thought," she says, "especially since our wedding took place in another country, a wedding planner is highly recommended. We had a few break downs as we tend to aim for perfection, but we stuck together and reminded each other to take things more lightly, and laughed at things that didn't go as planned. After all, it was not an event to impress anyone. It was about the love we share and the vows we will make to each other; everything else is a bonus. With that belief, our wedding was one of the BEST days of our lives!"
Although this was the first time a wedding had been held at Marini's On 57, Soren and Lavinne pulled off a beautiful event in one of the most stunning venues in the city. Let's take a look, shall we?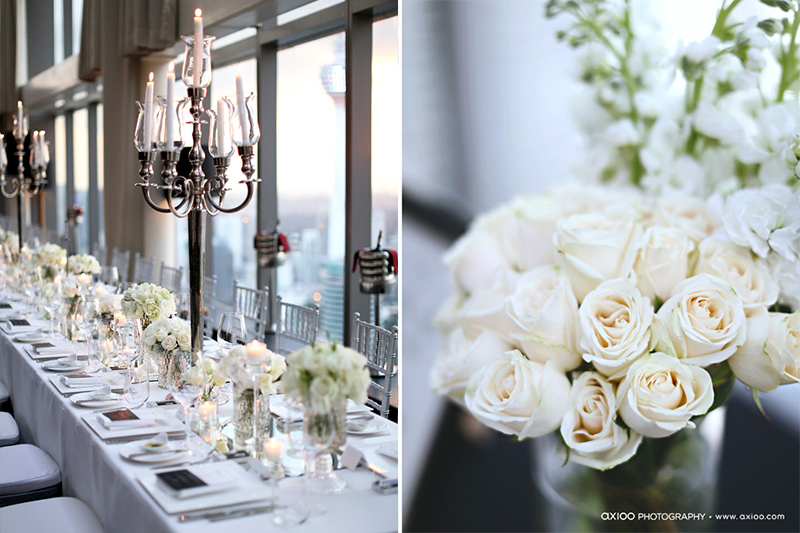 All-white blooms, candles and linens, with silver chiavari chairs and deep gold candelabras.
axioo soren lavinne wedding kualalumpur 34
Using all-black linens and drapes, deep gold chiavari chairs, gold-hued lighting and all-white flowers, this space is dripping with dramatic elegance.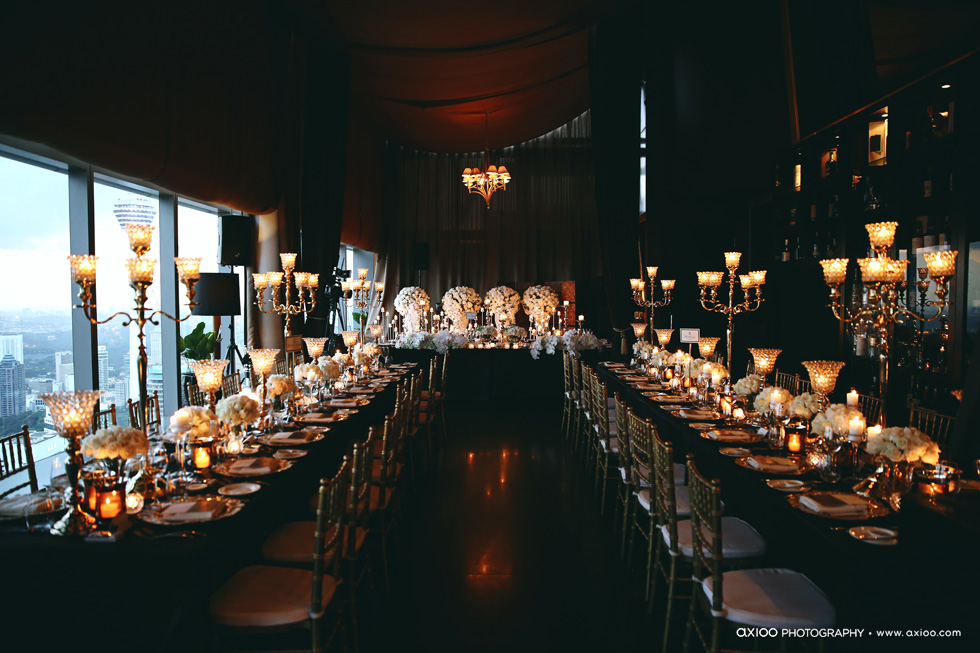 Close-up of the main table. Loving all that candlelight and breathtaking floral arrangements.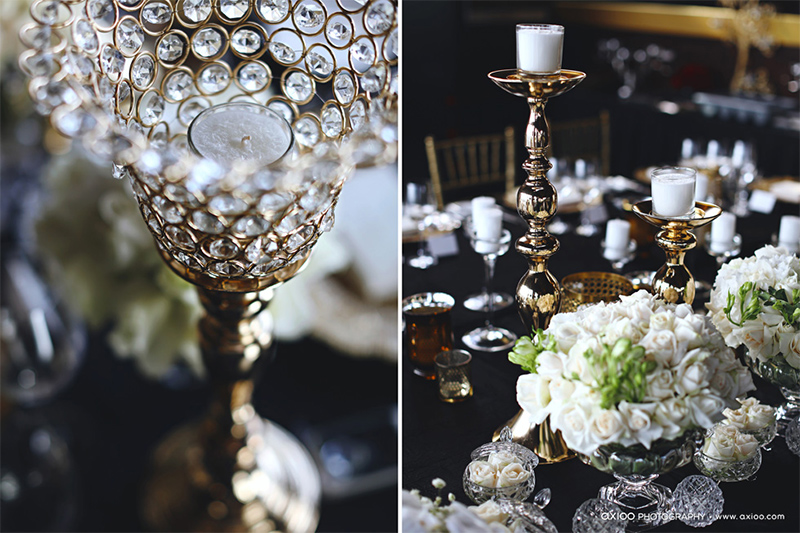 Create a little tablescape magic with gold, glass, fresh blooms and dark linens.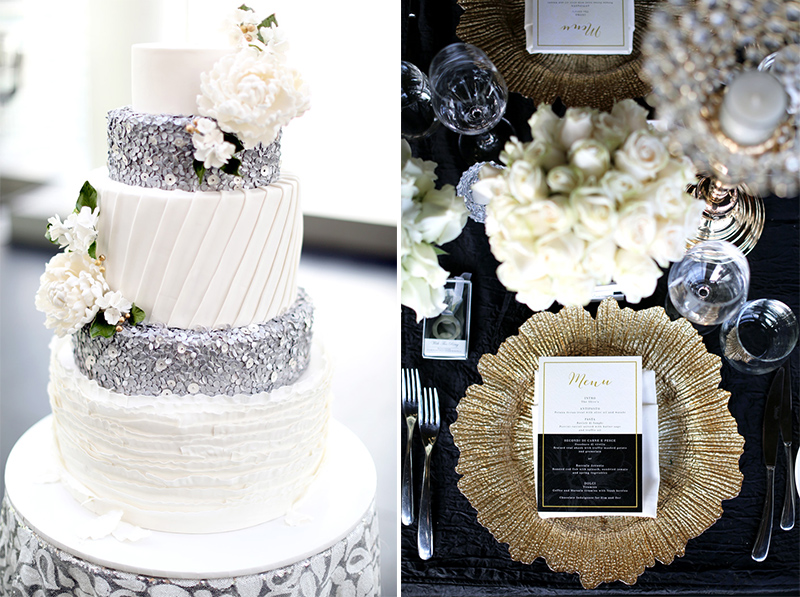 Wedding cake by Miss Shortcakes Cake Mastery, and another view of the tablescape.

Gorgeousness all around.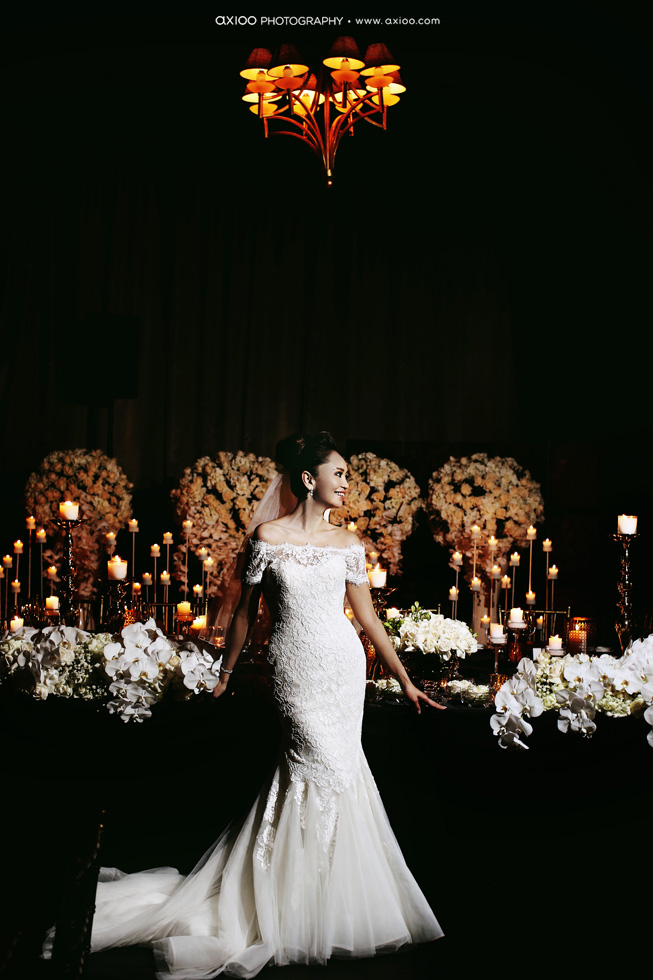 Lovely Lavinne is the queen at her spectacular party in the sky.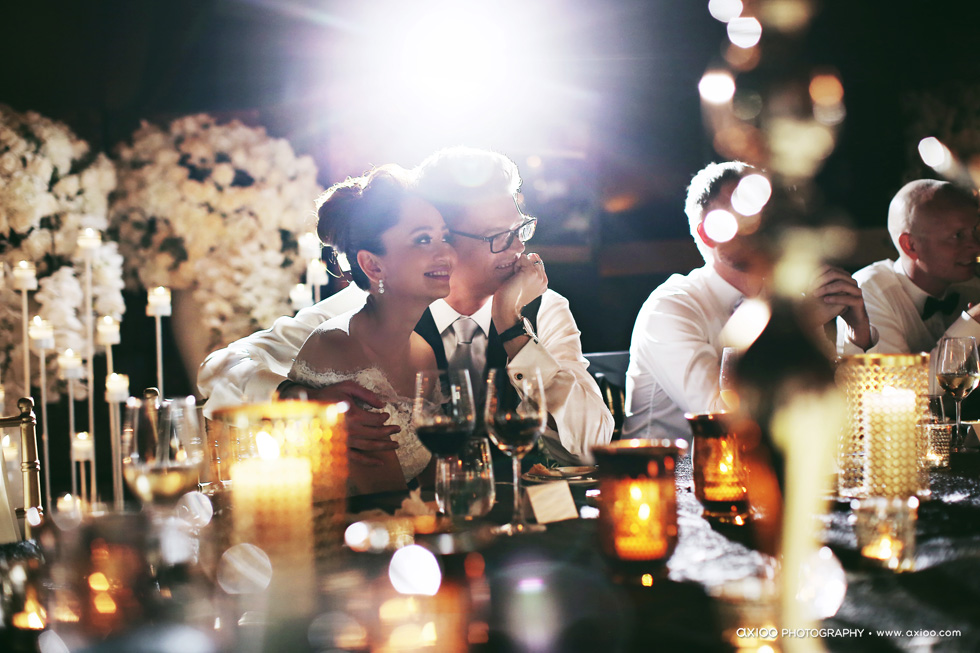 The newlyweds share a little moment, surrounded by beloved family and friends.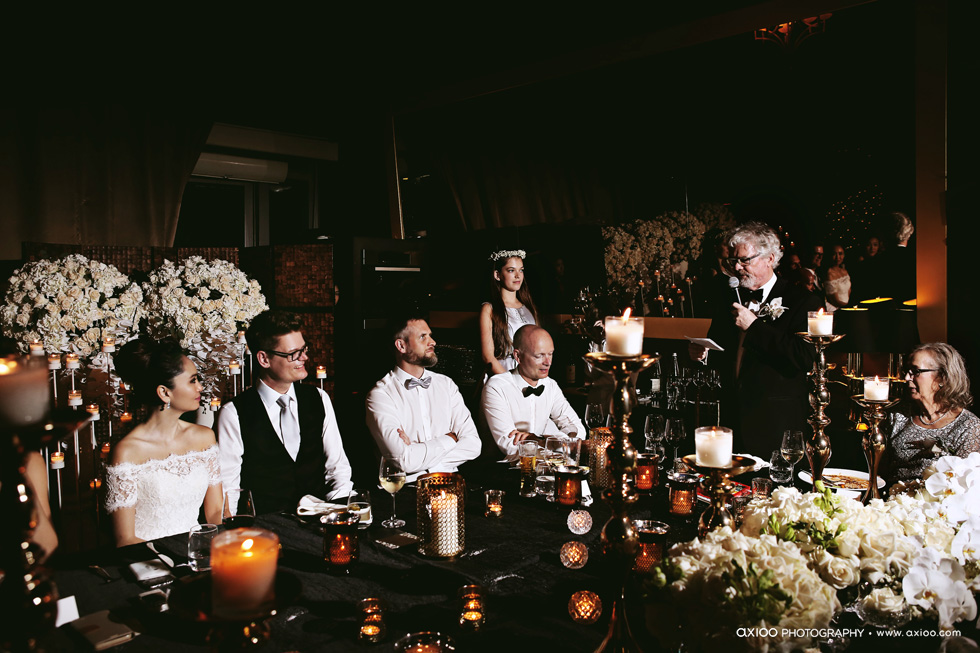 Lavinne and Soren's monochromatic palette with gold and silver accents is utterly sensational!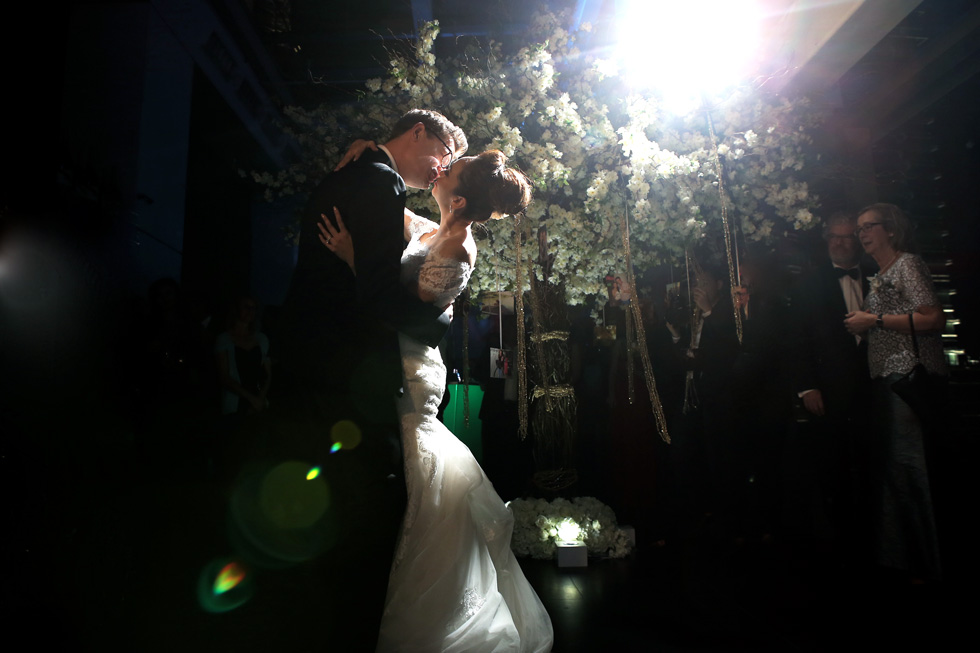 Sharing a kiss during their first dance.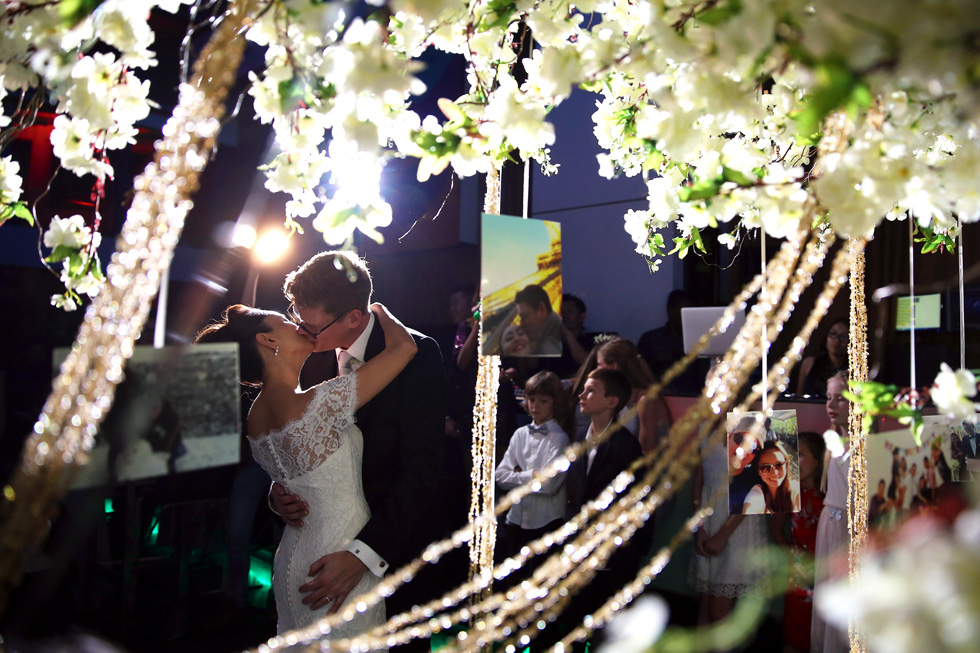 Our couple's custom tree provided a central point for the evening's festivities.
The next photo accompanies a very cute story about Soren. Lavinne tells us that Soren loves rap, and even enjoys rapping occasionally. So she decided to give him a surprise…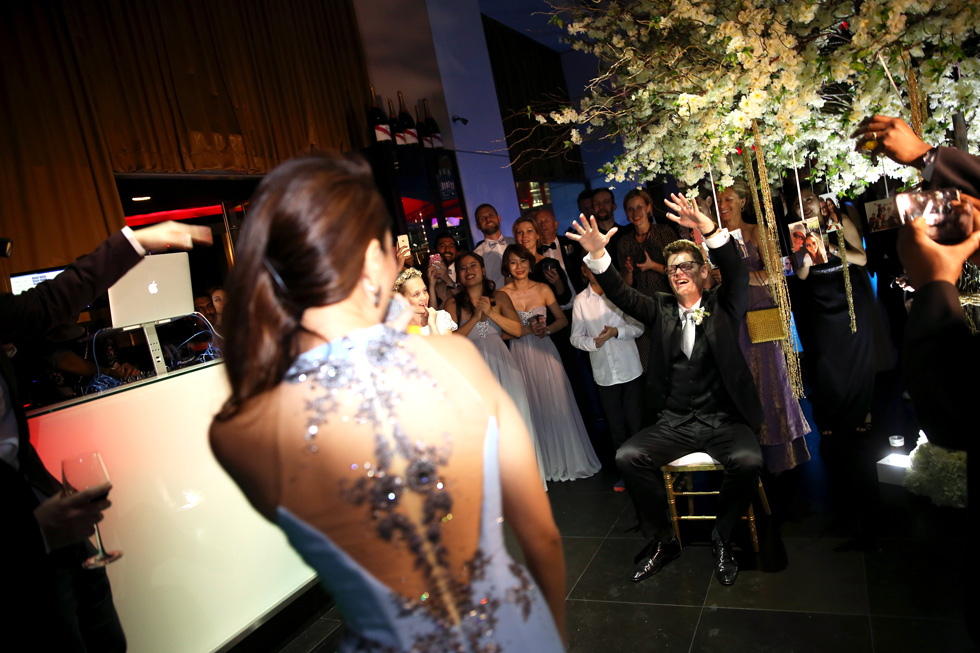 Soren reacts appropriately to Lavinne's rapping!
…by rapping to him! She chose "Your Love" by Nicki Minaj for the occasion. "It was my first rap, which I practice for months. I was a little nervous at first, but my heart immediately warmed up when I saw the look on his face. It was priceless!"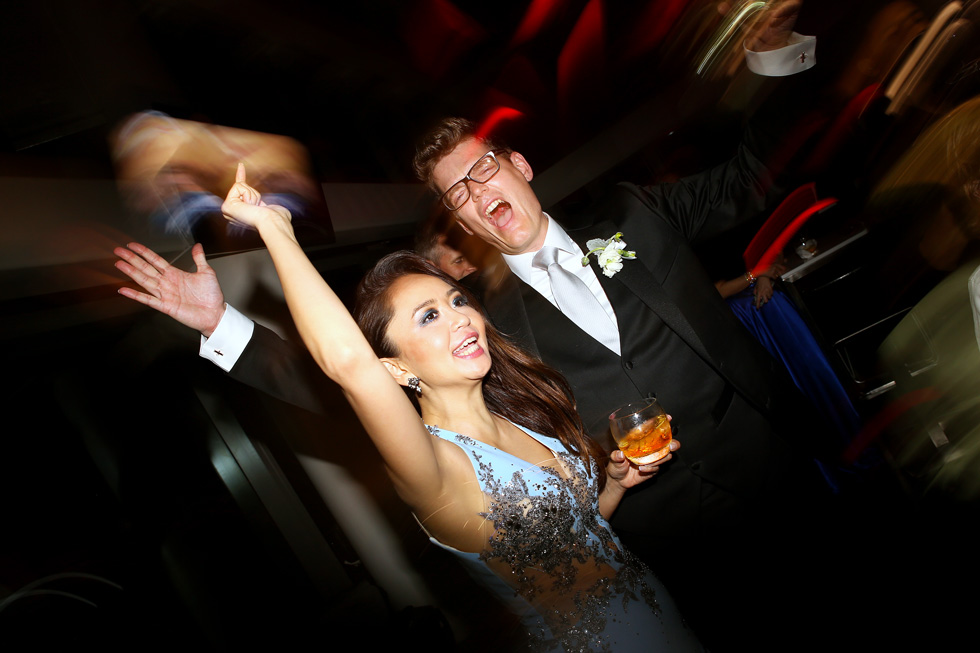 Soren and Lavinne partying it up in custom Keith Kee Couture and Ascot Chang Tailor creations respectively.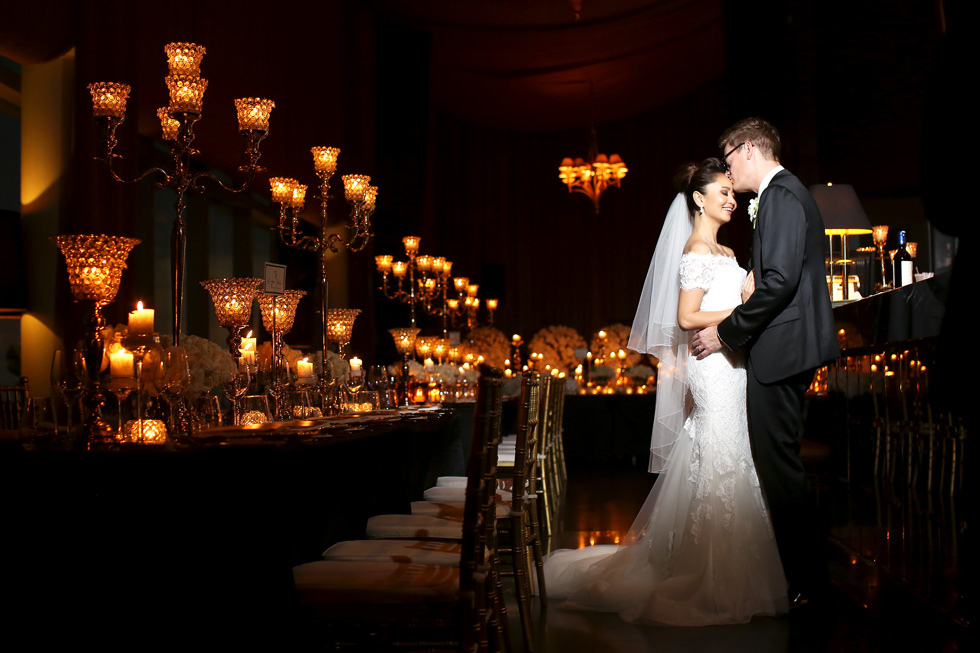 One more for the albums!
Soren and Lavinne, we love your wedding story and your beautiful wedding. Thank you so much for sharing your most treasured day with all of us at Wishing Tree and with our readers! We wish you both all the best in your new journey together.
A little note from our couple…
"We enjoyed working with Wishing Tree for their professionalism and efficiency. Their fee might be a little higher than most, but very reasonable if you are looking for a vendor with good experience, and offers quality and variety. The table settings were stunning, and amazed all our guests. Even our photographers were truly impressed!" – Soren and Lavinne