Hello from Hugo and Janice's beautiful wedding! Today's featured wedding is all about prettiness and gorgeousness, soft colours, textures, and mixing everything together with just the right balance. We love everything about this wedding decor and we hope that you do too!
We are so pleased to share some beautiful photos of the decor that evening, captured by the talents at Fixer Photography.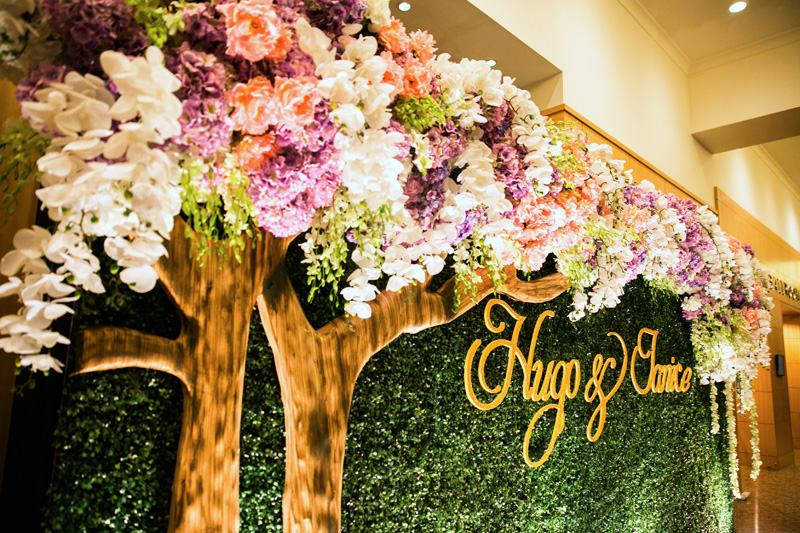 The gorgeously lush photo wall was one of Janice's favourites of the evening.
We met our lovely couple through their wedding planner, Natasha Khoo of The Peak Xperience. "Natasha recommended several decorators to us, but after reviewing each of their portfolios we decided to go with Wishing Tree for our wedding," says Janice.
Our bride started by choosing a pastel colour palette, and continued to work out the other details with Natasha and The Peak Xperience team. As Janice is allergic to flowers and isn't very familiar with the different types of flowers, she left the flower selection to us. Thank you for entrusting us with such an important task!

The pastel floral arrangements lining the aisle beautifully complement the pink and blues.
It's not very often that we get a colourful backdrop against which to decorate, and our bride made a great decision to go with a pastel palette. However, Janice had one major concern – that we did not use white flowers in the decor. No problem!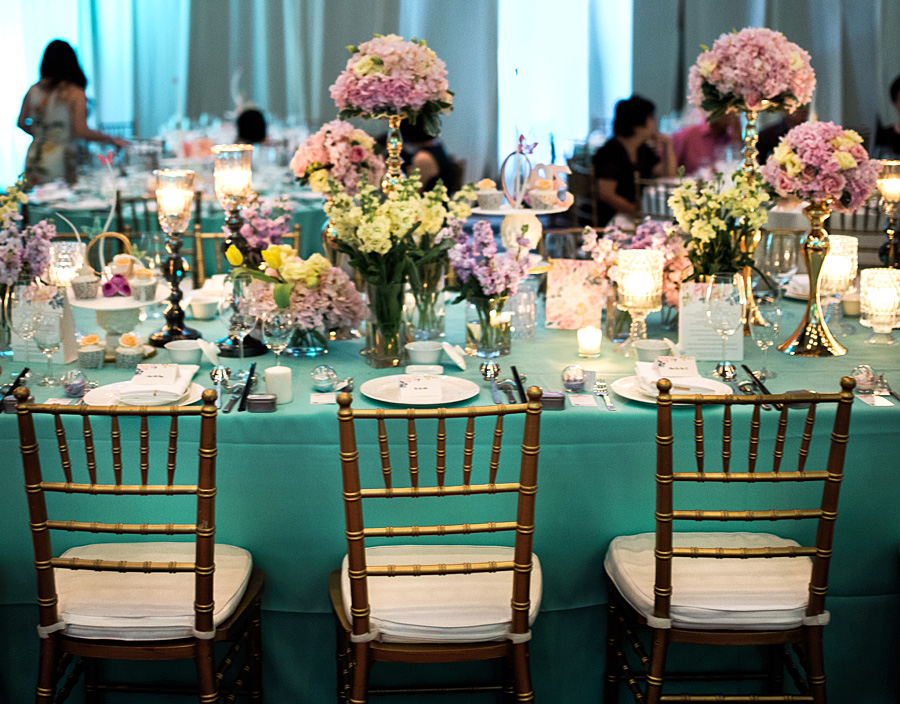 TIffany Blue table linens provided a striking backdrop for gold accents, deep gold chiavari chairs, and pleasing pastels.
The ballroom simply came alive with the beautiful bright blues, pinks, deep golds, sparkly glassware and shiny vases! Janice tells us, "I loved the entire wedding atmosphere that was created with a dreamy, wonderland vibe made possible with the impeccable florals on the Viking tables and the walkway."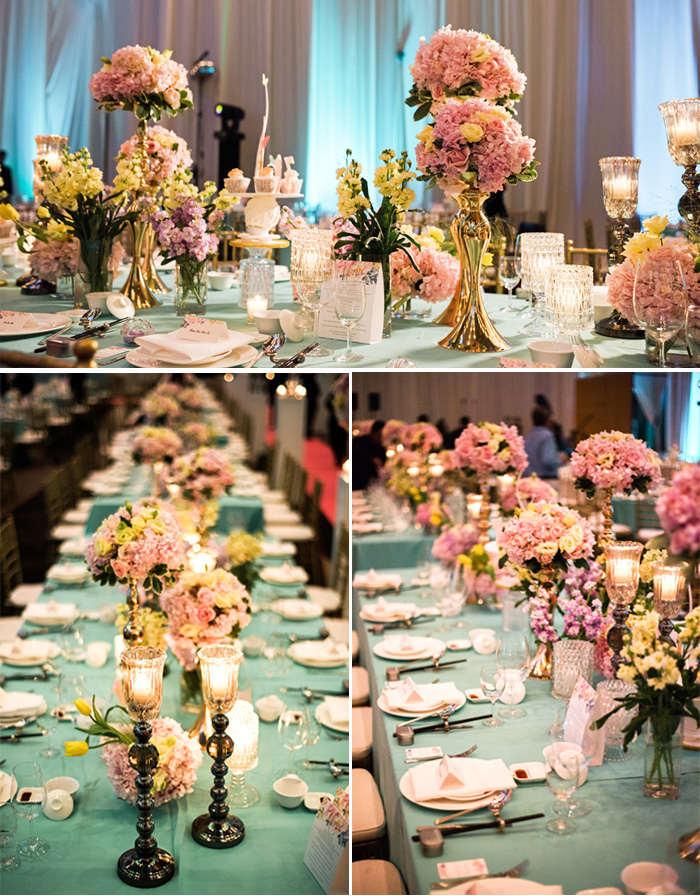 The tablescape looks gorgeous from any angle. Adding yellow florals to the pastel palette provides a pop of freshness against the blue.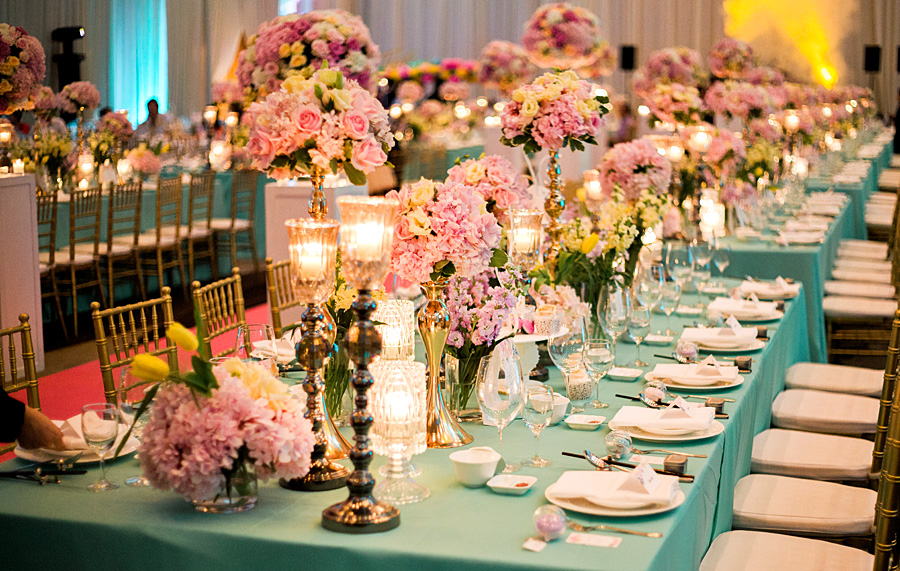 Viking tables line the entire walkway with happy hues and lush florals.
If you've noticed, increasingly more and more couples are using Viking tables in their wedding dinners in Malaysia. We love the use of Viking tables on either side of the aisle, as they not only create a different type of tablescape in Chinese banquet but the centerpieces along these tables double up as floral decor for the aisle.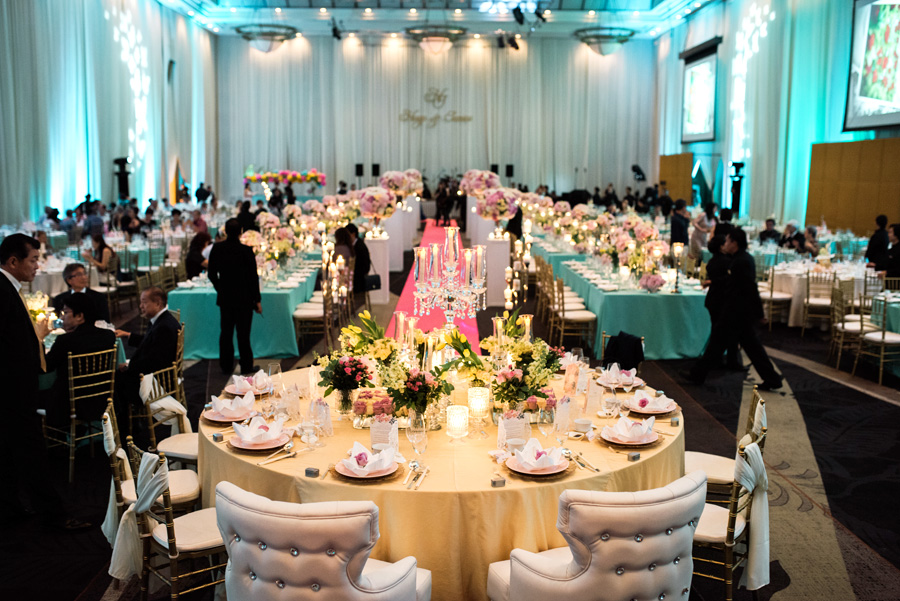 A black-tie wedding dinner looks fresh and bright with these beautiful colours.
Our point about using Viking tables along either side of the aisle is illustrated above. It is beautiful, different, and functional!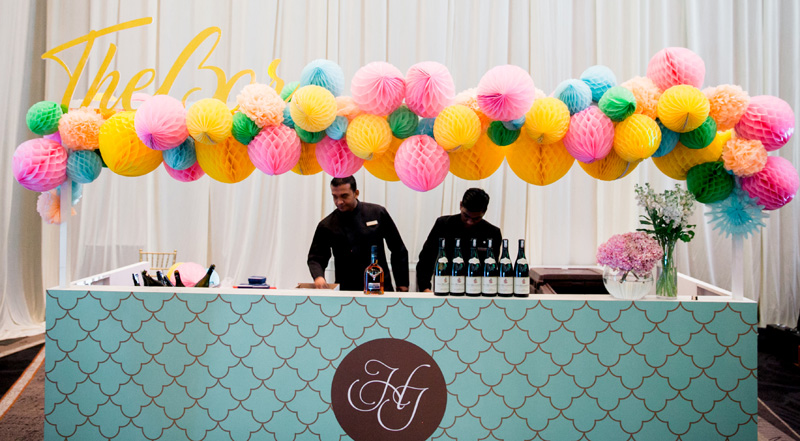 A bright, cheery bar to complement the wedding mood.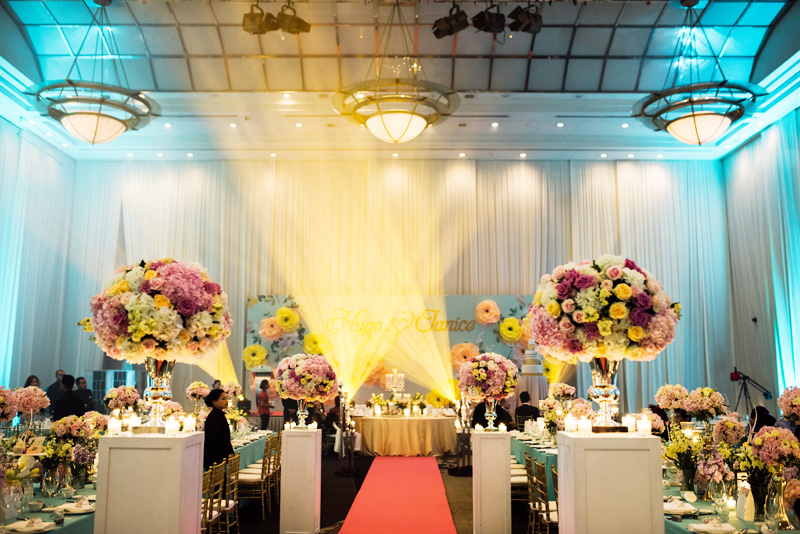 Getting into the mood with striking, yellow spotlights over the bridal table.
Here come the bride and the groom!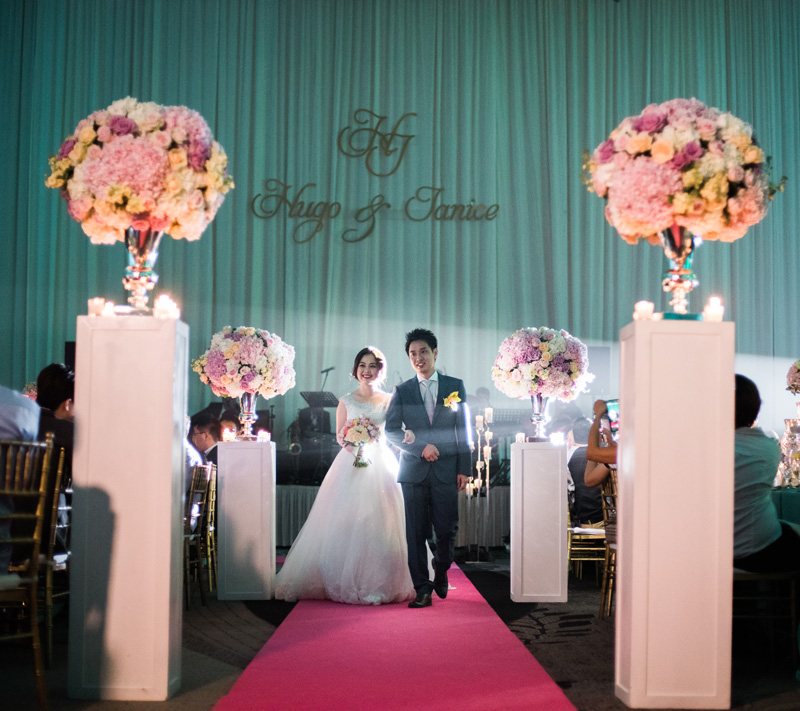 Hugo and Janice work the pink carpet.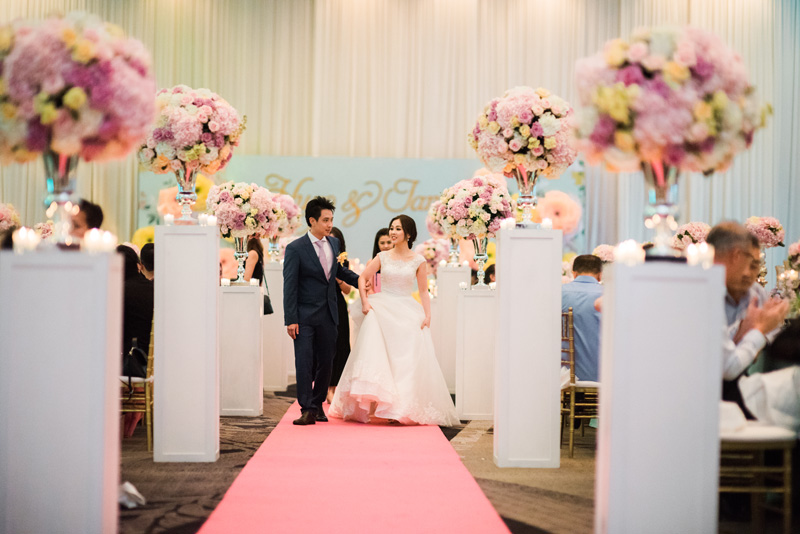 Hugo-+-Janice-bridal-table-
A close-up of the bridal table.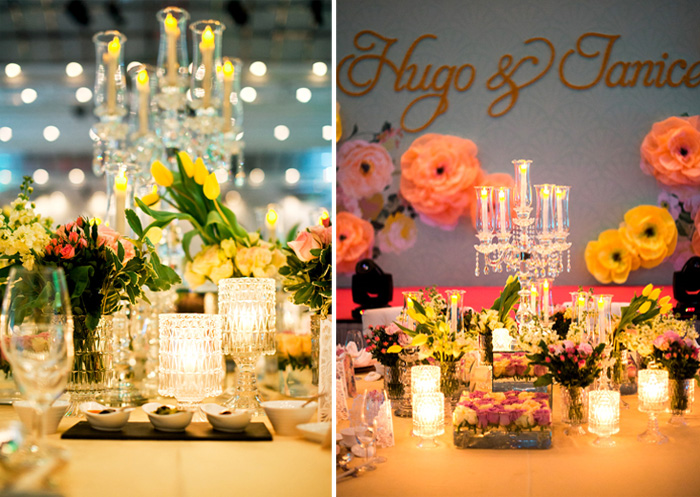 Handmade, oversized paper flowers on the stage backdrop is another one of Janice's favourite of the evening.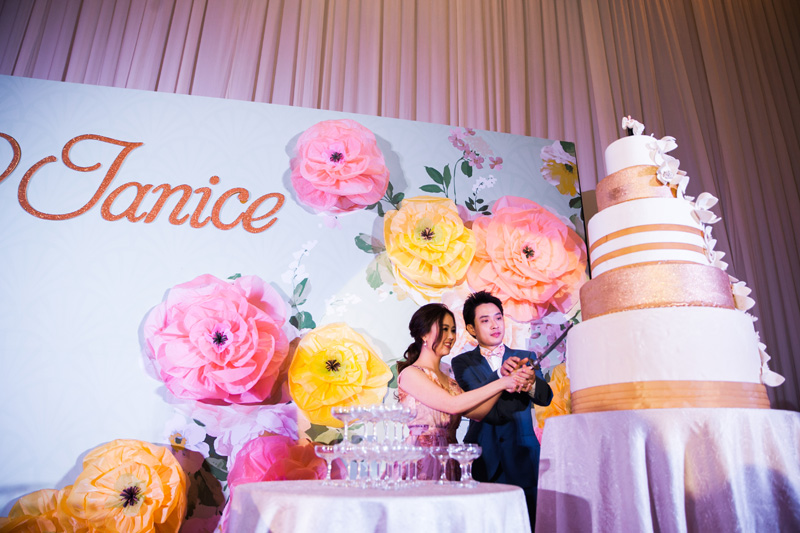 Picture perfect while cutting the wedding cake.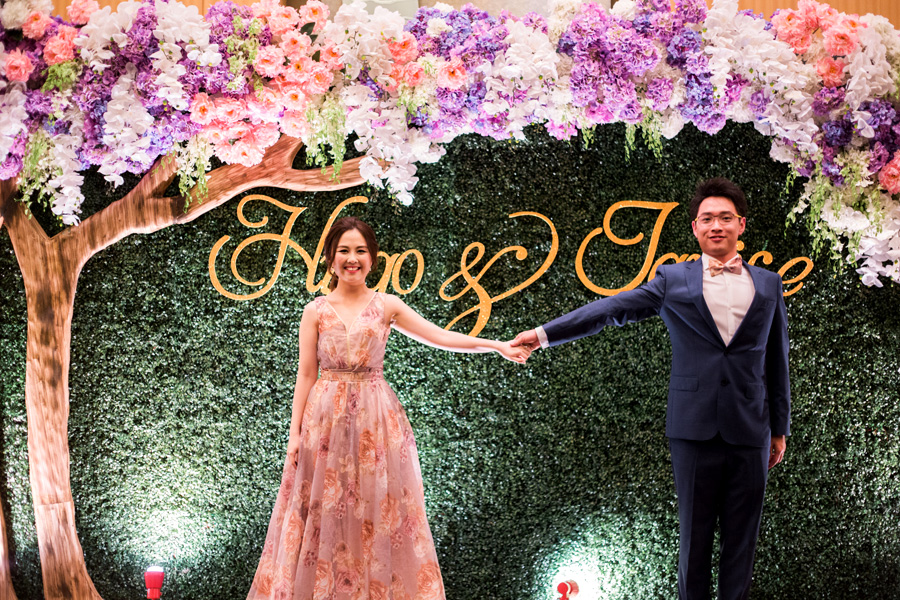 Our beautiful couple, Hugo and Janice, at their photowall – one of their favourite pieces on that magical and memorable evening.
Thank you so much, Hugo and Janice, for sharing your beautiful wedding and most treasured day with us and our readers. We wish you both the very best in your new journey together!
"As Janice is allergic to flowers and not very familiar with the different types of flowers, we left the flower selection to the good hands of Wishing Tree. With Lily's extensive experience, and with her efficient collaboration with The Peak Xperience, Wishing Tree worked out a a beautiful and stunning showpiece for our wedding, including the stage backdrop with the handmade flowers. It was definitely one of our most memorable nights that Wishing Tree has created, not just for us, but also for all our guests." – Hugo and Janice